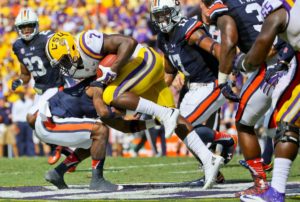 The running back situation for the Tampa Bay Buccaneers is in a bit of a limbo right now. Doug Martin is out of rehab and apparently already training out in California, but he still has to serve a 3-game suspension once the season starts up. The Bucs were able to re-sign Jacquizz Rodgers at a decent price and they still have Chuck Sims and Peyton Barber as well, so the cupboards are not entirely bare. The Bucs have stated that they're going to wait out the situation and see what happens. Some fans say that the Bucs should move on from Dougie and draft a running back in the first round. Now I'm not saying they will and I'm not saying they won't, but I've decided to dive into this fairly deep RB class to see what it has to offer. In my opinion, there's ONLY two or three running backs worth taking with the 19th pick so if those guys are gone then it will probably be the third or fourth round before the Bucs address the position. So let's take a look at the top backs in this draft and where they're projected to fall next month.
#1 Leonard Fournette- LSU: 6'1″/240lbs, 4.51 40yd, 28 1/2″ vertical
2016 stats: 129 carries, 843 yards, 8 TD's, projected to be an early first round pick  
His 2016 season was hampered by an ankle injury but he really opened everyone's eyes in 2015 when he had 300 carries, 1,953 yards and 22 TD's. In his three years at LSU, he averaged over 6 yards per carry. He's drawn comps to Adrian Peterson and Bo Jackson for his size and running style. He's a downhill runner with a rare blend of size, speed and power. "He has the look of a future franchise player and a Pro Bowl running back" according to WalterFootball.com. He's a violent runner with a punishing stiff arm. He is an every down back and would fit nice in the Bucs offense that already has a nice stable of backs. I do not see him lasting past the top 10, but stranger things have happened in the draft. If he's somehow sitting there at 19 then the Bucs should absolutely snatch him up and move on from Martin.
#2 Dalvin Cook-Florida State: 5'10″/210lbs, 4.49 40yd, 30 1/2″ vertical, 9'7″ broad
2016 stats: 288 carries, 1,765 yards, 19 TD's, projected to be a mid to late first round pick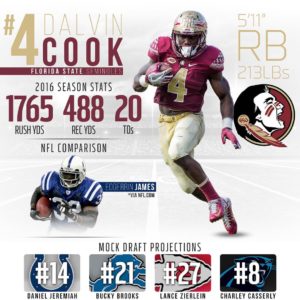 With 4,464 rushing yards, 935 receiving yards, 48 total TD's and over 6.5 yards per carry average in his three years at FSU, there's no denying his talent. His size, speed, athleticism and versatility has drawn comps to Marshall Faulk. However, with all the positives there will pbvioulsy be some negatives. On the field, it's ball security with 13 career fumbles and he isn't the best blocker when it comes to picking up blitzes. Off the field, there are concerns with his "entourage" and rumors that he drinks too much. He's also had three separate run ins with the law including robbery in 2009, possessing and firing a firearm on school property in 2010, and the battery in 2015 for a bar fight. He's got a medical history as well with hamstring issues and three shoulder surgeries since high school. Teams will have to decide if his incredible on field talent outweighs all of the off the field crap that comes along with him. I've seen a ton of Bucs fans that want him, but he doesn't exactly match up with the kinds of players the Bucs typically like to draft, especially with Jason Licht who's big on character.
#3 Christian McCaffrey- Stanford: 5'11″/205lbs, 4.48 40yd, 37 1/2″ vertical, 10'1″ broad
2016 stats: 253 carries, 1,603 yards, 13 TD's rushing/37 catches, 310 yards, 3 TD's receiving, projected to be a late first/early second round pick
The son of former Denver receiver Ed McCaffrey set an NCAA record with 3,864 all purpose yards in 2015 with 2,019 rushing, 645 receiving and 1,070 return yards. In his three years at Stanford, he amassed video game like numbers totaling 3,622 rushing yards, 1,206 receiving yards, 1,859 return yards and 33 total touchdowns. Athletic with quick feet and great hands. Really good route running with explosiveness after the catch and dangerous as a return man. After the NFL Combine, some scouts said that he could even be a slot receiver with his skillset. The big knock on him seems to be that he skipped Stanford's bowl game so that he could start training for the combine. Scouts don't seem to understand his reasoning for doing so after hearing that he's always been a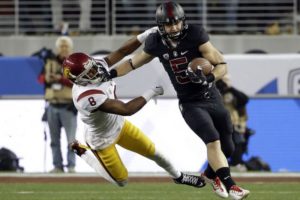 great teammate, hard worker, a leader and someone who's always pushed his teammates to get better. Shannon Sharpe stated that McCaffrey would've been a top 10, maybe even a top 5 pick if he was black, but since white running backs don't have the most impressive NFL resume's he's fallen towards the end of the first round. I don't know if he's on the Bucs radar or not, but I do think Dirk Koetter would have some fun finding ways to use him in the offense.
#4 Alvin Kamara- Tennessee: 5'10″/215lbs, 4.56 40yd, 39 1/2″ vertical, 10'9″ broad
2016 stats: 103 carries, 596 yards, 9 TD's rushing/40 catches, 392 yards, 4 TD's receiving, projected to be a second round pick 
A fast slasher who's built well for power, he's drawn comps to Jamaal Charles. A phenomenal receiver with great hands and route running who could be used as a slot receiver. He's also a dynamic returner. His numbers don't appear that impressive because he did share playing time in a split backfield for the Vols. He was also known as a team leader and very well liked in the program. NFL size and speed with flexibility and agility and sure hands as a pass catcher. He doesn't seem like the type of back the Bucs would be interested in out of this draft but ya never know.
#5 D'Onta Foreman- Texas: 6'0″/335lbs, 4.55 40yd
2016 stats: 323 carries, 2,028 yards, 15 TD's, projected to be a second round pick
He was one of the most productive runners in college football in 2016 averaging over 6.3 yards per carry. He led the NCAA with 184.4 rushing yards per game but also had 6 fumbles while winning the Doak Walker award as the nation's best running back. He's a big athletic runner with good balance. A no nonsense north and south runner with really good short yardage conversion rates. However, his abilities are limited in the passing game due to inconsistent hands and inadequacy as a blocker.
#6 Jeremy McNichols- Boise State: 5'9″/212lbs, 4.49 40yd, 35 1/2″ vertical, 10'1″ broad
2016 stats: 314 carries, 1,709 yards, 23 TD's rushing/37 catches, 474 yards, 4 TD's receiving, projected to be a third round pick
He's somewhat undersized but has the tools to be a three down back in the NFL. Great vision and good feel for interior running but is also a legit pass catching threat. He does however need to work on his pass protection.
#7 Brian Hill- Wyoming: 6'1″/220lbs, 4.54 40yd, 34″ vertical, 10'5″ broad
2016 stats: 349 carries, 1,860 yards, 22 TD's, projected to be a third round pick
Even though he's widely considered an early down back in the NFL, he's only the fifth player in FBS history to have 200 yards rushing and 100 yards receiving in one game (387 yards vs Fresno State) during his freshman year. That was the highlight of his receiving career, but he did amass 3,954 yards and 40 TD's running the football during his three years in college.
#8 Joe Mixon- Oklahoma: 6'1″/225lbs, 4.48 40yd
2016 stats: 187 carries, 1,274 yards, 10 TD's, projected to be a third/fourth round pick
Some experts think that he's a first round talent with three down starting potential in the NFL. Unfortunately for him, most teams have either dropped him to a mid round grade or even removed him from their draft board altogether after a 2014 incident where he punched a woman in the face after she rejected his advances and shoved him away. He was subsequently suspended for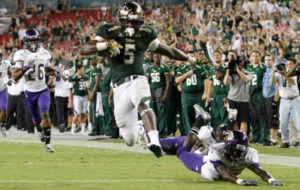 the season.
#9 Marlon Mack- South Florida: 5'11″/215lbs, 4.5 40yd, 35 1/2″ vertical, 11'5″ broad
2016 stats: 174 carries, 1,187 yards, 15 TD's, projected to be a late third/early fourth round pick
He is my mid round sleeper pick at the running back position. He had three straight 1,000 yard seasons with the Bulls finishing his three year college career with 3,609 yards and 32 TD's. He's considered a "scatback" with decent size and blazing getaway speed. Plus he's a hometown boy. Not only did he attend USF in Tampa but he was born and raised in Sarasota.
#10 Kareem Hunt- Toledo: 5'10″/215lbs, 4.62 40yd, 36 1/2″ vertical, 9'2″ broad
2016 stats: 262 carries, 1,475 yards, 10 TD's, projected to be a fourth round pick 
He's a big back with good vision and elusiveness. He may be more of a zone-scheme runner with adequate hands out of the backfield. He has the talent to be either a backup running back who can handle a full workload if needed or as part of a running back by committee. He finished his four year college career with decent numbers totaling 4,945 yards and 44 TD's despite missing four games in 2015 due to a 2-game suspension and two more games due to hamstring and ankle injuries.
To sum this up, I don't necessarily feel like RB is a "need" in this draft. However, if either Fournette or Cook somehow fall to #19 then the Bucs have to be considering either of them which would probably mean the end of Doug Martin's time in Tampa. I personally think that Fournette would be a better fit for the Bucs offense, but Cook could be a nice addition as well if he can get rid of the off the field distractions. If neither of them are available, then I see the Bucs waiting until the mid rounds to select a running back and sticking with Doug Martin as their feature back when he returns from suspension. Either way, Bucs fans have a ton to be excited about in this upcoming season! Until next time, as always…..GO BUCS!!!