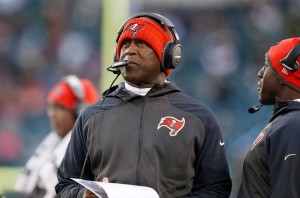 For those of us that love the Buccaneers through the toughest times, these are the moments that we get to sit back and soak it in. For the fans, the Buccaneers are always relevant. They're always important, and they're never too far gone to think about. For everyone else, it takes a statement and a level of consistency to snag their attention.
With plenty of poor performances earlier this season, there were a lot of reasons to think that Tampa Bay might not get it done against Philly. Even with the turnover-machine Mark Sanchez helping us out, it could've gone very differently. It could have, but it didn't. The Buccaneers marched down the field and crippled the Eagles' offense to the tune of a 45-17 victory. Now let's look at just how they did it.
---
Offensive Prowess: The Defining Drive
A lot of the hype coming out of this game has focused on the way that the Tampa Bay offense handled their opening drive of the second half. Despite committing five penalties throughout the drive and facing three third downs, the Bucs kept the drive alive and topped it off when Jameis threw his fifth touchdown of the day to give Tampa Bay a commanding 35-14 lead in the third quarter. Earlier in the season, this drive just wouldn't have happened.
The way the Bucs had been playing had most fans cringing throughout this one, as there were several occasions that you'd expect this offense to end up falling short or settling for a field goal. That didn't happen this time, and the Bucs also succeeded in doing much more with the 15-play drive that burned 9 minutes and 47 seconds off the clock. Jameis Winston and Doug Martin were on fire all day, and this finished off an already struggling Eagles defense. Most importantly, this rested the Tampa Bay defense which went on to dominate the second half.
While most of the focus rests on that one drive, it was far from the only highlight of the day. Jameis Winston marched his way to 246 passing yards, five touchdowns, and zero interceptions. Winston also proved that he isn't forced to rely on the security blanket of Mike Evans as he spread the wealth by throwing each touchdown to a different receiver. Meanwhile, Doug Martin rushed for 235 yards and averaged 8.7 yards per attempt. If this offense continues to show up, scoring will be the least of Tampa Bay's worries.
---
Defensive Dominance: The Defining Half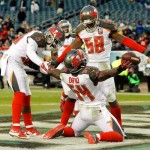 While the defense was respectable in the first half, it was their final play of the second quarter and performance in the second half that was truly impressive. The Bucs held a solid 28-14 lead in the second quarter. Enough to be strong, but not so significant that the defense can rest in the slightest. They've given up bigger leads this season already. Near the end of the first half, the Eagles got the ball back with 1:05 left on the clock. Down by two scores, they were looking to march down the field and score to end the half down by only seven points.
They made a little progress, but were shut down when Lavonte David intercepted Mark Sanchez with only 16 seconds left on the clock. The Bucs took a knee, and they went into the locker room with a comfortable lead. Part of the focus of Chip Kelly's offense is wearing out an opposing defense. The Bucs flipped the script in the second half after the offense's nearly ten minute drive allowed the defense to get an extended rest coming out of halftime. Fresh and ready to go, they would go on to hold the Eagles to no more than a consolation field goal for the rest of the game.
Chris Conte got an interception of his own early in the first quarter, and it all came crashing down for Philly shortly thereafter. The Eagles were able to get the ball back, but with just under five minutes left in the game Lavonte David picked off Mark Sanchez for a second time and walked it in for the go-ahead touchdown to finalize the 45-17 beatdown. David has already been named NFC Defensive Player of the Week, and he absolutely earned it. A few weeks ago, we were all rightfully trashing him, and he's turned it around faster than we could've hoped.
---
TBatPHIcoachesfilm.gif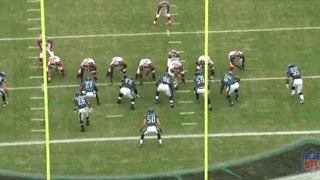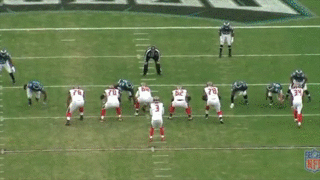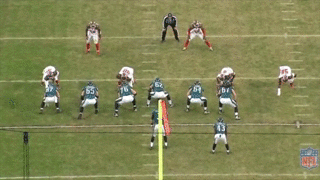 ---
Verdict
Let's be clear for just a small moment. This game wasn't perfect. The Bucs committed nine penalties, had three fumbles, and allowed the Eagles to rack up just shy of 400 offensive yards. Here's the thing, though. Stats ain't points. None of those things matter if you win. That's a big if on the end, and it's one that they haven't been able to tack on through much of the year. The Buccaneers have officially put the league on notice, because they've finally proven they know how to win football games. They don't just meander into victory, or manage to have an opponent beat themselves near the end. They made mistakes, but they came through when it mattered. They dropped 45 on a defense that hadn't allowed more than 27 points so far this season, and they did so with a rookie quarterback and some players out due to injury. Consider this the official warning. This team only gets better from here, and that's good news for Bucs fans.
---
Sword: Jameis Winston
This was an extremely tough choice, as Doug Martin and Lavonte David are both equally deserving. However, Winston set a new bar for himself this week. Not only did he take care of the football, but he played like a veteran and spread the ball to all his receivers. Everyone was a threat, not just Evans and Jackson. For that, I give it to Jameis.
Skull: Gosder Cherilus
Similar to last week, my skull comes down to one specific issue. Cherilus did not have a terrible game, but he was guilty on three penalties. One was declined, but Cherilus had a false start, holding, and clipping call against him. There weren't any appalling performances this week, which is why I'm going nitpicky. There's always room for improvement, and this is something that still needs to be cleaned up.
---
All stats courtesy of NFL.com unless otherwise noted. All gifs created using footage from NFL Game Pass, courtesy of NFL. Photos courtesy of Buccaneers.com. All rights belong to them.