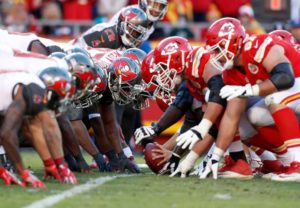 After handing the Chiefs a rare loss at Arrowhead Stadium, should the Bucs be considered a legitimate football team and possible playoff contender? They did just end a 5-game win streak for the season and a 10-game home win streak for the Chiefs, so shouldn't that put them into that conversation at least? They just beat a team that had won 17 of it's last 19 games, so have they turned that corner to being a winning football team? All good questions…right? I mean come on, that was a HUGE win! But was it big enough to convince a fan base that's been brought to that brink with high expectations only to be punched in the guts and kicked in the…well, we've been disappointed to say the least in the past. It's made us naturally suspicious and somewhat pessimistic about our team when it comes to these big wins. So, what's different about this time? I think we'll find out on Sunday.
The 7-2-1  Seattle Seahawks are coming into Tampa looking to bring this team and it's fans back down to Earth. Winners of 7 of their last 8 games and riding a 3-game win streak, they'll be trying to end all of this playoff talk and prove that this Bucs team is a regular season pretender instead of a postseason contender. But what if they're not? What if these Buccaneers have had an "epiphany" of sorts, and suddenly realized how to play winning football? The Seahawks are coming off of two hard fought wins against the Patriots and the Eagles. They're banged up. Pro Bowl safety Earl Thomas probably isn't even playing. They're making the long cross country trip for the second time in three weeks. The Bucs have won the last three meetings between them including a 38-15 stomping in 2010 the last time the Seahawks came to Tampa. There are a lot of factors that stack up in favor of the home team…the question is, CAN THEY CAPITALIZE ON THEM?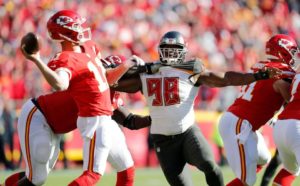 In the last couple of weeks, it seems that this team has changed directions. After two straight home losses in 4 days to the Raiders and the Falcons and giving up over 1,000 yards of offense, the new Mike Smith defense that we've  been anxiously anticipating all season long has FINALLY shown up in the last two weeks. As a matter of fact in the last 6 games the Bucs defense leads the league with 13 turnovers, ahead of Denver and Kansas City. Although the sack numbers haven't been there, the pressure from the front four has been, thanks to finally getting healthy again. Ayers, McCoy and McDonald have all missed time dating back to Week 2 and they're all back and seemingly healthy and ready to go. Will Gholston has been playing like his contract depends on it, which it does. And hopefully, the organization is smart enough to pay the man what he deserves when the time comes. Akeem Spence and Noah Spence have continued their productive play. With the consistent pressure up front, the secondary play has also improved, especially from the safeties. Chris Conte has had two games in a row where he's made game saving or game changing plays with interception returns. Mike Smith said that it might take until Week 4 or 5 for this scheme to sink in with these players. Well, it looks as though it FINALLY did in Week 10 against the Bears. Better late than never!
Some would contribute a majority of the Bucs losses this season to injuries. They have definitely been a major factor. They never had what would've been their starting left guard J.R. Sweezy or what would've been their third receiver Louis Murphy. They lost a key defensive lineman early in Jacquies Smith. They lost what would've been one of their starting tight ends in Seferian-Jenkins. Then came the losses of Doug Martin and Robert Ayers in Week 2 and it just snowballed from there. Luke Stocker, Jacquizz Rodgers, Howard Jones, Vincent Jackson, Kevin Pamphile, Gerald McCoy, Clinton McDonald, Joe Hawley, Russell Shepard, Evan Smith…STOP THE MADNESS!!! It's a miracle that they've won five games this year to be honest. And yet, they've weathered the storm and somehow pulled to a 5-5 record and within one game of leading the division. Don't look now Seattle, but this team is getting healthy again. They could possibly have Jacquizz Rodgers back this Sunday, as well as Kevin Pamphile and Luke Stocker. It would be awfully nice to have the rushing attack at full strength going up against one of the fiercest secondaries in the league!
Jameis Winston has had a pretty good stretch of games as well. Even with a depleted running back corps and patch work offensive line, Jameis has been able to protect the football much better than the first four weeks of the season. In fact during these last 6 games, he's thrown for 13 touchdowns and only 3 interceptions while being much more accurate throwing downfield. Last week against the Bears, he became the youngest QB in NFL history to throw 40 touchdowns. This past week against the Chiefs, he set a new NFL record either running or throwing for a touchdown in each of his first 26 games, which is the most of any player to start a career since 1933 when they began tracking those statistics. He just continues to lead this team into the right direction…a winning direction!
I'm even excited about this receiving corps! I realize that they lost Vincent Jackson a few weeks ago, but since then they've had players stepping up and making big time plays. Mike Evans has worked his way up to ELITE status as far as NFL wide receivers go. Cameron Brate has shown that he can play and hang with the top tight ends in this league. Adam Humphries is a work horse and has some of the surest hands on the team (If you have a chance, go back to the Chiefs game tape and check out his block on a cornerback blitz with about 2:35 left in the first quarter on a third down completion to Shepard…EPIC!). Russell Shepard is back and playing really well. And what might be a surprise to some of the doubters out there (but not me!) is the production they're getting from journeyman wide receiver Cecil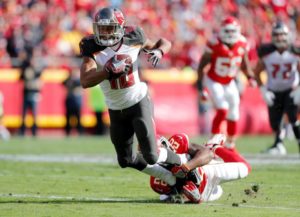 Shorts. I saw quite a few Bucs fans badmouthing the signing at first, but I'd be willing to bet they're not anymore. Shorts may not have had success on other teams where he was the first or second receiver. But I believe he's found a home here in Tampa where he's really the fourth or maybe even fifth receiving option at times. Having Jameis Winston as your QB doesn't hurt either since he tends to bring out the best in his players. Even more so, we saw Freddie Martino catch his first TD against the Bears and Alan Cross catch his first against the Chiefs. Oh and let's not forget that they have the speedster Josh Huff waiting in the wings on practice squad too! They may not have "big names", but this is a solid receiving corps, especially with Winston slinging it the way he has been lately.
The running back situation has been…well, I don't even know how to describe it. But now, Doug Martin is back. Peyton Barber is looking better and better thanks to his extended playing time. Mike James is still here and being productive as usual. And now they could possibly be getting Jacquizz Rodgers back too. What once looked like a bleak situation of never ending musical RB's, has suddenly turned into an embarrassment of riches at that position! It'll be a good thing this week against a team who dares opposing QB's to throw the ball against them.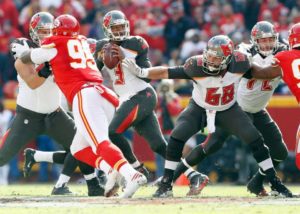 The o-line has had it's fair share of issues this year too. Just when we thought the injury plague (it's not just a bug anymore) couldn't get any worse, it jumped up and bit Kevin Pamphile with a concussion and Joe Hawley with his lingering knee issue. Those injuries gave Caleb Benenoch and Evan Smith opportunities to start. Then Smith sustained a knee injury and pushed Ben Gottschalk into the role of center for the Bears game and eventually to left guard for the Chiefs game…until he was injured only to be replaced by Benenoch. Yes, it's been that crazy! Despite valiant and improving efforts from Benenoch and Gottschalk, they'll need Pamphile back at left guard for the Seahawks game because that Seattle pass rush is relentless!
Last, but not least, is Roberto Aguayo. I've removed the "Ya Never Know" from his name (he's on probation!) since he's actually been kicking the ball well for a few games. In fact, he's made his last 13 attempts and 21 of his last 23 kicks. For the moment, he's living up to that second round draft pick status. Let's just hope that his confidence continues to grow and he continues to keep the football between the uprights. Way to go, Roberto!
In conclusion, I do believe that this team is on the verge of something. They've begun to turn that corner from trying not to lose games to learning how to win them. They're getting healthier as the year goes on. The defense is FINALLY getting it. Dirk Koetter is learning how to be an NFL head coach. Mike Evans has learned how to be "the man". Jameis Winston has turned out to be even more of a franchise QB and leader of this team than any of us ever could have imagined. This team has an opportunity to slap the NFL in the face, screaming "Hey, look at us!" and make them take notice in front of their home crowd this weekend. I know I can't wait to do my part and be a witness to it. Does Tampa FINALLY have a winning team once again? We'll know better by 8pm or so on Sunday night…but it's looking good so far!
Let's rock RayJay on Sunday and as always…..GO BUCS!!!