Those of us that were privileged enough to be inside Raymond James Stadium on Sunday, were witness to something…well, inspiring. It was something you just couldn't have felt or sensed through the TV, you had to be there to experience it. Those of us that were there, saw first hand how this team has truly become a "family". They aren't just saying it, they're believing it. That "family" had brothers that were hurting and the rest of the "family" fought for them. This team has come together in a very special way…and it could mean trouble for the rest of the league. Emotional storyline aside, let's review what this team was able to accomplish not only against the Seahawks, but in the last three games as well.
I have to start with the defense because what we saw against Seattle was a reminder of the old school Bucs defense that used to wreak havoc on opposing quarterbacks and cause turnovers galore. They finished the night with 5.5 sacks from 5 different players including Noah Spence and Gerald McCoy. McCoy is now tied with the Rams Aaron Donald for the most sacks in the league by a defensive tackle with six (For all of you McCoy haters out there!). Noah Spence is now second among all rookies in sacks with 5.5, just a half sack behind current leader Yannick Ngakoue of the Jaguars. These 5.5 sacks brought the Bucs up to 9th in the league.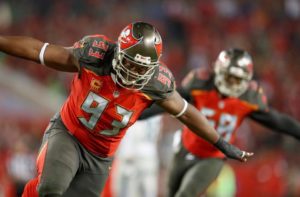 The Bucs had 7 players with 5 or more tackles. Chris Conte actually led the way for the third consecutive week with 7 tackles, along with Lavonte David. Al Verner and Bradley McDougald both came up with big interceptions. They also held a Seattle offense that had been averaging 350+ yards per game to just 245 yards, including 80 rushing yards from Russell Wilson. Speaking of Wilson, he finished 17-33 for 151 yards and two interceptions. They forced seven punts. They held running back Thomas Rawls to 38 yards on 12 rushes. They contained tight end Jimmy Graham to 67 yards on six catches and Doug Baldwin to just 34 yards on seven catches. In the last 3 games, the Bucs defense is allowing 11 points, 290 total yards and just 191 passing yards per game while causing 9 turnovers in that span. That's old school, "Buc Ball" defense…Sapp and Brooks would be proud!
Now let's focus on the offense. It wasn't a spectacular game offensively. They finished with 338 total yards. Jameis Winston was 21-28 for 220 yards and two touchdowns, extending his record streak to 27 games straight. Doug Martin had a productive day finishing with 87 yards on 23 carries. Mike Evans became only the fourth receiver in league history to start his career with 3 straight 1,000 yard seasons finishing with 8 catches for 104 yards and two touchdowns. This was against a secondary that's only allowed 10 passing touchdowns all season! And the big boys up front…let's give them some serious credit. NO SACKS ALLOWED! Kevin Pamphile was back into the starting lineup at left guard and played inspired football. I haven't had a chance to watch the game on TV yet, but from what I saw live those guys played a great game both in run blocking and pass protection. The offense moved the ball up and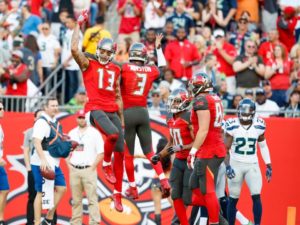 down the field with ease in the first half, but did leave points out on the field. Roberto Aguayo missed a 48 yard field goal attempt and Jameis Winston threw an interception in the endzone that could've resulted in at least 3 more points. Seattle obviously made defensive adjustments at halftime and clamped down a bit more in the second half. In all, it was another solid performance from the offense against a very good defense.
A few weeks, after giving up over 1,000 yards of offense to the Raiders and Falcons, I'm sure none of us saw this coming. After two home losses in 4 days, I was looking at the schedule and shaking my head. It didn't look too good. Four of the final seven games on the road. Playing 3 of the top 5 teams in the NFL over the next month. Three division rivals in the last four games to finish the season. A West Coast trip to play the Chargers and a trip to Dallas to play the 10-1 Cowboys. It looked like an uphill climb to even finish 8-8 for the season. Now, after a convincing win against Chicago, an amazing road win in Arrowhead Stadium and a win over "one of the best teams in the NFL" in Seattle all of the sudden the Bucs are relevant. They beat a Chiefs team who, just last night, beat the Broncos in Mile High Stadium. They beat a Seahawks team that, just two weeks ago, went into Foxboro and beat the Patriots.
This team believes they belong at the table with the big boys. The fans are starting to believe it. The TV analysts and football "experts" aren't quite convinced, but I'm sure a win in San Diego would go a long way to persuading them. I know that the team can't and won't think ahead past the Chargers, but we as fans can. IF they beat the Chargers and then come home and beat the Saints, they'll be 8-5 going into Dallas for a showdown with the Cowboys who could be either 11-2 or even 12-1 by that point. It's been rumored that the NFL is flirting with the idea of flexing that game to primetime on Sunday night. After Dallas, they finish the season in New Orleans and then back home for the Carolina Panthers.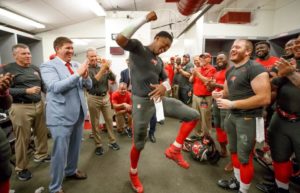 WHAT IF  they beat the Cowboys? WHAT IF  the Bucs roll off 8 straight wins to end the season? WHAT IF  they finish with an 11-5 record? WHAT IF  this team wins the NFC South in Dirk Koetter's first season as head coach? WHAT IF  Jameis Winston leads this team to the playoffs for the first time since the 2007 season in just his second year? WHAT IF…..
That's a bunch of "WHAT IF's", I know…but it's fun to think about it. It's been a long time since we Bucs fans could say that anything about Buccaneer football was fun. But this team, this "family" is having fun playing football again. We fans are having fun watching football again. It's fun seeing the Bucs winning football games again. Hopefully, "Buc Ball" is back in Tampa Bay and it's here to stay for a while…that sure would be fun IF  it is! WHAT IF…..think about it.
And as always…..GO BUCS!!!