A couple of days ago, Bucs fans set social media on fire when a picture surfaced on Twitter of franchise QB Jameis Winston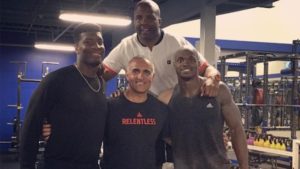 in Houston, Texas with renowned quarterback guru George Whitfield. However, that's not what got Bucs fans excited. It wasn't even the fact that his receivers Mike Evans, DeSean Jackson and Josh Huff were there working out with him too. The exciting part was the "other guy" working out with all of them. Adrian Peterson.
Apparently, the workout was all Jameis Winston's idea, but was inviting Peterson? Was it a secret tryout? Was it just a friendly gesture? Or was it just a coincidence? Nothing is certain right now except the fact that the picture lit a wildfire of rumors on Facebook and Twitter. All of the sudden, the stories were circulating about Peterson signing with the Bucs. Some fans were ecstatic. Some fans were not. Some fans were on the fence about it. And other just didn't care. But I think no matter how we all felt about them possibly bringing Adrian Peterson to Tampa, all of us fans are excited about this upcoming season. I haven't seen this fan base this positive and this confident going into the draft in years. It's a great time to be a Bucs fan for sure.
Back to the topic of discussion. I wanted to provide arguments for both sides of this debate. That being said, here's my argument AGAINST bringing Adrian Peterson to Tampa…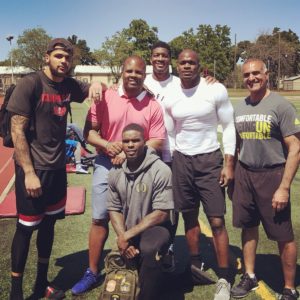 When I first saw the picture, I'll admit I did start to daydream about the possibilities of that offense with him in the backfield. I began to smile thinking of him in red & pewter. Then reality sat in. I remembered that he's now 32 years old. I thought about him tearing his meniscus last season. I thought about his other significant knee injury in 2014 when he missed the entire season. But then I was reminded that he came back from that terrible injury to lead the league in rushing for the 2015 season. Which in turn brought me to think of Doug Martin, who finished the runner-up to A.P. for that rushing title just a season ago.
Doug Martin had a rough season in 2016, which ended with him serving one game of a 4-game suspension after testing positive for performance-enhancing drugs. From what little information head coach Dirk Koetter has released about him, Doug has successfully completed his rehab and is now at his regular offseason training facility in California preparing for this season.
Which brings me to my next point, what do the Bucs do with Doug Martin? I realize he let his teammates down and disappointed his fans with what he did, but was it enough to throw loyalty out the window? I know that the NFL is a business but look at the Josh Gordon situation in Cleveland or the Brett Favre situation in Green Bay or any other situation where franchises have stuck by and stood behind their players through multiple violations or rehab treatments. Should the Bucs really turn their backs on a guy they re-signed as their "franchise running back" just last offseason? That's what they would be doing by bringing in Adrian Peterson.
Now while I disagree with doing that to Doug, I'm also an advocate for doing whatever it takes to make the team better and bringing another championship back to Tampa Bay. That being said, here's the argument FOR bringing Adrian Peterson to Tampa…
It's Adrian Peterson, one of the greatest running backs in NFL history. Sure he's 32 years old and only one player that old has ever broken the 1,100 yard mark in a season (Ricky Williams). Still, it's Adrian freaking Peterson. He has always kept his body in phenomenal condition and despite his age, he is still ripped. 
And yes, he's coming off of his second significant knee injury in 3 years, but look what he accomplished after his first one. We're talking about a guy that's almost rushed for 12,000 yards in 8 seasons. Yes, I know he's going into his 11th season but in his two knee injury seasons, he only totaled about 150 yards. He had a 2,100 yard season in 2012 and a 1,760 yard season in 2008 to go with his league-leading 1,500 yard 2015 season. His numbers are ridiculous!
Here's the scenario where I would be on board with this Adrian Peterson deal. First, sign him for a decent price. After making $16 million in 2015, $12 million in 2016 and being on the books to make $18 million this season with the Vikings, he would have to swallow some pride and sign with the Bucs to win a ring and not to make a paycheck. It would have to be a very cap friendly deal with some incentive packages that could raise the total salary for the year. Since I would assume that the Bucs would be releasing Doug Martin if they get Peterson, they could use that $7 million that was designated for him to offer as a base for AP while adding in another $3-4 million in incentive bonuses. It's nowhere near what he was making or would've made in Minnesota, but like I said before he'd need to be signing on here to win a Lombardi, not to make money.
Second, I would still like to see the Bucs draft USF's Marlon Mack in the third round of the draft even if they do sign Peterson. Here's why. Bringing in AP, if he can stay healthy, gives them a 2 year window to find a replacement running back for the future. Releasing Martin would still leave them with Peterson, Rodgers, Sims and Barber in the stable. Not a bad RB group, right? Well, what I'd like to see is for the Bucs to add Mack to the group and sit him and Barber on the shelf for two years to allow them to develop. Let AP, Jacquizz and Chuck handle the workload for those two years. That would allow Mack and Barber to learn from those guys and grow into being a really strong duo with different attributes and running styles to compliment this offense for years to come.
In the meantime, it allows the Bucs to have some veterans running the ball while they figure out this offensive line experiment. Hopefully, they can get the o-line worked out and straightened up over those next two years and have it ready for the young backs when they take over.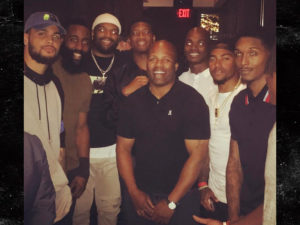 If you're confused on where I stand on this subject, then welcome to the club because I'm not sure myself. On one hand, I don't think the Bucs running back situation is bleak enough to make any drastic changes whether it's signing Peterson or picking someone in the first round of the draft. Some fans disagree with me, but I think the Bucs have a nice group of running backs who compliment each other's abilities and styles. If they can all stay healthy, the run game should be plenty good enough to balance out Jameis and the rest of the offense.
I also don't agree with the Bucs turning their backs on Doug Martin and releasing him after such a difficult time in his life. He made a mistake. He took ownership of that mistake. He got help to fix that mistake. What else can you ask for from the guy? What else do you expect from the man?
On the other hand, I can see the appeal of making the change. I mean it's Adrian Peterson. Why would we as Bucs fans not be excited about having one of the all-time greats bless our backfield for a couple of seasons? Sure the odds and his age are stacked against him, but if any player can beat them both back with a stick (pun intended), it's him. I mean, it is Adrian freaking Peterson!
Do I see this actually happening? Realistically, no. I don't think he fits into what Jason Licht and Dirk Koetter are trying to build here in Tampa Bay. They've worked very hard to put together a nucleus of young talent that will grow together and hopefully win multiple championships together eventually. A 32 year old running back doesn't necessarily fit into that equation. But I suppose stranger things have happened. I mean, it is Adrian freaking Peterson.
***UPDATE*** I wrote this just a few days after this news broke. On Monday, Peterson was in New England meeting with the Patriots. If he really is after his elusive Super Bowl ring then he may not leave there without a contract. By the time this article comes out he may be a Patriot. On the other hand, he may still be looking for a home. Could that home be in Tampa?