I'm taking my talents to Studio 76. Bringing my unique perspective to What The Buc.
Hey WTB readers I could not be happier to announce my affiliation with Derek Fournier and his website whatthebuc.net. Some of you may know me around social media as Ren Daxt. If not, Hi, pleased to meet you. I would like to take this opportunity to give you some insight to my Buccaneer fandom and what you can expect from my future articles.
Growing up a sports fan in the state of Florida during the late 70's there wasn't much to hitch your fan wagon to. The NBA, MLB, nor the NHL had any franchises in the sunshine state. The NFL's Miami Dolphins were the only professional franchise from Pensacola to Key West. The Tampa Bay Buccaneers came into the league in 1976 just when I was discovering sports, and I fell in love with them blindly, as only a young boy could.
My entire life revolved around my beloved team. My bedside lamp was a Bucs helmet, my bicycle was Buccaneers themed, and I only had two pennants pinned to my wall. The first one was an NFL officially licensed team pennant, and the second just read "Worst To First," referring to the 1979 team the won the division after finishing last the year before. I still hold a special hatred for the Rams who bested my hero's 9-0 in that years NFC Championship Game.
I have been through it all. The hopefulness of the Doug Williams led teams, the decade of embarrassment that was the 80's. The drafting of Brooks, Sapp, Dunn, and Alstott and the pride of being a fan of the 2002 Super Bowl champs. Then reverting back to missing the playoffs for a decade, and then finally drafting a true franchise quarterback Jameis Winston.
"We are entering the Golden Years of Buccaneers Fandom. We have the GM, the head coach, and the quarterback to compete for the division for the next decade." #GYBF – Ren Daxt
Although my interest in the team had ebbed and flowed over the years. I've never thrown up my hands and walked away and that, to me, is what being a true fan is about. Some years the Bucs make us put our hands over our eyes in disgust, and some years they are raised above our heads in celebration. Our team is special, always has been, always will be, and I wouldn't have it any other way.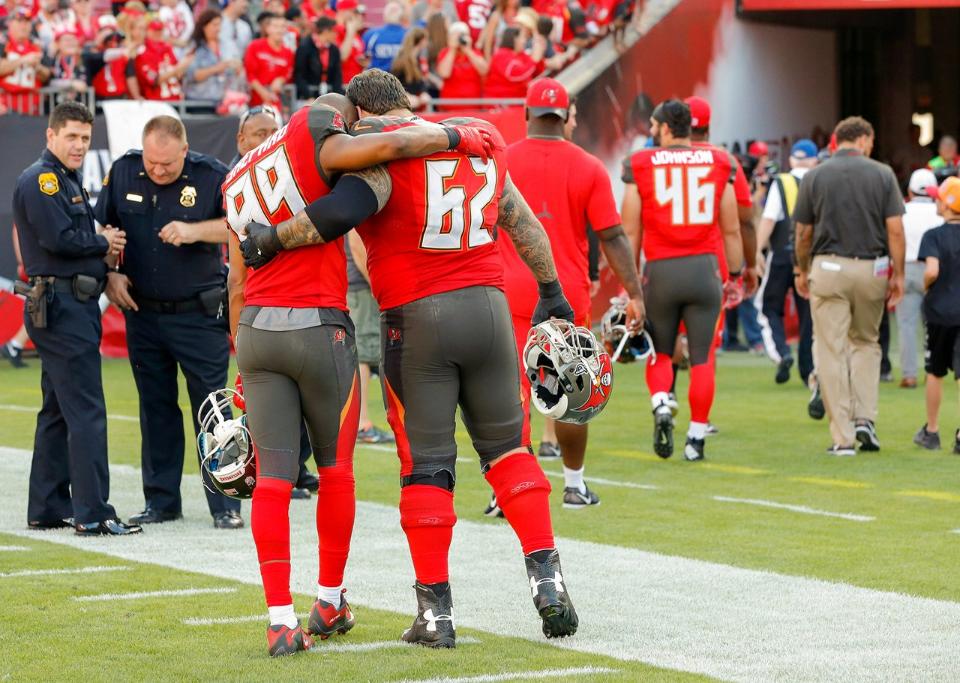 What Am I Going To Bring?
This is a hard question for me to answer. I write about what I write about. Sometimes it will be about match ups, other times how injuries are affecting the roster. I could do a piece on a player that I think isn't getting enough praise for his play or vice versa. Anything that I find interesting about the Bucs and I think you will too, I will write about.
What you won't find in any of my pieces are overreactions and/or hit pieces. It's just not my style.
I know this does not tell you much but this was more about getting to know me as a Buccaneer fan than a writer. Again I couldn't be more excited about the opportunity that Derek has given me. The WTB family has been a huge part of Buc fandom for over a decade and it is truly humbling to be allowed to be a part of it.
My first article about the team will be out before training camp, and I'm ready to take the 2017 season journey with you. With a little luck I will be still writing for you in January.
You can follow me on Twitter @Ren_Daxt You can always talk Buccaneers football with me or just fire off some opinions in the comment section below.
Till next time WTB readers. GO BUCS!