The main part of Thanksgiving is of course eating some delicious meals but more importantly, spending time with your family. Yes, families aren't always the best but they will always be there for you no matter what. For the first time in a long time the Buccaneers are a family. Families look out for each other when one is down. That is exactly what happened on late Sunday afternoon when the Buccaneers played the Seattle Seahawks but Bucs corner Alterraun Verner was playing for something bigger than that. Something even bigger than himself. On the morning of November 25th, Robert Lee Verner, the father of Alterraun passed away.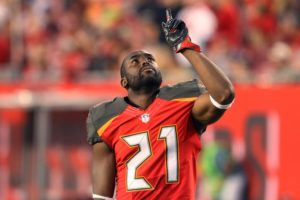 The team knew Verner was hurting and were there to support him during that difficult time. Gerald McCoy stated after the big win "That's my brother, man." "Before the game, when I broke it down, I asked the team, do we break it down to family just to do it? Is it just something we say or do we mean it?"  That was really cool to see Gerald so fired up and filled with passion.
It was really extraordinary that Verner even played, he said after the game, "My Dad was my biggest fan, He made so many sacrifices for me to get to where I am today and I just know he wouldn't want him to be the cause for me not to play."
Verner played one heck of a game as he had an interception near the end of the first half and then a pass breakup to the start the second half. It really was heart warming to see the team surround Verner as he collapsed to the ground after his INT. It looked like almost the whole team went out on the field to be there for Verner. They were very excited for their teammate or should I say their brother.
This reminded me an awful lot like last year when Kwon Alexander's brother died and the team rallied around him. He had a monster game that led to a Buccaneers victory. It is really unfortunate that tragedy strikes and it happens to really good people. For Verner and Alexander it is awesome to see them play and really fight for who they love.
Something happened after the loss to the Atlanta Falcons. This team has rallied around the leader of the team Jameis Winston. The Bucs have been breaking every huddle with the word "family" like I said families can be tough on each other but they will always have each other's backs.
Let's hope this team builds on what happened last Sunday. The Buccaneers go to San Diego this weekend and hopefully will walk out of that game one step closer in completing the dream that is the playoffs.