We conclude the series with a look at the Seattle Seahawks game, which was in many ways Mike James' way of announcing himself to fans of the Buccaneers and the NFL that he was a force to be reckoned with. He had a terrific day against the league's best defense, (aided by a decent offensive line performance, and some uncharacteristic mistakes from some Seattle defenders namely Earl Thomas who had three missed tackles) gouging them for a total of 158 yards on 28 carries. He may not have scored through the air, but he was key to probably the  funnest play this season – throwing a TD to Tom Crabtree to put the Bucs 21 points up (yes that did happen and yes the Bucs found a way to lose in overtime).
First, we look at this 21 yard run late in the first quarter. Up to that point, James had five runs for 16 yards, not a terrible first quarter, but far from stellar. The Bucs line up in the "12 personnel" formation with two receivers, two TEs and of course James in the backfield. Blocking assignments are as shown, with Zuttah the center getting a piece of Jordan Hill before blocking Bobby Wagner. James shows great patience allowing a hole to develop, what appears to be his initial targeted lane for the run appears to be blocked somewhat. James has some open field in front of him at around the 25 yard line. Thomas, whom few would disagree with the assertion that he is the NFL's premier safety shows tremendous speed to catch James around the 30 yard line. James drops his shoulder and levels Thomas. This may come across as a bit excitable, but there are not many running backs who do that to Earl Thomas in the open field. James' ability to absorb hits and carry on immediately impresses viewers, and he is hauled down by Kam Chancellor. (Here's the play from two different angles showing the ground Thomas, in blue, had to make before being knocked down)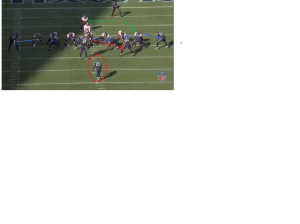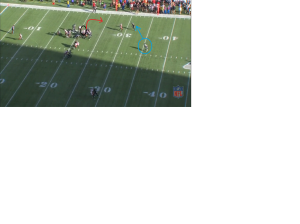 Here's a 9 yard gain here deep in Seattle territory. James shows tremendous foot speed to cut back and again gains yards after initial contact. The gaps created (the initial lane and cutback lane) weren't large but James was able to hit them quickly and nearly avoid the clutches of Thomas yet again.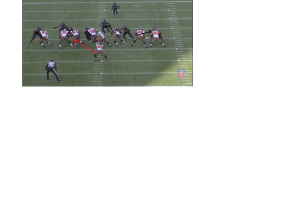 An 8 yard gain from Mike James here. With 2 out wide, a TE and a full back in on the play, James' run seems to be designed to go through the A gap on the right hand side. From here, James has two options and chooses the correct one, following his full back on the play resulting in an 8 yard gain. There isn't a large hole here, but James seems to "make himself skinny" (a term that I'm sure has graced football parlance before), before being hauled down by Kam Chancellor.
The Bucs offense was ticking over for one of the few times in this game, James was getting decent gains on the ground, coupled with the occasional big play and the passing game was performing adequately. Jamon Meredith is on the pull this time (the Bucs  did seem to have some success with pulling guard with James in particular). Any running back loves it when a "plan comes together" and this time it certainly did. James is given a great hole to run through and showing some nice acceleration, he takes off and ends up with an 11 yard gain.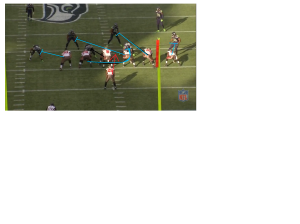 Jeremy Zuttah does a great job here and another pull from Meredith means a very wide lane for James to go through. He forces another missed tackle from Thomas, as he sidesteps the oncoming defender, a sizable 18 yard gain and proves that James can cause problems when he gets to the second level. While the troubling situation with the offensive guards will scare Buccaneer fans, it's quite probable that their offensive line play will be somewhat improved next season, and we would hope to see similar rushing lanes created for Doug and co. (perhaps more running outside the tackles but that is purely speculation on my part). James is able to change direction, make a defender miss and not lose speed. Not a bad effort from the young man. The Bucs block to the left and this springs James free. Deception on the offensive line was key to the success the Bucs had against the Seahawks.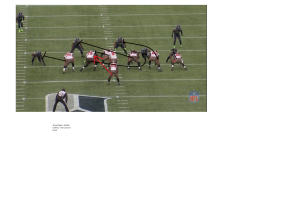 With two lined up out wide, a full back and a TE, the Buccaneers run a simple "Power O" between their tackle and guard on the left hand side. Blocking assignments are detailed below (out of shot Crabtree is blocking a linebacker) as Seahawks number 54 Bobby Wagner tries to crash the line down the left hand side, he is met by Meredith. Following his full back, James has a sizable lane for himself, which he hits with great speed, running hard where he shrugs off the feeble attempts of Earl Thomas (seriously what was with Thomas that day, three missed tackles and a personal foul penalty!)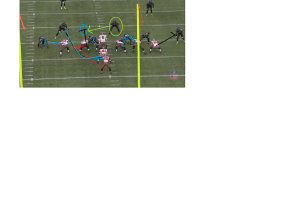 We finish the running aspect of the Seattle game with an 11 yard rush. Again, it involves a trap, this time from center Jeremy Zuttah who takes out Bobby Wagner on the play. The general outline of the play is laid out in the diagram, I also want to focus on what I think as a good selection of running lanes from Mike James.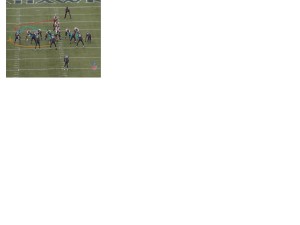 James is present with two potential options after his initial break, he can cutback with Donald Penn occupying KJ Wright (50) or he can bounce it to the outside where the odds are Kam Chancellor will lay the boom on him as that Seattle secondary are famed for doing. He reverts towards Penn's side and nets himself decent yardage and a first down.  (James follows the blue arrow)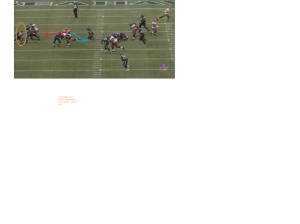 For a more detailed analysis of the Bucs offensive line play (using different schemes, greater movement etc) against the Seahawks and why they were effective against such a great defence, I refer you to this piece from my fellow countryman Cian Fahey, one of the foremost NFL tape analysts around at the moment. He does a superb job: http://www.footballoutsiders.com/film-room/2014/film-room-sean-payton.  You can find him on twitter at @cianaf.
In an incredibly bleak season, let's take a moment to reflect on Mike James'  jump pass. I think I speak for everyone when I say any time a non-QB throws the ball in a game, the fans become extremely excited. It is simply great fun to watch! The Buccaneers have two tight ends (tackle Gabe Carimi number 72 is used as a TE), a full back, James and one out wide in Vincent Jackson. The play as it is designed is shown below, with Meredith again pulling to take Crabtree's man as he slips by looking for the pass: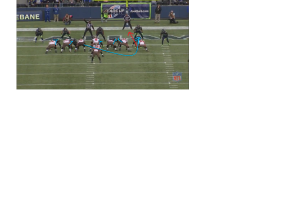 Crabtree stumbles as he makes his way into the endzone, James has the ball at this point at which point he goes airborne. His leap impressed me I had to admit. A little pop pass is caught by Crabtree that sent Bucs fans into an all too brief ecstasy.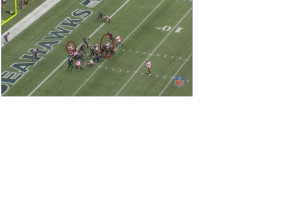 In what was sadly James' final game of the season, we turn to the Miami Dolphins game which saw the Bucs honour the retiring of Warren Sapp's number by beating a Dolphins team in clear disarray in the wake of the Incognito/Martin scandal. Despite only eight snaps, he did show some positive moments, and he looked set for another stellar day beginning with 41 yards off 5 carries. His longest run of the year of 24 yards also came in this game. I'm going to focus on that one in particular. I don't think I would be getting into new ground if I talked about the others, but we did see the Buccaneers use some misdirection on the offensive lines in terms of pulls and traps to good effect to allow James a bit more room. He ran hard in the limited time he had. It's rare you would find fault with a 24 yard gain, but I think it shows one of the big aspects that James is lacking: breakaway speed.
A well designed halfback draw play springs James into the open. As a runner, James doesn't  possess an abundance of speed over the long term. He can hit a hole and accelerate through it, but he doesn't  possess the big play ability of say Doug Martin or Bobby Rainey (I believe that James is a better back overall but he is not a similar threat to Rainey in terms of big play potential). A guy like Martin could very well have taken this to the house. It's not a bad play but perhaps with a more explosive player it could have been better. James appears to have a lot of decent traits to be a serviceable running back but that lack of breakaway speed will hurt him in terms of getting on the field. The crowded backfield in Tampa will also cause him some problems.
(Erik Lorig, the fullback, meets the Miami linebacker circled in orange when he drops to the left)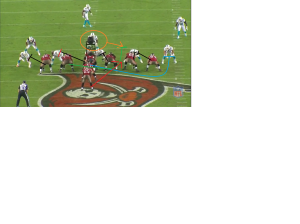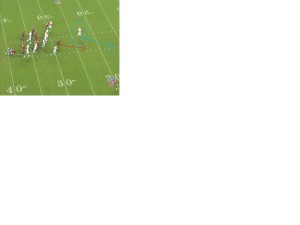 The Outlook for James
Personally I came away from this with a very good impression of James. He does most things well and is quite well-rounded as a player. If we go by our friends at Pewter Report (http://www.pewterreport.com/index.php?option=com_k2&Itemid=20&view=item&layout=item&id=9867) they see only four running backs surviving with James as the odd man out. We know that Martin and Sims are a lock to make the team, no one would question that. Jeff Demps seems committed to football and by all accounts, looks to have impressed Lovie Smith during the offseason (how much of that is "coach speak" and the true value of offseason workouts is of course open to debate) and he has added versatility as a returner and as a potential slot receiver. It could very well come down to Rainey against James. I might lean slightly towards James personally but I would think that both guys would prove to be solid options for the organization. It's rare that the Buccaneers have have had too much talent or promise in a particular spot over the course of their history. Whoever loses out will be unfortunate for sure, but I would also say that they are very likely to catch on with another team. I think fans like the look of James as he reminds them of favourite Earnest Graham. Another Florida boy, Graham was as solid a player as you would find, a good full back and when called upon a decent running back too. It's been a while since James took on the role of lead blocker, he seemed to do it adequately at Miami, but who knows if he will even be considered there for the Buccaneers? Being versatile could certainly help his career as a whole, and I do believe he has a place in the league if last year showed us something. It appears that James has fallen behind over the course of training camp so far and is on the outside looking in for a spot on the team. It wouldn't surprise me in the slightest to see him cut but that is a sign that the Bucs have depth at running back more than an indictment on James as a player. James lacks great speed and lateral quickness, but his great strength and decent vision will help him for sure.  The tail end of Preseason when fans wonder why they are watching such mundane and languid action, will be a factor in who stays and who goes in the running back spot. Rainey has the edge over James as of now, we might have to see training camp unfold to see what happens next.
Feel free to contact me with any comments or criticisms on twitter at @cphilpott95. Go Bucs!