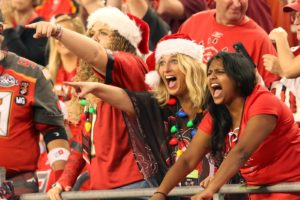 So Dirk wanted a culture change?  Well, it looks like the team is in the midst of just such a change.  Winning is not hoped for, it is starting to be expected by the players and coaches.
Next up, the fans need a culture change.  The fans need confidence to replace fearful hope.  The fans need to learn how to win again.  Jameis teaching the fans that they need to be a little quieter when the offense has the ball shows that the Bucs fan of today has forgotten how to win.
The good news is that things are certainly trending in the right direction.  When is the last time there was a noise problem (for the home team) in Raymond James Stadium?  When is the last time there were fans excited about watching their team do battle?
I live in the distant land of Atlanta, GA.  Each week we have a gathering of fans at a local Miller's Alehouse where the whole stadium experience is recreated.  Cannons blast when the team enters the red zone or scores and the faithful sing the fight song with each score. "Tampaaa":  "Baaaaaaay" echoes through the restaurant when the fans are excited.  The culture change is starting to happen.  1:00pm games used to draw larger crowds and 4:00pm games were a challenge, but last week the 4:00pm ATLBucs viewing party was as loud and electric as I have ever heard it.
Why is this?  It's simple.  The culture is changing.  Not just with the team itself, but with the fans as well.  A culture of winning is developing.
For those diehard, lomgtime Bucs fans who keep complaining about those jumping on the bandwagon…shhhhhhh.  Welcome those fans in.  No worries, you still get the window seat on the bandwagon.  Celebrate with these fans.  Welcome them aboard.  It's good for the team to have them on board.  It is good for YOU to have them on board.
It's fun to learn how to win again.  Even as a fan.  Scream your heart out this Sunday night!  Scream your heart out at the next home game, just do it when the bad guys have the ball.  Scream for the "Good Guys" to win again.  It's fun to be a fan these days.  It's fun watching the culture change, even all the way here in the cheap seats!