Creativity, multi-dimensional, varied, spacing, geometry and mathematics were words used to describe an offense that was geared towards getting receivers open with an emphasis on running the football. Well, the much anticipated schematic and diverse explosion was put on hold (much like its creator) this past week against a stringy Panthers defense. As new offensive coordinator, Jeff Tedford was not calling the actual plays; however, he had input into the game plan. Regardless, this supposed vaunted offense still sputtered out of the gate.
Conceptually, there were numerous receivers running open. However, someone must have forgotten to tell the offensive line and quarterback that they needed to execute on their end or the play would not materialize.
Overall, the team heavily relied on S11 personnel (Shotgun 1RB, 1TE, 3WR) versus the Panthers and started the game with one run and five passing plays called. Granted, the Panthers front four is one of the more dominant fronts in the NFL and no doubt, the team wanted to get the passing game in a rhythm early.
The Panthers brought at minimum of one extra rusher 8 times on 38 drop backs.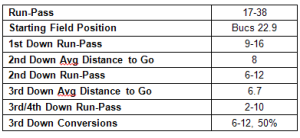 Drive Starters – The 1st play of each drive can often reveal the intent of a coach to establish his game plan. How committed is he to the run or pass when the team comes off the sideline? We will track it each week here:
WK 1 – Carolina Panthers: 3 Run / 7 Pass – 30% Run
2014 Totals: 10 Drives – 3 Run / 7 Pass – 30% Run
SHOTGUN SNAPS:
Shotgun snaps are fine, but we'll track this stat from week to week to make sure the Buccaneers aren't getting too lazy in using it. There is no way an opposing defense respects your running game. When shotgun totals are high, the Buccaneers are generally behind, scared of their offensive line, or frustrated.
WK 1 – Carolina Panthers: 34 Shotgun / 55 Total Plays – 61.8%
Season Total – 34 Shotgun / 55 Total Plays – 61.8%
Here is the breakdown by groupings:
And now, a look at the efficiency of each personnel grouping.

Totals by Personnel Groups on 3rd/4th Down:


Pass Rushers Against Tampa Bay – 38 Pass Situations vs Carolina
Wk 1: Carolina Panthers Blitzed 8/38: 21%
Season Blitz Rate: vs Tampa Bay 8/38: 21%