Well Bucs fans, last week was heartbreaking. A "must win"  division road game in Carolina started out as a rout with a 35-7 halftme lead by the Panthers. As usual Tampa's defense clamped down and the offense ramped up, which helped them close to within 7 points in the fourth quarter. Unfortunately, the defense couldn't make one last stop and the Panthers scored another late touchdown to stretch their lead to 14 points and eventually win 42-28 over the Bucs.
My "Playaz 2 Watch" for last week were running back Christian McCaffrey on offense and defensive end Ka'waan Short on defense. McCaffrey did the most damage on offense with 17 rushes for 79 yards and 2 touchdowns for a 4.6 yards per carry average. He also added 5 catches for 78 yards for a 15.6 yards per catch average. The Buccaneers defense allowed the second year running back to gain over 10 yards every time he touched the football which is absurd. Short on the other hand, did not record a sack. He did finish with 4 tackles for the game, but the Bucs o-line was decent enough to keep him away from Ryan Fitzpatrick for the most part. They were not so lucky with Carolina's other defensive end Mario Addison who finished with 3 sacks and 2 tackles for loss. He was the only Panther player to get to Fitz all day, at least for a sack. Unfortunately, McCaffrey was a huge difference maker in this game and a big reason that Carolina won that football game.
This week, my picks for "Playaz 2 Watch" are two obvious ones. On offense, I'm going with the Redskins athletic tight end Jordan Reed. On defense, I'm going with defensive end Ryan Kerrigan. Here's why I chose these two guys.
OFFENSE- TE JORDAN REED #86
At 6'2″/245lbs, the 28 year-old Reed is in his 6th NFL season with Washington. Despite an injury plagued career where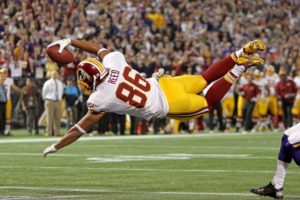 he missed 28 games in his first 5 seasons, he's still totaled 308 catches for 3,153 yards and 23 touchdowns for a 10.2 yards per catch average. This year alone, he's got 33 catches for 340 yards and 1 touchdown in 8 games. I chose him over running back Adrian Peterson because the Buccaneers defense has had trouble defending speedy, athletic tight ends all season. Last week, Panthers tight end Greg Olsen had 6 catches for 76 yards and 1 touchdown and I think Reed could do even more damage if the Bucs don't keep an eye on him.
DEFENSE- DE RYAN KERRIGAN #91
At 6'4″/260lbs, the 30 year-old Kerrigan is into his 8th season all with the Skins. Despite playing more defensive snaps than all the other edge rushers in his 2011 draft class, he has never missed a game and is starting his 121st straight game. Over his stellar career, he's totaled 77 sacks, 115 QB hits and 101 tackles for loss. This year alone, he's got 5.5 sacks, 7 QB hits and 4 tackles for loss. The dude is absolutely disruptive in the backfield and one of the most
underrated pass rushers in football. He plays on both sides of the d-line, but primarily rushes from the left end position which means right tackle Demar Dotson could have his hands full for this game. The Bucs will likely give him some help throughout the game by lining up tight end OJ Howard over there. Whoever ends up lining up across from him will need to be on top of their game to keep him as far away from the Bucs backfield as possible. If they can keep Fitz clean in this game, the Bucs offense should be able to put up enough points to pull out a win.
I think this will be the third week in a row that I've said this, but this game is a "must win"  for this Bucs team. A loss puts them at 3-6 and would make it damn near impossible to make a run for the playoffs. A win makes them 4-5 and keeps them in the hunt. It gives them a sliver of hope for the NFC South title. With 5 of their 8 remaining games at home, including all three division games, anything can happen. The rest of their schedule after the Redskins is at the Giants, then the 49ers, Panthers and Saints at home, then heading out of town to play the Ravens and Cowboys before returning home to end the regular season against the Falcons. The last time the Bucs were 3-5 in 2016, they got on a late season run (thanks to their defense)  winning five in a row and were able to finish with a 9-7 record. If you're like me, you're hoping for a similar second half in this season. They're going to have to get to 10-6 to even get a shot at the playoffs, which essentially means going 7-1 in these final 8 games. But to do that, they'll have to win this next game first.
Until then, as always…GO BUCS!!!