Well, another week down and another loss on the books. The Bucs allowed the overachieving, injury plagued Washington Redskins to come into Raymond James Stadium and steal one letting yet another "must win"  game slip through their fingers. My "Playaz 2 Watch"  for that game were tight end Jordan Reed on offense and defensive end Ryan Kerrigan on defense. Reed finished as one of the Redskins leading receivers with just 4 catches for 51 yards in a game where their offense could never really get anything going against the Buccaneers defense who finally decided to show up. Unfortunately, the Bucs offense never did and the Bucs lost 16-3. Kerrigan totaled just 2 tackles and had zero sacks on the day and was a non-factor for most of the game. The Redskins never should've been in this game, but the Bucs offense shat the bed only scoring 3 points in six trips inside the Skins 30-yard line, including five inside the redzone. The Bucs defense played arguably their best game of the season holding the Skins to 16 points and just 286 yards of total offense. The Bucs dropped to 3-6 on the year instead of pulling to 4-5 with two very winnable games coming up against the Giants and Niners.
This week, the Bucs are going on the road to play JPP's former team the New York Giants. Their offense is stacked despite being ranked 24th in total offense averaging just 345 yards and 20 points per game. With Eli Manning at quarterback throwing to receiving weapons like tight end Evan Engram and wideouts Odell Beckham Jr and Sterling Shepard, that offense has the potential to be explosive at any time. But the success of this Giants offense revolves around rookie running back Saquon Barkley, which is why he is my offensive pick for my "Playa 2 Watch".
On defense, the G-men are ranked 22nd in the league giving up 367 yards and 25 points per game. They only have 6 interceptions and 10 sacks on the season so this is a defense that the Bucs #1 ranked offense SHOULD be able to put some points up against…but I thought the same thing last week as well. Nobody on the defense scares me except for one guy so that made the choice for my defensive "Playa 2 Watch"  obvious and easy. I'm going with the guy that most Bucs fans were hoping to see in a Bucs uniform before the trade deadline ended in Giants safety Landon Collins.
Now let's get into WHY I went with those two guys.
OFFENSE- RB SAQUON BARKLEY #26
In 9 games this season, Barkley already has over 1,000 yards from scrimmage. He now has 131 carries for 586 yards and 5 touchdowns averaging 4.5 yards per carry to go along with 62 catches for 530 yards and 2 touchdowns…AS A ROOKIE! He's had 100+ yards from scrimmage in eight of his nine games in this first year, which tied the record held by Hall of Fame running back Eric Dickerson. In fact, his 1,116 total yards ranks 3rd in the league right now behind the Rams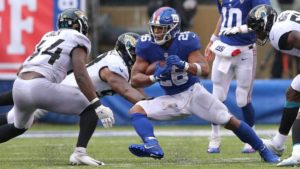 Todd Gurley (1,390) and the Steelers James Conner (1,158).  He's the definition of a dual threat back and the Bucs have had trouble defending them all season. Now they have to try and do it without all three of their starting linebackers (Alexander is on IR, Beckwith is still not activated, David is out with a knee injury)  and a starting defensive end Vinny Curry. Barkley likes to break those yards off in big chunks too. He has 7 carries of 20+ yards and 3 carries of 40+ yards this season. However, he has gained a bit of a "boom or bust"  reputation in the run game. While he has had success busting out explosive runs, he's also had a large number of short runs as well. Out of his 121 carries, 38 have been for less than 2 yards, 15 have been for no gain and another 19 have been for negative yards. That means that 60% of his carries have been for 2 yards or worse. And that means he's containable. If this Bucs defense can play disciplined, fundamental football then they can slow this rookie down and keep him from being a "game wrecker". That "next man up"  mentality will be tested as reserves Adarius Taylor, Cam Lynch and Kevin Minter will be filling in at linebacker. Just fill in the gaps and make the tackles and they should be okay. If they don't do those things, this could be a huge day for the rookie RB and a long one for the Buccaneers.
DEFENSE- S LANDON COLLINS #21
Size. Speed. Instincts. Ball skills. Collins is the perfect prototype for the modern era NFL safety. At 6'/220lbs, the 24-year old second round pick out of Alabama is one of the best safeties in the league, which is why the Giants drew so much interest from teams wanting to trade for him and why they were asking so much in return for him. Most safeties are either good in run support OR good in coverage. Very rarely are they good at both. Collins is one of the few. He's an elite run defender, but his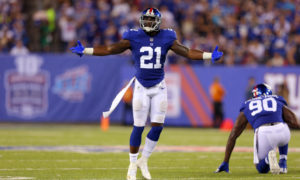 coverage has gotten better with experience as well. He already has 71 tackles this season, including a 14 tackle game versus the Saints and a 10 tackle game versus the Eagles. He's even looking forward to his matchup with Bucs tight end OJ Howard today. The two-time Pro Bowler says that he idolized former Redskins safety Sean Taylor growing up and it shows in his game. He's a hard hitter and a ball hawk, which is a rare combination in today's NFL. In 2016, he had 4 sacks and 5 interceptions and was in the discussions for "Defensive Player of the Year"  honors. He's also become one of the leaders in the locker room as well. All of this is why the Giants were asking for second day compensation (2nd or 3rd round picks) for Collins in the trade market. He becomes a free agent after this season, which means the Giants will either have to let him walk or come up with a BIG payday for him whether it's a long term deal in the $10 million per year range or by franchise tagging him which would cost them around $12 million. Luckily the Bucs have more offensive weapons than the Giants defense can handle so even if Collins gets the best of Howard and/or Cam Brate they should still be okay.
Here's the bottom line. The Bucs are out of time and they're running out of games. At 3-6, they would basically have to win out to get into the playoffs. It helps them that nobody in the NFC is really running away in the win column except the 9-1 Rams and the 8-1 Saints. Nobody else has better than a 6-3 record. If the Bucs can get on a late season win streak somehow, then who knows what might happen. Other than the division leaders, there are seven other teams with better records than the Bucs. They definitely need some help along the way, but if they can win today in New York then beat the Niners in Tampa next week they could be right back in the mix for a wild card spot. But for that to happen, they have to get it started with a good showing against the Giants. We'll see just how bad these guys want to turn this season around in a few hours.
Until then, as always…GO BUCS!!!