The Week 1 invasion of the port in New Orleans was a success. The Buccaneers were able to enter the Mercedes-Benz Superdome a ten point underdog and exit with a division road win after beating the Saints 48-40 in an offensive shootout. Last week's "Playaz 2 Watch"  were Saints wide receiver Michael Thomas and defensive end Cam Jordan. The Bucs offense was able to keep Jordan away from Fitz and mostly ineffective for the entire game finishing with just 3 tackles and zero sacks. Thomas, on the other hand, gashed the Bucs secondary to the tune of 16 catches on 17 targets for 180 yards and a touchdown. That's an 11.25 yards per catch average. Six of those catches went for more than 10 yards with a long of 35 yards. Sean Peyton did a brilliant job moving him around to take advantage of mismatches. He did the same thing with running back Alvin Kamara who finished with 9 catches for 112 yards and 1 receiving touchdown. The Bucs did however, hold him and the Saints rushing attack to 43 yards on 13 carries. Kamara only had 8 carries for 29 yards, but he did score 2 rushing touchdowns. Anyway, that was last week. This week, the defending World Champs are coming to town and bring a whole new set of challenges with them. So let's see who I've selected as Week 2's "Playaz 2 Watch"  for this Bucs vs Eagles matchup.
On offense I thought about going with Eagles running back Jay Ajayi, but since the Bucs defense was so stout against the run last week I decided not to go that route. Then I thought about going with tight end Zach Ertz who was Philly's leading receiver in Week 1 with 48 yards on 5 catches. Then I saw that even though he had the most yards, Nelson Agholar had the most targets. With their #1 receiver Alshon Jeffery still sidelined with an injury, Agholar has become Nick Foles primary target finishing with 8 catches for 33 yards. And with the depleted Bucs secondary, I decided that he is the offensive "Playa 2 Watch"  this week.
Agholar is 6'/200lbs. and was the first round pick of the Eagles in the 2015 Draft out of USC. Last season was the best of his young career finishing with 62 catches for 768 yards and 8 touchdowns. He's got 4.4 speed and could pose a difficult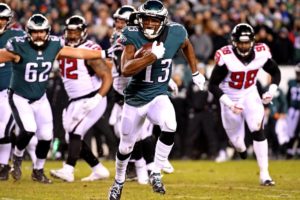 challenge for the young Bucs secondary. With Brent Grimes out for this game and Vernon Hargreaves out on IR, suddenly the two rookie cornerbacks find themselves in what will likely be starting roles. Carlton Davis and Ryan Smith will probably be the starters outside with MJ Stewart as the nickel. Javien Elliott was recently promoted from the practice squad and Marcus Williams was just signed as a free agent. I'm not sure how much Williams will play, but he's been in the league for 4 years totaling 115 tackles and 10 interceptions in 49 games. He'll be the oldest and most experienced corner dressing for the Bucs on Sunday, so Agholar could end up having a big day if the Bucs defensive line doesn't get some pressure on Foles.
Now for the defensive side of the ball. This one was a much tougher decision and I couldn't figure out which d-lineman to focus on this week, so I'm cheating a little bit. My defensive "Playaz 2 Watch"  isn't just one player, it's the entire Eagles d-line. Even though they lost free agents Beau Allen (26) and Vinny Curry (30) to the Bucs, they moved on and signed a couple of their own free agents in defensive end Michael Bennett (32) and defensive tackle Haloti Ngata (34). Even though their line got a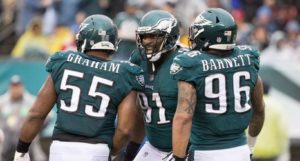 bit older, they're still getting the job done. Last week against the Falcons, they finished with 4 sacks, 14 QB hits, 8 tackles for loss and held the normally potent Atlanta offense to just 299 total yards and 12 points. The run defense is still there as well, holding the duo of Devonte Freeman and Tevin Coleman to just 15 carries for 55 yards. In addition to the two new guys, there's also two new rookies in the mix in tackle Bruce Hector from USF and end Josh Sweat from FSU. Those two Florida boys are joined by Derek Barnett, Fletcher Cox, Chris Long and Brandon Graham all returning from last year's team. They still run the same 8-man rotation that keeps everyone fresh and rested throughout the whole game. As good as the Bucs offensive line performed last week against the Saints, they'll have to be even better this Sunday. Tight end Cam Brate didn't catch a single pass in Week 1, but look for him to play a much bigger role in the offense this week if OJ Howard takes on more of a blocking role to help out on the edge.
Well, there's my "Playaz 2 Watch"  for this Week 2 matchup with the Philadelphia Eagles. If the Bucs can stop the run again, keep Agholar in check and keep Fitz relatively clean, they have a very good chance of beating the Super Bowl Champs and getting to 2-0 for the season. That would be a huge accomplishment considering they're without their starting quarterback, down their top two corners, down two defensive tackles and down a starting linebacker. It also gives them momentum heading into their Monday Night Football  matchup with the Pittsburgh Steelers. Putting up 48 points and beating the Saints in the dome opened some eyes. Beating the Eagles in their home opener would possibly validate that Week 1 performance. Validating that Week 1 performance would cause the rest of the league to take notice that the Tampa Bay Buccaneers might just be the real deal this year. But we'll just have to wait until Sunday to find out. See ya'll in Raymond James Stadium!
Until then, as always…GO BUCS!!!