Well, as much as I'd like to put that dreadful Bears game behind us and move on, I haven't quite been able to do it. Unfortunately, I was dead on with my "Playaz 2 Watch"  for that game in defensive end Khalil Mack and running back Tarik Cohen. Mack had 4 tackles, 1 tackle for loss, 1 sack and 1 pass defensed. He also had a quarterback hit that directly led to an interception when he got his hand on the ball as Jameis Winston was letting it go. Cohen had a big impact as well with 20 touches for 174 yards and 1 touchdown. The Buccaneers defense allowed him to take over the game after totaling just 21 touches for 134 yards and no touchdowns in the first 3 games combined. Now heading into Week 6 following their bye week, the Bucs face the 13th ranked offense with the 9th ranked passing attack in the league. Matt Ryan and those guys pose a significant problem, especially with the way the Bucs defense has played this year. The defense on the other hand has struggled through injuries to key players like safeties Keanu Neal and Ricardo Allen and linebacker Deion Jones. They're ranked 28th in the league giving up 33 points and nearly 400 yards per game. That being said, let's take a look at the two "playaz" that I've chosen to watch for this Sunday.
OFFENSE- WR CALVIN RIDLEY
There were plenty of options to choose from on this side of the ball, but I've decided to go with the rookie wide receiver out of Alabama. At 6'1″/190lbs, he's had a decent season so far totaling 19 catches for 306 yards and 6 touchdowns, but he could end up having a monster day against this Bucs defense. Between wide receivers Julio Jones and Mohamed Sanu, tight end Austin Hooper, and running backs Tevin Coleman and Devonte Freeman there's plenty of other offensive players out there that will need some attention. Ridley has played both inside and outside in the Falcons offense, but they've asked him to master the "Z" spot. He's got serious speed and he's a very good route runner with great hands. He's going to be a problem, especially if Atlanta plays him in the slot which the Bucs have had issues defending all season. With Vernon Hargreaves out for the year, rookie cornerback MJ Stewart has been playing that nickel corner role and has been exposed at times. I wouldn't be surprised to see Javien Elliott get more time at nickel in this game as he is a bit faster and more athletic than Stewart. Whoever is playing nickel will have their hands full with Ridley who hasn't played like a rookie so far.
DEFENSE- DE VIC BEASLEY JR.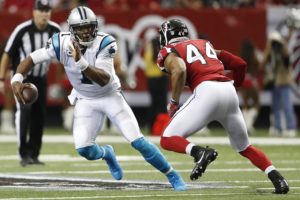 On defense, Atlanta has been hit with the injury bug. Both of their starting safeties are now out for the year along with their star linebacker Jones. Nobody on this defense really worries me, but Beasley has the potential to be a game wrecker. He's into his fourth season and already has 25.5 sacks thanks to a 15.5 sack sophomore year. He had a big dropoff in production in his third season after the Falcons coaching staff decided to move him to more of a linebacker role. Now he's back at his original position as an pass rusher and he's back to being dangerous. He offers speed coming off the edge and even though he only has 1 sack so far this year, he's still a major threat to a Buccaneers offensive line that's been struggling as of late. Beasley works primarily off the left edge so right tackle Demar Dotson, who has struggled a bit this year coming off of his injury, might need some help keeping him in check whether it's from a tight end double team or a chip from a running back. The o-line will need to protect Jameis Winston and give him the time to get that #1 ranked passing offense going if they want to keep up with the Falcons offense. If the Bucs had trouble stopping the Mitchell Trubisky led Bears offense, then things could get really ugly against a quarterback that actually knows what he's doing like Matt Ryan and his group of talented receivers.
Even though the memories of that Chicago game still haunt us, this is a new week. It's a new quarter of the season. It's a new opportunity to get things on the right track. The Bucs are 2-2, but they begin this second quarter of the season with a 0-0 record. They have to look at this as a 12-game season now. A fresh start. This is a chance for this team to get another division win on the road and keep pace with the NFC South leading New Orleans Saints. Limit Ridley's explosive plays and limit Beasley's QB pressures. If this Bucs team can do those two things and lessen the effects that these two players have in this game, then they'll have a good chance of winning this game. We'll see if they can do that come Sunday.
Until then, as always…GO BUCS!!!