As we celebrated the historic 100th tailgate of WhatTheBuc, the Buccaneers put together their best performance of the football season, pounding the lowly San Francisco 49ers 27 to 9. It was a complete football game, as all three phases came together for an excellent effort by the boys in Pewter.
Pieces of Eight
1) There is nowhere else to start but What The Buc's 100th tailgate. It truly is remarkable how things have grown over the years. From a tiny tailgate to the behemoth it is today, it is Tampa Bay's only Hall of Fame tailgate and the great things Derek and company do for charity is absolutely amazing. Shout out to Derek and all the volunteers. You folks are some special Bucs fans. Thank you for all that you do.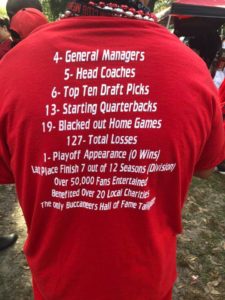 2) We were curious to see how Jameis Winston would react to his benching. At least for one week, the result has been positive. Jameis was excellent today, making good choices with the football, running when he needed to, while not losing that playmaking ability that makes him Jameis Winston. 29 of 38, 312 yds, 2 touchdowns and a 117.4 QB rating is a heck of a day – but the biggest stat? ZERO turnovers. If Jameis does this each week, the Bucs will have their chances to win in the final five games.
3) Congrats to Mike Evans on achieving something only two other players in the history of the league have achieved, and that's gaining 1,000 yds receiving in each of his first 5 seasons. For a guy who doesn't get a lot of national recognition, that's definitely something. If the Bucs ever became a winning organization, Evans would be All-Pro and Pro Bowl every year.
4) More congrats go out to Jason Pierre-Paul, who finally got that 10-sack monkey off the Bucs defensive linemen's backs. How many times did we have to hear that no Buccaneer has had 10 sacks since Simeon Rice had 14 in 2005? Well, hear it no more because JPP did it! Amazingly, he achieved it with 5 games to spare, meaning that if he can stay healthy, he just might keep going.
5) You're hearing Bucs fans poo-poo this win as "Ah, it's just the 49ers." Yes. It's the same 49ers that lambasted Jon Gruden's Oakland Raiders on National Television and gave both the Packers and Chargers huge scares. I don't know if the Bucs are going to win another game this season, I certainly hope they do, but to dominate a team in the NFL is nothing to shake a stick at.  Enjoy this performance by your Bucs. They don't come as often as we'd like.
6) It was a pretty solid performance by the defense, limiting the 49ers to just 9 points, 342 yds of total offense, 4 sacks and by god, they forced two turnovers and nearly got their hands on a couple more. Vita Vea had his best game as a pro and Carl Nassib continues to be a real find for Tampa Bay. The Bucs defense had a crucial goal line stand at the start of the third quarter that really solidified that this week they weren't going to be denied. While there are still way too many lapses in the linebacking core and the secondary, Bucs fans can definitely be pleased with this week's performance. I will say though, the Bucs need to figure out how to stop those runs on the edge or teams are just going to keep hitting that until Tampa Bay proves they can stop it.
7) I almost didn't want to write this line because I didn't want to jinx it, but it looks like the Bucs have finally bumbled their way to a kicker in Cairo Santos.
8) While the win is certainly nice and it's a complete victory, something we've not seen for quite some time (maybe the season opener in 2017?), things aren't any different for Dirk Koetter, Jason Licht or Jameis Winston.  The last five games will be a referendum on all of their tenures.  Here's hoping they finish strong, make a late-season surge to contend for a playoff berth and make us all eat our words. If it doesn't happen, Winston may be the only one left standing once the dust settles.
DLT's Emotional Game Tweet of the Week
The Jinx is over! JPP double-digit sacks! #Bucs #GoBucs #SFvsTB pic.twitter.com/9wOJJJZfqP

— 👽JC De La Torre ☠️ (@jcdelatorre) November 25, 2018