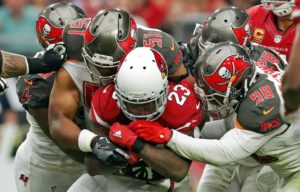 Ok, so I swore that I was going to put that horrific Cardinals game behind me and move on to the L.A. Rams…but after seeing so many negative posts and comments on social media, I felt compelled to say something.
Yes, it was ugly. Yes, Jameis Winston had one of his worst, if not his worst game as a Buc. Yes, Lavonte David did not record a tackle for the first time in 56 games. Yes, the d-line that was in Matt Ryan's face all day last week, only sacked Carson Palmer one time. Yes, the "new and improved" secondary had their second game in a row without an interception. Yes, Chris Conte got beat over the top…twice. Yes, Brent Grimes gave up another touchdown. Yes, the tackling was awful. Yes, it was a very bad day for just about the entire team. WHO CARES!!!
Listen, I don't care how big a fan you are or how devoted you are to the Buccaneers…if you ACTUALLY expected this team to travel to Arizona and beat a Super Bowl contending Cardinals team, then you're absolutely delusional! I don't want to hear this "any given Sunday" nonsense either. That is one of the BEST teams in football, and the Bucs turned the ball over 5 times, in their house. OF COURSE they're going to lose when they do that, whether they're playing the Arizona Cardinals or the Florida Institute of Technology Panthers!
Let's break down this loss for those of you who are still having trouble processing it, shall we.
First, this was a Cardinals team that had lost to the Patriots at home in Week 1 on a missed field goal. Did you really think they were going to lay down and go 0-2 at University of Phoenix Stadium to open this season? Bruce Arians is a very good football coach and he had his team ready to play football. The Bucs were not.
Second, the Bucs are a young team. Talented yes, but very young. They're still learning how to be a consistently good football team. They're still implementing a new defensive scheme. They're still learning how to play with all of the new faces on defense. The d-line only had one sack on Palmer because the Cardinals have a very solid offensive line and Carson Palmer is a crafty vet who knows how to get rid of the football. Dirk Koetter said in his Monday afternoon press conference that the Cardinals had over 200 yards of offense on just 6 plays. That Cards team is capable of doing that against just about any team. The Bucs defense had the same problem a few times in Atlanta. About half of Ryan's yardage came on 3 or 4 pass plays. It will happen with the aggressive style of defense that Mike Smith has brought in…it will just happen less frequently…eventually.
Third, let's not downplay how drastically 4 of the 5 turnovers effected this game (the 4th interception was on the Hail Mary into the endzone late in the 4th quarter). The Bucs offense was actually moving the ball pretty well against a stout Cards defense, but the turnovers kept killing drives. Then there was the "hot potato" pick six by Marcus Cooper in the 3rd quarter. If you take the turnovers out of the equation, it's a competitive football game. The Bucs offensive numbers were just as good as the Cardinals offense, with the exception of points scored obviously. That's how much turnovers can effect a ball game!
I could go on and on and on with this game, but the point of this article was really to address the negativity directed towards the team, the coach and the players after this loss by my fellow Bucs fans.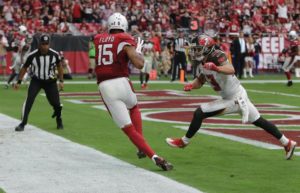 I've seen posts saying "Chris Conte is the worst safety in football". I disagree…and his stats do too! Conte is the second leading tackler on the team right now with 18 in the first two games, trailing only Kwon Alexander's 24 tackles. What he does lack in coverage skills, he more than makes up for in run support. Yes, he did get beat for two touchdowns on Sunday, but it happens. He will be the first to say that he was out of position and couldn't recover fast enough to make the play. Chris Conte was not the reason that the Bucs lost 40-7 on Sunday!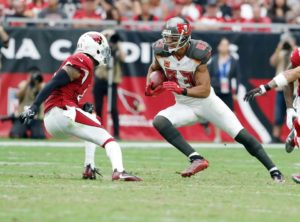 I saw another post saying that "Vincent Jackson is too old and he's lost his speed". Umm, Vincent Jackson is probably in the best physical shape of any player on that team. He's never been a "speed" receiver. His game has always been sharp route running, sure hands, using his size and getting yards after the catch…not speed. He missed 6 games last year due to injury and still had over 500 yards receiving. Prior to that he had six 1,000 yard seasons out of seven. He's still the same old V-Jax, consistently dependable and capable of making big plays. He and Jameis just have to re-establish a connection and then he'll be fine. Vincent Jackson was not the reason that the Bucs lost 40-7 on Sunday!
Another post said that "Gerald McCoy is overrated and stealing game checks". Gerald McCoy is one of the best, if not the best 3-technique defensive tackle in football. He had one sack against Atlanta. Most of the game against the Cards, he was getting double and triple teamed after Robert Ayers left the game with an injury early. I'm not even going to address this ridiculousness anymore. Gerald McCoy was not the reason that the Bucs lost 40-7 on Sunday! Moving on.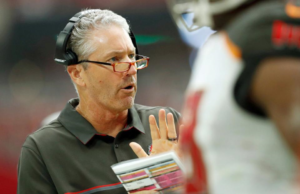 Then there's the post about Head Coach Dirk Koetter, asking the question "If he only wins 6 games this year, should the Bucs fire him?". SERIOUSLY?!?!? Yeah, that's a fantastic idea and a sound "solution to the problem". Let's fire the fourth coach in the last 7 years…brilliant. It's one loss! It's one game! It's two games into his first head coaching season! Come on, be realistic. Give the man some time and he's going to win a lot of games in Tampa.
The game on Sunday was an embarrassing lopsided loss, on the road, at the hands of a Super Bowl contending team…THAT'S ALL! Stop reading so much into it. Again, the 5 turnovers were the story here! This team has the talent. They have a very good, very experienced coaching staff. They have a franchise quarterback. They have all the puzzle pieces…they just need to put all of those pieces together to form the big picture. That's what Arizona has done. That's what Carolina has done. And it's what the Bucs will do…eventually.
So, don't panic. Don't walk the plank. Don't abandon ship. Don't jump overboard. It's a loss, and it only counts as one loss. It's probably the first of at least 5 or 6 this season too. The Bucs are still 1-1 and leading the NFC South. I was upset about the game too, but I also realize that they split a 2-game road trip to open the season, against two pretty good football teams, and now they'll be home for two straight games. If they can win both of these home games they'll finish this first quarter of the season at 3-1 headed into a division game with arch rival Carolina. All the more reason to be the true Bucs fans that I know all of us are, and get our butts out to RayJay to cheer them on! Come on Bucs Nation, this team needs us…maybe right now more than ever before! Now let me hear it…..
T-A-M-P-A!!!…..T-A-M-P-A!!!…..T-A-M-P-A!!!…..T-A-M-P-A!!!