EDITOR'S NOTE:  Steve Shute ran the original "The Crow's Nest" website for 5 years between 1996-2001.  This column is an ongoing ode to those halcyon days of his youth, and a chance to reconnect with generations of Bucs Fanatics.  Feel free to post your thoughts – or criticisms – in the "Comments" section below, and as always… GO BUCS!
Reading Between the "Lines"…
Okay, okay, I am now a full-on believer in "FitzMagic", as the bearded one (below, doing his best impression of The Notorious Conor McGregor at his postgame presser last Sunday) nearly effortlessly dropped another 400+ yard, 4 touchdown beatdown on the collective heads of the defending World Champs (ugh!).
But, as with all great magic acts, there is masterful misdirection at work, and in the game of football (and particularly in the NFL), the heavy lifting is done on the lines.  So, instead of simply being dazzled by Ryan Fitzpatrick's passing acumen and scrambling heroics, I wanted to focus my analysis this week on the truly unsung heroes of the FitzMagic act – the revamped (some would say, downright dominant) play of the offensive line so far this season.
Most of you will remember that both the offensive and defensive line play last year were downright abysmal – the Bucs allowed the most sacks (40) of any line in the NFC South, and sacked the opposing quarterback an NFL-low 22 times, which translates to a -18 differential.  Of course, this was also the worst differential in the NFC, and 6th worst in the league.
However, so far this season, the script has been flipped on its head.
The Bucs have sacked the quarterback 4 times in two games, which is on pace for 32 for the season – a pace which would have put them close to the middle of the pack league-wise last year, but a huge improvement from last year – and Tampa's total of 2 sacks allowed through two games would put them in the upper echelons of the league if it continues to be maintained at that pace.
Making this even more impressive is that this Bucs team has played arguably two of the most dominant defensive lines in the league in the Saints and Eagles, both of which forced nearly double the sack total of the Bucs' D-line last year (with 42 and 38, respectfully).
What has changed on the team's O-line that has resulted in this kind of turnaround?
1. The signing of Ryan Jensen from Baltimore. With all the flash and dash of the signings of defensive stalwarts Jason Pierre-Paul, Vinny Curry, and Beau Allen, and the drafting of DT Vita Vea, this one largely went under the radar – except, of course, for the howls of derision from the pundits saying that the Bucs wasted a ton of money in a center that had had only one "good" season with the Ravens.  Obviously, the interior line has been vastly improved from a pass protection standpoint with his signing, but it also has acquired a bit of a nasty streak – one that Head Coach Dirk Koetter said he wanted to cultivate on both sides of the ball.
2. The move of Ali Marpet (right) to his natural position at left guard. Koetter has always spoken highly of Marpet's versatility and his ability to play both guard positions as well as center, and yes, those are some of his best attributes.  However, having to RELY on those attributes is a big problem.  Marpet never felt totally at home at either center or right guard, and it showed, with some missed coverages on passing plays and especially in the running game.  With Marpet back at his preferred left guard spot, he is dominating opposing defensive tackles, and giving Fitzpatrick time not only to step up in the pocket but also to tuck the ball and scramble when the opportunity presents itself.  Too often last year, that opportunity went begging because of the interior push from the opposing defensive line.
3. Improved depth. One of the good things that the plague of injuries on last year's line created (see below) was a pool of younger players that got a lot of valuable experience in the line of fire.  Players like RG Caleb Benenoch and RT Leonard Wester grew up substantially last season, and the proof is evident in the first two games.  Benenoch, in particular, has become a tremendous asset at right guard, and with young backups like third-round pick Alex Cappa and veterans like Evan Smith around, there should only be a limited drop-off if there are injuries.  Speaking of injuries…
4. The Bucs have a consistent, healthy line for the first time in years. Of course, this could change with the next offensive play, but in the NFL, it pays to be both good and lucky.  The best lines have quality, continuity, and depth to overcome injuries if the need arises – and the Bucs now have all three.  Note that last season, the Bucs lost over 235 player-games to injury, easily the most in the league.  The law of averages would seem to dictate that this cannot happen in two seasons.  (I will retract that last comment as it could constitute the "Commentator's Curse…")
All in all, the line is every bit as responsible for the current success of the Buccaneers' passing game as anything else, including OC Todd Monken's aggressive playcalling and Fitz' passing perfection – and I believe it's time the big guys got their due.
Steve's Spyglass:  The Top 5 NFL Storylines Going into Week 3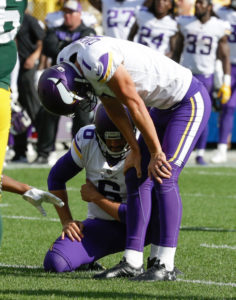 1. Fit to be tied – okay, the NFL's Competition Committee wanted to make kickers more of an integral part of the game, which is why they moved back extra points and, now, have changed overtime to allow both teams to get a crack at the ball if the first team kicks a field goal. All well and good, even though it has given us strange scorelines like 19-18 and 18-12.  I can deal with that.  I don't know, however, if shortening the overtime period to 10 minutes (a move welcomed by the NFLPA, by the way) is creating a better product.  For the second time in two weeks, games have ended in ties – this one being in Green Bay, where Vikings K Daniel Carlson (right, pictured) missed not one, but two kicks in overtime (and then lost his job) as Minnesota tied the Packers 29-29.  (Yes, you read that right – the final score was a 29-29 tie.)  Veteran Packers K Mason Crosby didn't distinguish himself either, missing a potential game-winning FG in regulation to force the extra session.  Speaking of kickers…
2. Where have all the good kickers gone? NFL placekicker is now officially the most endangered position on a team's roster.  With three kickers already having been cut in the first two weeks of the season (poor Browns PK Zane Gonzalez also got the axe the same day as Carlson), and with the pressure on kickers rising, who would want that job?  Carlson was replaced by former Dallas PK Dan Bailey, but other than Bailey, the supply of reliable kickers has pretty much dried up.  We Bucs fans know that as well as anyone (need I bring up the Curse of Matt Bryant?), but now, the rest of the league is beginning to feel our pain.
The supposed adage goes, "kickers are a dime a dozen."  If that's the case, the price might be going up.
3. Patrick… Manning?? The FitzMagic Show may be the biggest story – and surprise – so far in the NFL, but a close second has got to be the performance of Kansas City QB Patrick Mahomes.  The son of former major-league pitcher Pat Mahomes has been throwing fastballs all over the football field in the Chiefs' first two games, both wins – a 38-28 win over the Chargers in LA (in which he threw 4 TDs) and, last weekend, a 42-37 win at Heinz Field against the Bucs' next opponent, the Pittsburgh Steelers.  In the second game, Mahomes threw SIX more touchdown passes to bring his league-leading total to 10 – and breaking the NFL's record for most touchdowns by a quarterback in their first two games of the season (9, set by Peyton Manning in his record-breaking 55 TD season in 2013).  Mahomes also set the NFL record for most touchdowns in their first three starts in the league – even though he threw NO touchdowns last season when he started in Week 17 vs. the Chargers.  The astonishing thing about Mahomes is a poise and uncanny vision on the field that belies his 23 years – his QB rating under pressure is 108.6 which is outstanding, especially when you consider that he is essentially a rookie under center.  Mahomes gets to show his wares for the first time at home against the 49ers next week at Arrowhead, and I have very few doubts that the most dynamic offense in the league this side of Tampa will continue to roll along.
4. Running in Circles – Giants RB Saquon Barkley is a beast, as this run in Week 1 aptly shows, but he will not be able to do it alone in New York. Last weekend, the Cowboys concentrated on stopping Barkley at the line, sometimes putting as many as ten players in the box, and he was limited to only 11 carries for 22 yards (although he also caught an insane 14 passes for 80 yards, almost all on screens).  The issues in New York run much deeper than at the skill positions – their offensive line is an abject mess, and QB Eli Manning is not getting enough time to go through his progressions before getting buried.  At this rate, Manning may not survive the season – and that is a real problem, with David Webb (who?) and Kyle Lauletta (WHO?!?) backing him up.  Barkley will not be completely effective unless the Giants can find some way to protect their quarterback and provide a passing dimension to their offense that is not just a swing pass or dump off to their #2 overall pick.
5. Scoring is Bananas! Blame it on the controversial new roughing rules on quarterbacks, or the crackdown on targeting in general, but scoring – and in particular, passing touchdowns – are way up so far this season.  Through two games, NFL quarterbacks have thrown a whopping 114 touchdowns, for an average of 3.56 TDs/game – the highest number in NFL history during that span.  Overall, teams are averaging 5.6 yards per play and 23.6 points per game, which would similarly set league records in both categories if that pace is maintained.  What's even more impressive is that this is happening early in the year, where the conventional wisdom has always held that defenses have the upper hand as offenses get settled in with new lines, schemes, and coaches.
Surprises – and Confirmations – After NFL Week #2 (beside the Bucs, of course)…
SURPRISE:  The records of the new NFL head coaches.  This season, the league welcomed seven new coaches to the fraternity.  In Week 1, they went 0-for-7.  That's right, 0-for-7.  Week 2 wasn't much better, with only Chicago's Matt Nagy, Tennessee Coach Mike Vrabel, and Colts coach Frank Reich racking up victories.  After two weeks, the seven coaches have a combined record of 3-11.  Ouch.
CONFIRMATION:  The Jacksonville Jaguars' defense is still dominant.  "Sacksonville" made Patriots QB Tom Brady look downright mortal this past Sunday, limiting the GOAT to 234 yards and 2 TDs while sacking him twice and constantly harassing him in the pocket.  Even more impressive, they held all-world TE Rob Gronkowski to only 2 receptions for 15 yards.  This defense has been as overpowering as the Chiefs' offense has.  Mark your calendars:  "irresistible force" Kansas City plays "immovable object" Jacksonville in Arrowhead Stadium on October 7th.
SURPRISE:  Bortles outplayed Brady!  I didn't think that I'd ever write that in a football column, but the stats don't lie.  In the absence of safety-blanket RB Leonard Fournette, much-maligned Jaguars QB Blake Bortles (I see a lot of parallels between Bortles and former Bucs QB Trent Dilfer, but I digress) completed 29 of 45 passes for 377 yards, 4 touchdowns, and only 1 interception (a throw that deflected off the hands of the intended receiver).  In a game where he could not rely on the running game (T.J. Yeldon was the Jags' leading rusher with only 58 yards), Bortles won this one not with his feet, but his arm.  If this trend continues, the Jags might just finally punch their ticket to the Big Show.
CONFIRMATION:  The Rams are simply scary.  In their 34-0 demolition of the hapless Cardinals in the Colosseum, they showed off all their weapons – QB Jared Goff's arm (24/32/354/1TD), WR Brandin Cooks' hands (7/159/22.7 yd avg), and their insane defense (held the Cards to only 144 total yards).  I shudder to think what the Rams will do to other teams on their schedule.  (The Bucs, thankfully, do not play the Rams this season.)
SURPRISE:  The Florida teams – Jacksonville, Miami, and Tampa Bay – are a combined 6-0.  Okay, the Jags aren't a real surprise, although there could be an argument that the win against the Pats was not totally expected – but who in their right mind would have pegged the Bucs at 2-0, beating the Saints and Eagles?  Or the Dolphins beating the Titans and Jets?  Sure, the Bucs and 'Fins were seen as deeply flawed teams coming into the regular season, but obviously they worked hard in the offseason to address their issues – and it obviously shows in their respective records.
CONFIRMATION:  The Bills are downright horrible.  CB Vontae Davis' mid-game retirement notwithstanding, it has been a strange, terrible ride for Bills fans so far.   They released their most effective quarterback, Tyrod Taylor, after last season.  They made a questionable trade for their quarterback of the future, Josh Allen, which did not allow them to address looming issues on both lines.  And, worst of all, their mercurial RB, LeSean McCoy, is now making the worst kind of headlines – as he did in Philadelphia before they let him go.  I'm afraid the long-suffering fans in Buffalo, just as have the long-suffering fans in Cleveland, will need to go through the valley this season before they can begin to climb out of it next year.
The Crow's Nest Handi(re)capping Update!
Okay, okay… I know the adage… "Pride cometh before the fall."  Well, the "fall" happened last week, as I took it on the chin in my ATS and Over/Under picks.  My straight-up picks were respectable (10-5-1), but my spread picks (5-10-1) and O/U picks (7-9) would definitely be termed a "regression to the mean."  As with most Overreaction Tuesdays™, I think my ultimate record will fall somewhere in between.  I'll try to do better next week, but as all of us know (best of all, me), there are no guarantees.
Talk to you next week, and, as always… GO BUCS!