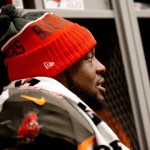 It's gameday, baby! With two straight wins under their belt, the Tampa Bay Buccaneers have quietly snuck into the race for a wild-card spot in this year's playoffs. That's all fine and dandy, but none of that matters if they can't continue their winning ways. They'll be looking to continue that today as the Bucs travel to Lucas Oil Stadium to take on the Luck-less Colts. What can we expect today from Tampa Bay?
---
Offensive Outlook: Keep On Chuggin
If it ain't broke, don't fix it. It's cliché, but it continues to ring true. The Bucs have found a working formula on offense, and all they need to do is keep it up. It all starts with the run game, and Doug Martin (with a dash of Charles Sims) will need to keep things. Last week against the Eagles, the Bucs dominated the time of possession in large part due to a nearly 10-minute drive that ended in a touchdown to open the second half.
This kind of control will be key against Indy, and Jameis Winston will have to continue his game-managing ways. Winston makes great throws more often than not, and he's gotten consistently better at taking care of the football. The Colts are surprisingly effective at creating turnovers, and a few costly mistakes could ruin the momentum and allow them to take control.
Lastly, Mike Evans will have to step up once again with a key challenge in cornerback Vontae Davis. Evans is likely to be shadowed by Davis, and his response to this coupled with the performance of other receivers will determine if Koetter's gameplan can be continually executed exactly as intended. If these all come together, the Bucs can easily march down the field.
---
Defensive Outlook: Harassment 
What does Lovie preach? It's all about takeaways, and you're looking for that magical "plus three turnover ratio." The Bucs didn't hit that mark when they skated by against the Cowboys, but they were right on the mark against Philadelphia. In order to keep the Indy offense in check, the Bucs will have to continue to make plays in that manner.
While the Colts have only average 22.4 points per game, they've put up points on strong defenses more than once. Some are excited the Bucs won't contend with starting quarterback Andrew Luck, but veteran Matt Hasselbeck is no pushover. He's been more than capable when he's had to step up this year, and their most impactful injury issue will not actually be the loss of Luck.
Starting left tackle Anthony Castonzo suffered an ankle injury last week, and his absence will be a troublesome blow to an already shaky offensive line. The Colts are tied for last in the league having allowed 75 quarterback hits through their 10 games. With Jacquies Smith back to create pressure at the line, the Bucs will look to harass Hasselback early and often.
---
Dealin' With Tha' X-Factor (Oh, I know you hate the X-Factor, but you ain't gotta look at me like that) 
While several players have stepped up in recent weeks, the game-changer today could be veteran Gerald McCoy. With Indy's o-line woes and the return of Jacquies Smith potentially lessening McCoy's double teams, it could give him the chance to force the pressure, sacks, and even fumbles that can set the tone in this game. If McCoy goes off, it will no doubt motivate the line and give the defense important momentum to stay in control throughout the day.
---
Predictive MVPs: Vincent Jackson, Gerald McCoy
Score Prediction: Bucs win, 34-20
---
Photos courtesy of Tampa Bay Buccaneers unless otherwise noted. Stats courtesy of NFL.com unless otherwise noted. All rights belong to them.