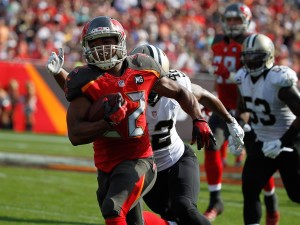 The Tampa Bay Buccaneers are getting ready to head into a bye week, and they have the opportunity to do so with momentum. Unfortunately, this can go very wrong very quickly. If the Bucs fall flat again, they'll have lost 12-straight home games. They won't be back in Raymond James Stadium until Sunday, November 8th. Last week was the time to make a statement, and they made the wrong one. Today, it's Tampa Bay's last chance to change the tone of the season. Don't fuck it up.
---
Offensive Outlook: He's the Dougernaut, Bitch!
I've phrased it differently this time, but the beginning and end of success on the offense still goes back to Doug Martin. No, it does not go back to running the ball. If it was only about running the ball, Charles Sims wouldn't be stinking up the joint on the ground. Sims is a solid receiver, but if there's a handoff it needs to be to the Dougernaut. Doug's consistent play is a bastion of hope that Dirk Koetter should continue to lean on, but something else needs to happen in the meantime.
Or should I say, needs to stop happening. Jameis Winston doesn't have to throw for three hundred yards, but he sure as hell needs not to throw four interceptions. Without the threat of a Josh Norman shadow for half the game, Mike Evans needs to step up and take advantage of Jacksonville's questionable secondary. Winston should lean on a fully recovered and back in the groove Evans.
---
Defensive Outlook: Stop That TJ
For many games, the consistent worry has been the Buccaneers creating pressure. With pressure on Blake Bortles, they'll certainly create the opportunity for sacks, takeaways, and big plays galore. With the assistance of reliable pressure, the Buccaneers have quietly created one of the most efficient pass defenses in the league. Meanwhile, they forgot that other teams actually run the ball effectively.
When Leslie Frazier arrived in Tampa Bay, he brought with him a history of having a staunch rushing defense. It could've been a great marriage in Lovie Smith's pressure and takeaway formula with Frazier's ability to shut down the run. Unfortunately, that just hasn't happened. Whether it be due to Frazier's work as coordinator or Smith's playcalling, opposing teams have gashed Tampa Bay on the ground all year. In order to hang against Jacksonville, they can't let TJ Yeldon, a rookie, look as good as they made Alfred Blue look in Houston.
---
Dealin' With Tha' X-Factor (Oh, I know you hate the X-Factor, but you ain't gotta look at me like that)
Coming off of his most horrific performance yet, this game hinges on the ability of Jameis Winston to rebound from complete failure. There's nothing to show that he can't, but Jameis can't expect to commit five turnovers against Jacksonville and still walk out with a win. The Buccaneers are in dire need of a home victory, and it's time for Jaboo to go into Clutch Mode. Oh, and Connor Barth better make me happy to have him back.
---
Predictive MVPs: Jameis Winston, Chris Conte
Score Prediction: Bucs win, 20-17 (With a Barth FG to clinch it)