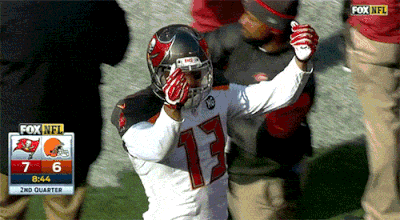 It's gameday, baby! After a tough loss against the Houston Texans, today is the day where Tampa Bay looks to bounce back and enter week five undefeated in the NFC South while batting .500. The Panthers are coming to town looking to spoil it, but Jaboo and the Boys are going to do everything in their power to keep that from happening.
---
Offensive Outlook: POUND. THE. ROCK.
How many times do I have to say this? I feel like a broken fucking record. Every single week I talk about how important it is for Doug Martin to establish a rhythm and make an impact in the rushing game, and the one time they actually did it we won. Unsurprisingly, that happens again this week. It all start with Doug, and if he's given more then a handful of carries, it'll happen.
With a rushing threat established, Jameis Winston can look to pick apart the Panthers as best he can. The offensive line, led again by fire-under-his-ass Joe Hawley, will have to hold tight against a threatening amount of defensive pressure. If they can give Winston even a second to work, he'll have the opportunity to finally establish the danger of Mike Evans once again.
After a rusty return to action so far, Mike Evans will be looking to light things up against Carolina. Keep in mind that the second week of his "rusty return" was still a 100+ yard receiving game, but if Winston can find some consistency on third down to Evans, or ANYONE for that matter, it will open things up for the offense.
---
Defensive Outlook: The Little Things
Last week, the Buccaneers were gashed in run defense by sub-par back Alfred Blue. After that happened, Lavonte David had this to say. "It's small things, very small things that have to be easily fixed, and we're going to get it fixed. It's that easy. Most guys understand and realize we can't let that happen anymore. We won't have another game like that again."
I love Lavonte, and that's all well and good, but they have to come out and do their job when it matters. We can have some positive politically correct banter all we want, but it doesn't mean a damn thing if they come out and let Newton, Stewart, and Tolbert run all over them. The discipline has to step up on defense, and if it does, they can contain the Panthers.
With fewer penalties, fewer missed tackles, and a few big plays that actually end in our favor, the defense can become truly game-changing like their talent suggests they can. It starts with the pass rush, and one man they can focus on is Carolina's right tackle, Mike Remmers. After a few years on practice squads, Remmers is starting only is ninth NFL game, and leads the Panthers in allowed quarterback hurries per Pro Football Focus.
---
Dealin' With Tha' X-Factor (Oh, I know you hate the X-Factor, but you ain't gotta look at me like that)
While the first thought of an x-factor is Cam Newton, it's really Greg Olsen. While his success relies on Newton, you can trust that Newton will be looking for him plenty. After leading the team in receiving for two weeks, including 100+ yards last week, Olsen will be looking to chew up the Tampa Bay defense like he has done so many times before. Only with effective pressure on Newton, combined with Kwon Alexander and Lavonte David having an excellent game, can the Buccaneers hope not to get destroyed by Olsen once again.
---
Predictive MVPs: Mike Evans, Lavonte David
Score Prediction: Buccaneers win, 17-14
Gif courtesy of NFL and Fox, all copyrights and trademarks belong to them, etc. Yadda yadda.