By Caroline Black 
No matter where you are, you are still a Bucs fan at heart. You don't want to let a little thing like an ocean prevent you from watching the game every week, especially if you're sent over to a different country by your job or are on a family vacation. I remember a few years ago a close friend of mine who I watched the game with religiously each week had to work for a few weeks in France. One day on the phone, he asked me how to watch the game while in France. I walked him through a few steps, and fifteen minutes later, he was set up. That weekend, we had a Skype call running along with the game. It turned out to be one of the most meaningful and fun games in my life!
The point is that there is hope for you. Unless you're in a place such as North Korea, you will be able to access internet and television. If you have that, then you can navigate sitting down to watch the team you demand to see every single week like the true fan you are.
Here are a few different methods you can use to watch the game:
Foreign Cable or TV Provider
So long as there is a way to make money off of it, you can expect the NFL and TV providers to cooperate to find a way to expand their dominion overseas, providing football channels to willing consumers. While this can be expensive, it is legitimate and will provide you with a better picture than if you were to stream it online. While there is no proper way to recommend a carrier due to the sheer number of different ones in different countries, you can rest assured that you will be able to find the information that you need with a simple search.
Unfortunately, this is not really a feasible option for a short trip. The time and planning it would take (not to mention money) to get everything set up would be longer than the average family vacation. You would be better off trying an online option or just finding a place that can show the Bucs game. But if you are staying for at least several months, then you need to seriously consider upgrading your TV selection.
An Authorized Streaming Service and a VPN
To the benefit of football and technology enthusiasts all over the world, including Bucs fans, there are a number of different apps, websites, and services out there to help you watch the NFL online when you don't have access to a TV.
NFL Game Pass is likely to be your very best option when it comes to this, as it will allow you to get ahold of any game recently played, an extremely useful option if you're so far away that you'd be up at four in the morning to watch the game live. You can also use apps such as Watch ESPN and CBS Sports to get live, quality video. Finally, you will want to check to see if there are any options for apps or services you get for free with your internet or TV provider.
There is a problem with some of these options, however. There is a high likelihood that these applications are restricted to the United States only. For this reason, you are going to want to use a Virtual Private Network (VPN), which is a service that allows your computer to connect to an offsite secure server via an encrypted connection. While there are a great number of other benefits to your security and privacy (especially for travelers) that you should read about, there is one thing that it does that is essential to you as a Bucs fan: it allows you to get around regional restrictions by making it appear as if you are browsing in America. This means you can watch the game without any problem. If you want the best results, then do some research to find the fastest and safest VPN on the market.
Torrenting or Unauthorized Streaming
Normally, I would not deign to mention such methods as torrenting or illegal streaming as a viable method to watch the Bucs game. It is mentioned here because it is one of your very worst options to try, and if there is any chance to dissuade you, it must be taken.
The problems with torrenting are many. First, you will not get nearly the level of video quality you are hoping for, if you even get something that isn't ridden with malware. You will rarely be able to get the feed of the game the same day that it is on. You will be stuck buffering half the time if you do find a working link. There is a good chance that no one will want to host the game at all.
This is all beside the point that torrenting and streaming the game is illegal. Piracy laws might not be well-enforced in America, but in other countries, that is not always the case, and you could get arrested. From a moral standpoint, it is absolutely no way to support the Bucs. If you watch the game legally, you are supporting them through streaming or ad revenues, allowing the Bucs and the NFL to sustain themselves financially. Otherwise you are stealing from them, if only just a little bit.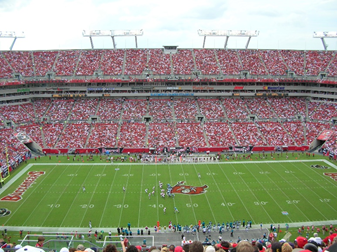 Only you know your exact situation and which of the above options will be the best for you. I encourage you to plan ahead, think it over carefully, and then enjoy your game just as you would at home. It might be a bit of effort, but you know that it is worth it in the long run.
Caroline Black is a writer, blogger and huge sports fan. Her main area of interest is technology and how it can connect her to her other passions, such as travel and football. Check out more of her work at SecureThoughts.com.