The 2016 Buccaneers defense improved by leaps and bounds from the first half of the season to the second half. A large part of that improvement was due to the effectiveness of the defensive line to get more consistent pressure on opposing quarterbacks. The added pressure led to more hurried throws, which led to more turnovers for the secondary. However, despite the better play there's always room for improvement. This article will review the current state of the Bucs d-line and sift through the vast free agent group of defensive linemen the Bucs could choose from this offseason. So, let's begin…
CURRENT DEFENSIVE LINE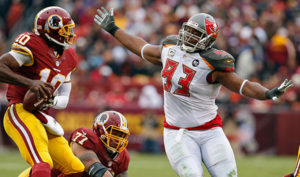 DT Gerald McCoy (28) The anchor of the Bucs d-line is in the middle of his prime, but he needs more help. The 28-year old just completed his seventh season with Tampa and was named to his fifth Pro Bowl. He had 6.5 sacks on the year despite fighting through double teams all season long. As much as I like Clinton McDonald, the Bucs need to get McCoy more help on the inside to suck up some of those double teams. He's under contract until 2022 but until then, they need another disruptive player alongside him in the middle.
DT Clinton McDonald (30) I would like to preface this section by saying that I do like C-Mac. However as you've seen by my free agency articles, I've been partial towards younger players. McDonald just turned 30 and on top of that has been injury prone for his entire career. In 7 seasons in the NFL, he's never played a full 16 game season. In his 3 years in Tampa, he's only totaled 113 tackles and 8.5 sacks and that's playing beside McCoy who commands a double team on every play. He's only got one more year on his Bucs contract and then he becomes an unrestricted free agent. In my opinion if the Bucs do keep him around, it will be in more of a reserve role. Should they decide to release him and move on to a younger, cheaper player they'll save about $2 million towards the salary cap.
DT Akeem Spence (25) Since being selected 100th overall in the 4th round of the 2013 NFL Draft by the Buccaneers, Spence has been nothing more than a decent rotational player in the middle of that line. He's had 4.5 sacks in his four seasons in Tampa from his reserve role. He has been durable over those four seasons only missing 8 games in 2015 battling ankle and back injuries. He wants to remain in Tampa, but I'm not sure he's done enough to warrant a contract offer. He may hit the open market as an unrestricted free agent but if Tampa does bring him back, it might be for less than his 2016 salary of $1.8 million.
DT Da'Vonte Lambert (22) Signed as an undrafted free agent in 2016, Lambert is under contract through the 2018 season. He played sparingly in 11 games last year. With a salary of only $540k, I'm sure he'll be back in training camp to fight for a spot on the d-line again.
DT Sealver Siliga (26) The Bucs claimed him off of waivers last season and he played decently in a reserve DT role. He's an unrestricted free agent so he'll be able to sign with any team, but the Bucs may bring him back. At 6'2″/345lbs, he's a formidable run stopper up the middle and adds depth. It may cost them slightly more than the $313k they paid him last year, but it may be worth it.
DE Robert Ayers (31) He was one of the Bucs "big free agent signings" in 2016 and he didn't disappoint. He finished the year with 6.5 sacks in just 12 games last season. If there's one knock against him it's his durability. In his 8 NFL seasons, he's only played one full 16 game season. In fact, he's missed four games in each of the last 3 seasons. That being said, I love his tenacity and the attitude that he brings to a d-line that was in desperate need of it. He's under contract through the 2018 season so he'll be back again next season. The question is, which side will he be playing on? The Bucs could decide to sign another free agent DE this year so depending on who that is, will determine if Ayers stays on that right side or plays more from the left.
DE Will Gholston (25) As of February 1, the Bucs had already opened up contract discussions with the 2017 unrestricted free agent. He's had 10.5 sacks in his four seasons with Tampa, but his real value is in his run stopping and his ability to set the edge. His 2016 salary was about $1.8 million but he's due for a big pay day. His market value is around $6 million and he may get it, whether it's with the Bucs or another team. Jason Licht has said that re-signing Gholston is one of their top priorities of this offseason.
DE Noah Spence (23) The Bucs 2nd round pick in the 2016 NFL Draft played in all 16 games last season and finished with 5.5 sacks despite playing through a torn labrum for most of it. He had surgery in January to repair it which will probably keep him out of OTA's and mini camp but he should be good to go come training camp. His rookie contract is good through the 2019 season so he'll be sacking opposing QB's for the Bucs for a few more years yet.
DE Jacquies Smith (26) He's a restricted free agent this year which means the Bucs can match any offer for him to retain his rights. The question is, will any other teams be seeking his services? In his first two seasons, he had 13.5 sacks in 27 games. However, he hasn't played a full 16 game season in either of his first 3 years and he tore his ACL last season in Week 1 against the Falcons. His durability could be in question coming off of a significant knee injury so we'll see what happens. He obviously has some talent for sacking the QB and I wouldn't mind the Bucs keeping him around for another season maybe on a one year "prove it" deal. He made $600k last year.
DE Howard Jones (26) In 2015, he showed some promise with 5 sacks in just 12 games. However, he saw very limited action in 8 games until suffering a season ending knee injury in November. He's an exclusive rights free agent which means he'll remain with the team if the Bucs want him to stay and offer him a contract. At 6'4″/240lbs, he adds good depth if he can come back 100% from his injury. He made $525k last year.
DE George Johnson (29) He's still under contract through next season but after not recording a sack in 11 games in 2015 and then suffering a broken hip in August ending his 2016 season, I'm not so sure that the Bucs bring him back. He's due to make $2.25 million in 2017 and should they decide to release him, it would save them that much towards the salary cap. He has shown some ability to be productive when healthy. During his 2014 season with the Lions, he played in all 16 games and had 6 sacks. Unfortunately, that was his only healthy full 16 game season in his four year NFL career. I see the Bucs cutting ties and moving on to a younger, greener pastures.
DE Ryan Russell (25) He was signed midseason and played sparingly in 8 games finishing the season with one sack. He's an exclusive rights free agent so if the Bucs want him back and make him an offer then he'll be back to fight for a spot in training camp. Since he only made $525k last year, I think that'll happen. The question is, what will he do with the opportunity if it does?
That wraps up the Buccaneers players currently on the roster. They could potentially have decent depth at DE but lack any depth whatsoever at DT, especially if they don't re-sign Akeem Spence. There is definitely a need there and could be a need at DE should they fail to work out a deal with Gholston. If they do decide to sign a free agent defensive lineman or two, then I've come up with a list of some players that I wouldn't mind seeing in Tampa next season. Let's look at those…
FREE AGENTS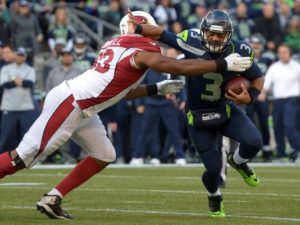 DE Calais Campbell (30) I've seen a lot of Bucs fans that want this guy. He's been one of the best defensive ends in football for a few years now. He's been durable only missing 6 games in 9 seasons with the Cardinals. He's totaled 57 sacks during his career in Arizona including 8 sacks last season. He's definitely a handful at 6'8″/300lbs and he could be a versatile d-lineman in Mike Smith's system. He's been primarily a 3-4 DE but I don't see him having a problem playing in a 4-3 system. I can even see him sliding inside on certain fronts. I wouldn't hate the signing, but as you know I tend to lean towards younger players. He would be costly which is why the Cardinals are more than likely not going to be able to sign him with their limited cap space. He currently has a market value of about $8.6 million which doesn't make sense after he made $15.25 million with Arizona last season.
DE Jason Pierre-Paul (28) He was on my free agent wish list from a year ago but he re-signed with the Giants. At 6'5″/280lbs, he has 50 sacks in 7 seasons in New York including 7 sacks in 12 games last season. He's had injury issues recently only completing one full 16 game season in the last 4 years. However, he has shown what he's capable of when healthy putting up seasons of 16.5 and 12.5 sacks. According to PFF, he was the #5 ranked 4-3 DE in 2016 which means he's going to be an expensive free agent. With a market value of about $14.5 million, the price may be too steep for the Bucs, but I wouldn't mind seeing him and Ayers reunited as bookends on this d-line. He made $9.4 million last season.
DE Jabaal Sheard (27) A cheaper option for the Bucs could be this guy. He's had 36 sacks in just 6 seasons with the Browns and Patriots and has a market value of around $8.5 million. At 6'3″/265lbs, another enticing attribute is his durability. He's only missed 6 games in his career. He's an interesting prospect if the Bucs can lure him away from the newly crowned Super Bowl champs. He made $6.8 million last year.
DT Dontari Poe (26) The 6'3″/345lb unrestricted free agent has only totaled 13 sacks in 5 seasons but those numbers don't reflect just how disruptive he is on the inside. The Chiefs are pretty tight on cap space which means they more than likely won't be able to re-sign both him and safety Eric Berry so Poe could possibly hit the open market. If he does, he'll come with a hefty price tag of about $13 million per year despite only making $6.2 million last year. I would love to see this guy in Tampa playing next to G-Mac as they would form a destructive duo in the middle.
DT Kawann Short (28) This one is a real long shot. The Panthers will most likely use their 2017 franchise tag on him which would keep him from hitting the open market. The 6'3″/315lb rising star has a market value of about $17 million and is supposedly seeking between $17-19 million a year with this new contract. The problem is that he probably deserves every penny. He has 22 sacks and hasn't missed a game in his first four seasons. As much as I'd love to steal this guy away from our division rivals, I don't see it happening. But it sure would be nice to see him in Tampa playing next to McCoy next year. He was a steal for the Panthers making only $1.5 million last season.
DT Brandon Williams (27) This could be a more economical option for the Bucs. He's only had 4.5 sacks in his first four seasons, but those numbers don't reflect the havoc he wreaks on o-lines. He collapses pockets and he's a run stuffing, tackling machine in the middle. The Ravens are very interested in re-signing the 6'1″/340lb monster but that may not be an option. Should the Panthers tag Kawann Short, Williams might be the best interior lineman available on the market so he'll be in high demand. With a market value already at around $11.5 million, the Ravens may not be able to keep up if a bidding war breaks out. He made $1.8 million last year.
DE Chandler Jones (27)  Cardinals head coach Bruce Arians has already stated that should a long term deal not be reached with him, they'll use the franchise tag on Jones. It's unfortunate. However should something happen and he does hit the open market, he could be an interesting prospect. With 46 sacks in his first 5 seasons, the 6'5″/265lb freak would be in high demand but there aren't too many teams that would be able to pay his market value of around $16 million a year. The Bucs are one of the few teams in the league that have the cap space to take on his kind of contract. He made $7.8 million last year.
DE/OLB Nick Perry (26) This is a more affordable option with a market value of around $8.5 million. The issue with him is the durability. In 5 years, the 6'3″/265lb hybrid has yet to play a full 16 game season. However, in the 14 games he did play last year he had 11 sacks. He's on the bottom half of my wish list but could still add another proven pass rusher to the DE group in Tampa. He made $4.875 million last season with the Packers.
The Bucs NEED  to sign at least one free agent for one of these positions. If I had to choose between the two, then DT makes more sense because they're much thinner in the middle of their line than on the edge. If they decide to really splurge in free agency and fill both positions, then the Bucs defensive line could be a force to be reckoned with next year…especially if they sign two players off of this list! Stay tuned for my next article where I'll break down the Buccaneers safety group and list some free agents that could come to Tampa and flourish in Mike Smith's system. Until then…..GO BUCS!!!