The Buccaneers enter the 2017 NFL offseason with a number of different needs to fill. One of the biggest is wide receiver, but with a ton of cap space and the 19th pick overall in this year's draft, they can certainly remedy that problem. They have to get another legitimate receiving threat to take some of the heat off of Mike Evans. My bet is that they add at least two, if not three more playmakers at the wide receiving position through both free agency AND the draft. This article will focus on the free agency side of the equation. I'll kick this piece off with the WR's currently on the Bucs roster.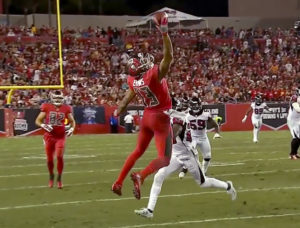 WR Mike Evans (23) He has emerged as the superstar stud that Tampa hoped he's be when they drafted him 7th overall in the 2014 NFL Draft. He's only the 4th wide receiver in NFL history to start his career with three straight 1,000 yard seasons and his numbers have improved each year. In 2015, he was second in the league in drop percentage at 16% (14 drops), but he improved that number to just 7% (6 drops) last season despite catching 22 more passes. With Winston throwing him the football, the sky is the limit for this kid. If the Bucs pick up his fifth year option, he'll be under contract until 2019 when he becomes an unrestricted free agent. He's set to make $4.65 million next season and with a market value already at over $12 million, he'll be expensive to re-sign. Still, the Bucs will crack open the checkbook for him when the time comes.
WR Vincent Jackson (34) He has been in Tampa now for 5 seasons, but the last two seasons have been plagued with injuries. After playing in all 16 games and breaking the 1,000 yard mark in his first 3 seasons here, he's only played in 15 games and compiled just 716 yards over the last two years. Not very good production considering he made just over $11 million last season. I've always been a huge V-Jax fan, but unfortunately I think he's played his last game in a Buccaneers uniform. He's an unrestricted free agent and unless he's willing to take a substantial pay cut, he won't be back. According to www.spotrac.com, his fair market value is about $4.5 million a year. That's even if the 34-year old wants to come back and play football at all. Coming off of a significant enough knee injury that ended his season after Week 6 could be bringing on some thoughts about his post football career life. He's a great player, a super nice guy and an even better man in his community. As much as I'd love to see him back in Tampa, I don't see it happening.
WR Adam Humphries (24) He's one of my favorite players on the team. The 5'11″/195lb receiver has become the Bucs main slot/screen man and one of the more productive and reliable members of the receiving corps. He's still young and has plenty of productive seasons ahead of him. He had 55 catches for 622 yards and 2 touchdowns last season and also saw action as a punt returner. He's an exclusive rights free agent this year, which basically means he'll most likely be back with the Bucs. He made $525k last year with the Buccaneers.
WR Russell Shepard (26) He's an unrestricted free agent this year and as of right now, it's still up in the air whether he'll be back in red & pewter or not. He had 23 catches for 341 yards last season while also occasionally serving as a kick returner. If he comes back, which I think he will, he'll most likely stay in a similar role that he's had over his last few seasons in Tampa. He made almost $1.7 million last year with the Bucs.
WR Cecil Shorts (29) He was signed to a one year deal last year and is now an unrestricted free agent. He suffered a very significant season ending knee injury causing him to be put on the I.R. after Week 13 in San Diego. He only totaled 11 catches for 152 yards in 9 games and never really got very involved in the offense or gained any chemistry with Jameis Winston. Even if the well traveled veteran does come back from his injury, I still don't see the Buccaneers re-signing him. He made $972k last season.
WR Josh Huff (25) He is the only restricted free agent wide receiver on the Bucs roster. But after catching only 3 passes for 41 yards in 3 games, I seriously doubt the Bucs extend him an offer. When he was signed late in the season, he was supposed to replace Cecil Shorts in the offense and on special teams but it just never happened. His lackluster play and a group of more talented free agents should push him out of Tampa. He made $600k last year.
The rest of the current WR corps is made up of Derel Walker (25), Donteea Dye (23), Freddie Martino (25) and Bernard Reedy (25). Out of the four, Martino was the only one with any production at all catching 8 passes for 142 yards and a touchdown. Dye and Reedy failed to record a catch last season and were both back and forth from the practice squad to the active roster all year. Martino and Dye are both restricted free agents so their futures with the team are uncertain. However, I can see the Bucs retaining the services of Martino next season. Dye could end up back on the practice squad with Reedy should he not receive any offers from other teams. Walker never saw action and ended the season on the Bucs I.R. but that didn't keep the Bucs from re-signing him. He signed a two year deal at about $500k per year until he becomes an exclusive rights free agent for the 2019 season.
Yes, that's a seriously shallow receiving corps and it will have to be addressed this offseason. Assuming Jackson leaves, the Bucs NEED a legitimate #2 wideout and they NEED a speed demon deep threat to stretch the field and get the double teaming safeties away from helping with Evans. My personal opinion is for them to address these needs in both free agency AND the draft. There are a number of options in a somewhat talented but older group of free agent wide receivers and the draft class is pretty deep with talent as well. Right now, I'll focus on the free agents since that is the next stage in the NFL offseason.
FREE AGENT WIDE RECEIVERS
Alshon Jeffery (26) At 6'3″/220lbs, Jeffery has the size and speed to be a very productive WR…when healthy. The problem is that he's rarely healthy. He's only had two full seasons out of five years in the league. But in those two 16 game seasons, he had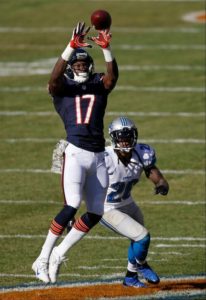 174 catches for 2,554 yards and 17 touchdowns. He's definitely a good player, but with a market value just over $12 million a year I'm not sure the Bucs would be willing to gamble that much on his health. He made $11 million last year.
Victor Cruz (30) Since so many Bucs fans have been quick to jump on this bandwagon, I'll put the brakes on that now. While I'm sure that his $9.4 million 2017 salary had something to do with his release, the main reason the Giants pulled the trigger is because his on-field effectiveness is gone. Towards the end of the season he was losing snaps to undrafted practice squad players King and Lewis. Since the injury, he lacks the quickness to win in the slot and the speed to win on the outside. Unfortunately, his career probably ended in 2014 with that injury. He made $4.4 million last season.
Pierre Garcon (30) At 6'0″/210lbs, Garcon has never been much more than a solid #2 WR whether it was with the Colts or the Redskins. He has been durable though playing in at least 14 games in 7 of his 9 seasons in the NFL and he can be productive. Last year, he posted his second 1,000 yard season of his career with 79 catches for 1,041 yards. His other 1,000 yards season was back in 2013 when he had 113 catches for 1,346 yards. He wouldn't be a bad addition to Mike Evans, but it would cost them a pretty penny with a market value of almost $9 million a year.  I still think the Bucs would prefer to go a younger route to fill their #2 spot. He stole $10.2 million from the Redskins last year.
DeSean Jackson (30) The former Eagle and current Redskin is hitting the market once again. He just posted his third 1,000 yard season in the last four years with 56 catches for 1,005 yards and 4 touchdowns. He proved that he's still got the wheels at 30-years old by averaging 18 yards per catch. A bit undersized at 5'10″/175lbs, he has had durability issues playing all 16 games in just two of his nine seasons. With a market value of just over $7 million, the question again arises whether the Bucs want to take a gamble on him staying healthy. He made $8 million last season.
Kenny Britt (28) After 8 seasons in the league, Britt finally posted his first 1,000 yard season last year with 68 catches for 1,002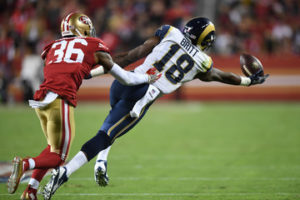 yards and 5 touchdowns. At 6'3″/225lbs, he has good size and decent speed but has never emerged as a true #1 receiver in the NFL. He's had some injury issues for most of his career playing in all 16 games for only three of his eight seasons. He's an interesting prospect as a possible sidekick to Evans. It would give the Bucs another big duo of receivers and for a decent price. Britt's market value is set at around $6.5 million which isn't too expensive considering how much they were paying Jackson. He made $4.85 million last year.
Brandon LaFell (30) The former Panther and Patriot had the second best season of his career last year in Cincinnati where he had 64 catches for 862 yards and 6 touchdowns. He does have good size at 6'3″/210lbs and he's a solid blocker from the wide receiver position. However, is he really a true #2 WR? He could add some much-needed depth to this receiving corps but with a market value of about $6.5 million it would be too costly. I still think the Bucs need a better and younger option to team up with Evans. He only made $2.4 million with Carolina last year.
Ted Ginn Jr. (31) The journeyman wideout had one of his best seasons in 2016 with Carolina where he had 54 catches for 752 yards and 4 touchdowns. At 5'11″/180lbs, he's still one of the fastest players in the league and a threat in the return game, even though he'll be 32-years old headed into next season. As much as I'd love to steal a weapon away from Cam and the Panthers, I'm still hung up on his age. I would rather see the Bucs spend that $4.2 million a year that he's worth on a younger player. He made $2.77 million last season.
Kendall Wright (27) The 5'10″/190lb wideout from Tennessee saw limited action in 2016 and it showed in his productivity. He only racked up 29 catches for 416 yards and 3 touchdowns. However, he has shown potential when he does get the touches. In 2013, he had 94 catches for 1,079 yards but only 2 touchdowns. His market value is supposedly upwards of the $7 million mark but I can't see anyone paying him that much after these last two lackluster seasons. Considering he's more of a slot receiver and not a legitimate #2, I don't see the Bucs pursuing him. He robbed the Titans of $7.3 million last year.
Justin Hunter (25) This guy is an intriguing free agent prospect. At 6'4″/205lbs, he possesses the size, speed and leaping ability to be a real NFL receiving threat. However, for some reason, the productivity just hasn't happened. I don't know if it's been an issue with the systems or circumstances, or if it's simply him getting in his own way. The talent seems to be there just waiting to be ignited and released. He only had 10 catches for 189 yards last season, but he averaged 19 yards per catch and had 4 touchdowns. This could be a hidden gem free agent signing if the Bucs can figure out how to harness and utilize his abilities. He would be relatively inexpensive and he's just entering the prime of his career. He may not be a legitimate #2, but he would add good size and depth to the receiving corps for a reasonable price after making just under $600k last year.
Robert Woods (24) After entering the league with big expectations, he's been a big let down. He's failed to top 700 yards in any of his first 4 seasons and has played in all 16 games just once. For whatever reason, the 6'0″/190lb Buffalo Bill has a free agent market value of almost $8 million but I don't see anyone paying that for him after he made just $1.55 million last year.Maybe he could put up better numbers in a better scheme with a better quarterback, but I'm not so sure that the Bucs would be willing to gamble on it.
Markus Wheaton (25) In his first 4 seasons with the Steelers, Wheaton has had two good years and two terrible years. After two productive years in 2014 and 2015 (97 catches for 1,393 yards and 7 touchdowns), his 2016 campaign was cut short by a torn labrum. At 5'11″/190lbs, he has good speed and has had most of his success from the slot position. He could be a good addition if the Bucs could sign him for a decent price. For some reason, his market value is still high at around $6 million but he won't get anything even remotely close to that in free agency with a 2016 salary of about $1.8 million.
Now we're getting into the players that I'd really like to see in a Bucs uniform next year.
Kenny Stills (24) He's young and he's fast. At 6'0″/195lbs, he possesses the size and talent to be the Bucs #2 WR. He also possesses the speed to be the field stretcher they so desperately need. He could be expensive with a market value of $8 million despite only making $1.67 million in 2016, but he may be worth the investment. He's played in all but one game over his first 4 seasons in New Orleans and Miami so he's durable. He could make a nice duo with Evans if they can find someone with more size to add to the group as well.
Cordarrelle Patterson (25) This may come as a surprise to some, but Patterson is one of my most interesting free agents. At 6'2″/220lbs, he's got good size and wheels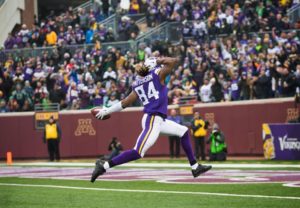 for days. He's had an inconsistent career as a receiver so far, never recording more than 500 yards in a season. His receiving skills may not be intimidating, but his speed still demands respect from defenses. He's fast enough to stretch the field and keep those double teaming safeties away from Mike Evans which adds value. However, his true calling is returning kicks which is where the Bucs really need help. With 5 kickoff return touchdowns and over 4,000 return yards in his first 4 seasons, he's a legitimate threat every time he touches the ball. That's a valuable weapon that the Bucs could add to their special teams arsenal. He made just under $3.2 million last year so he'd be expensive for a returner. But if he could add a little more value as a receiver, it could be worth it.
Terrell Pryor (27) The #1 free agent WR on my list might come as a surprise as well. The former quarterback turned wide receiver is 6'4″/225lbs and had a breakout year in 2016 with 77 catches for 1,007 yards and 4 touchdowns. Yes, he is rough around the edges but the potential upside is off the charts. This guy had a 1,000 yard season IN CLEVELAND with a horrible Browns offense that had 3 or 4 starting QB's last year…that's impressive! If he can do that, imagine how productive could he be playing alongside Evans with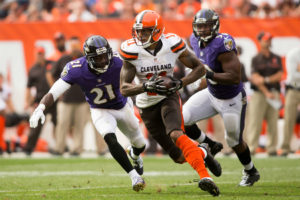 Jameis Winston throwing him the football? It's an intriguing thought and could be worth the big money that the Bucs would have to cough up. His market value is around $9 million but sources say he could bring upwards of $15 million in free agency if a bidding war breaks out. He made $1.67 million last year with the Browns.
My "dream scenario" would be for the Bucs to sign all three of these guys, but that would be very expensive so I'll settle for two of them. Even if they do sign a couple of free agent receivers, I still think they'll pick another up in the mid rounds of the draft since this is a fairly deep WR class. This wraps up my breakdown of the Bucs wide receiver situation in 2017, but keep an eye out for the next installment of this series where I'll break down the offensive line and some possible scenarios for next season. Stay tuned and as always…GO BUCS!!!