On Wednesday, July 11th at 1p.m. the NFL will hold their 2018 Supplemental Draft. For those that aren't familiar with this event, it began in 1977 and takes place every year shortly after the regular NFL Draft. College prospects who did not enter the regular draft but have now, for one reason or another, become ineligible to play in the upcoming season may apply for the Supplemental Draft. The reasons they may not be eligible could be academic or even disciplinary. Players that are at least three years removed from high school may file a petition with the league, but not every player is guaranteed acceptance into the draft. This year, there are only five players available for teams to choose from but we'll talk about them later.
The selection process for this draft is much different than that of the regular NFL Draft. Here teams are divided into three groups based on the previous season:
1) Non-playoff teams with six wins or less
2) Non-playoff teams with more than six wins
3) Playoff teams
The order is then decided by a weighted lottery where the teams with the fewest wins having the best odds at the earliest picks. If a team is interested in one of the available players, then they place a round value on that player. Whatever round they decide becomes their blind bid which they then submit to the league. Whichever team bids the lowest round gets the player, but will have to give up that pick in next year's regular NFL Draft. So for instance, let's say the Bucs want one of these players and decide to bid a fifth round pick. If they are the lowest bidder, then they would have to give up their fifth round pick in the 2019 NFL Draft. It's very similar to a silent auction.
Got it? Good.
Since the Cleveland Browns selected wide receiver Josh Gordon with a second round bid in 2012, there's only been one other player selected in the Supplemental Draft. Clemson offensive tackle Isaiah Battle was selected by the Rams with a fifth round bid in the 2015 draft. As a matter of fact, there's only been 12 players taken in this draft since 1999. So just because there are players available, it doesn't mean that any will be selected.
Now let's take a look at the five prospects and discuss if the Buccaneers could even have an interest in any of them.
1) Adonis Alexander, CB- Virginia Tech
At 6'2″/200lbs, Alexander is a big, long corner with a 4.6 forty and a 40″ vertical. In his three years with the Hokies, he played in 32 games totaling 125 tackles, 7 interceptions and 17 passes defensed. He had first round pick potential, but never reached it on the field. He also had some off the field issues including a 2016 charge for marijuana possession. He was planning to return for his senior season but found out he was now academically ineligible to play which led to his application into this draft. He's a good height/weight/speed prospect with leaping ability and soft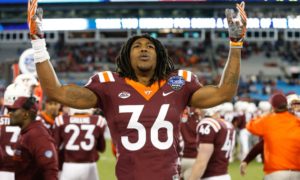 hands. He plays the position with competitiveness and physicality and works best in press coverage where he can use his size to his advantage. Even though he's listed as a corner, teams could also be looking at him as a strong safety due to his size and athleticism.
Projected bid: 6th round
2) Sam Beal, CB- Western Michigan
Beal is another good sized cornerback and some say the most talented player in this draft. He's 6'1″/190lbs, ran a 4.4 forty and had a 37″ vertical. In his three years, he played in 32 games totaling 92 tackles, 2 interceptions and 19 passes defensed. Already considered to be a potential first round pick in next year's draft, he had 50 NFL scouts representing all 32 teams at his pro day recently. He was planning to return to school for his senior season until he found out that he would be academically ineligible to play. He has no other off the field concerns which is positive. He's got good size and better than average speed to go along with his athleticism and physicality. He began his college career as a wide receiver before moving to corner so he does have good ball skills. He's best in man-to-man press coverage where he can disrupt receivers routes and timing with his size and strength.
Projected bid: 2nd round
3) Brandon Bryant, FS- Mississippi State
At 5'11″/210lbs, Bryant is widely considered one of college football's most freakish athletes. He consistantly runs sub 4.3 forties and even clocked a 4.24 in 2015. But not only is he freakishly fast, he's freakishly strong as well with a 600lb deadlift and a 450lb squat which allows him to have a 35″ vertical. According to NFL.com's Chase Goodbread, he's the best overall athlete in the entire SEC ranking higher than LSU running back Derrius Guice and Alabama defensive back Tony Brown. In his three years, he played in 37 games totaling 157 tackles, 3.5 tackles for loss, 1.5 sacks, 5 interceptions and 7 passes defensed. Although he did receive a DUI in January of 2017, that is the only off the field issue that he's had. His decision to forego his senior season came after he was held out of Spring practice due to being ineligible academically. He's an aggressive hitter, a consistent tackler and his athleticism is undeniable. There were 14 teams represented at his pro day including the Saints and Falcons from the NFC South. The Bucs, however, were not there.
Projected bid: 7th round
4) Martayveus "Marty" Carter, RB- Grand Valley State
At 5'11″/200lbs, Carter is an above average sized back with average speed running a 4.6 forty. He was highly productive at the D-II level becoming the all-time rushing leader for GVSU in just three years totaling 3,728 yards and 36 touchdowns which included a 1,900 yard/20 touchdown sophomore season where he won the D-II "Offensive Player of the Year"  award. He also averaged an impressive 7.2 yards per carry during his career. He also became ineligible to play his senior season due to academics. I've seen his athletic ability and skills compared to both Tevin Coleman and Felix Jones meaning he's probably a better fit as part of an RB by committee backfield instead of a feature back role. It's not likely that he'll be taken in this draft, but he could get a shot at a roster as an undrafted free agent with a team who really needs to add depth at running back.
Projected bid: Undrafted
5) Bright Ugwoegbu, LB- Oregon State
At 6'1″/205lbs, Ugwoegbu is undersized to play as an NFL linebacker but he did show quite a bit of versatility in college playing both outside LB positions, edge rusher and nickel corner. He had a "disappointing"  pro day according to NFLMocks.com posting a 4.95 forty, a 33″ vertical and a 9'6″ broad. In his three years, he only played in 27 games while totaling 126 tackles, 17.5 tackles for loss and 8 sacks. He battled an ankle injury in 2016 which ended up requiring multiple surgeries, but he did play every game of the 2017 season. Then just before the 2018 Spring practices were to begin, his new head coach Jonathan Smith suspended him indefinitely for undisclosed reasons. The rumor is that it was because Bright was pretty outspoken about wanting the interim head coach Cory Hall to remain with the team. Nonetheless, he decided not to wait for his suspension to be lifted and applied for the Supplemental Draft. His game speed and athleticism is displayed better on tape than what he showed on his pro day, but it still probably won't be enough to get him selected in this draft. If he does land on an NFL roster it will likely be as a nickel or even a safety rather than at linebacker due to his size.
Projected bid: Undrafted
So that's it for the five prospects available in this draft. Now the question is, will the Tampa Bay Buccaneers be interested enough in any of them to use a 2019 draft pick on one?
The only player's pro day that I know a Bucs scout attended was cornerback Sam Beal's. Then again, every NFL team had scouts there. But with a second round projection, will the Bucs pull that trigger after just spending two 2018 second round picks on corners? I doubt it.
Adonis Alexander could be an interesting prospect for the Bucs. As I said earlier, some teams may be looking at him for strong safety instead of cornerback and Tampa Bay could be in that group. Justin Evans has shown that he has the ability to hold down the free safety position. Even though they drafted Jordan Whitehead in the fourth round of this year's regular NFL Draft and signed coveted undrafted free agent safety Godwin Igwebuike, they could still be in the market for another young safety. Chris Conte and Keith Tandy are both 29 years-old and not getting any younger plus it could only cost them a late round draft pick.
For those same reasons, Brandon Bryant could be on the Bucs radar as well. The freaky athlete would be more versatile than Alexander and be able to play both safety positions which is what the Bucs prefer anyway. With both of them as late round bid projections, Tampa could get a talented young safety to add to their roster even if they end up on the practice squad this season.
As for the other two players, I don't see the Bucs having an interest in either one of them unless it's as an undrafted free agent. And even then, I don't think Ugwoegbu is drawing any interest from them. There could be some interest in the running back Baker should he go undrafted. Yes, they just selected Ronald Jones in the second round of the draft and signed undrafted free agent Shaun Wilson from Duke, who flashed some potential in mini camp. However, they could still add some depth to their RB group with Baker. The rest of their current RB group consists of Peyton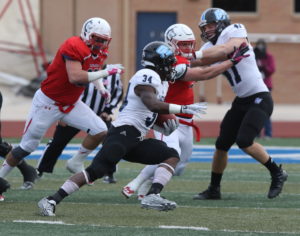 Barber, Charles Sims and Jacquizz Rodgers.  The team is pretty high on Barber and think he will make a nice combo with the rookie Jones. But the days could be numbered for Sims who was originally an unrestricted free agent entering this season until the Bucs re-signed him to a one year deal. Rodgers just turned 28 years-old and is under contract this season for $1.6 million. It's my feeling that either one of these guys could end up getting released to make room for the rookie Wilson. So should that happen, it could open up a running back spot on the practice squad. It's definitely a longshot, but it could happen.
Well, there you have it folks. The 2018 NFL Supplemental Draft in a nutshell. The likely outcome for the Bucs is that they don't end up selecting any of these five players and keep all of their 2019 draft picks. We'll find out tomorrow.
Until then, as always…GO BUCS!!!