What a close preseason matchup we had against the Dolphins last week. But when we look at the best online betting sites for Saturday's Week 2 preseason game, the Bucs are coming in as 3-point road underdogs against the Tennessee Titans, and open the regular season as 10-point dogs against division foes, Drew Brees and the Saints.
 QB Spot Still up for Grabs?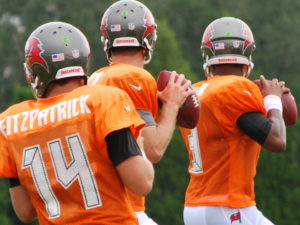 Can Ryan Griffin overtake Ryan Fitzpatrick for the starting role (at least for the first three games of the season)? He put together a strong showing against the dolphins, passing for 179 yards and a touchdown on 26 attempts. More importantly, he completed at a high percentage hitting 20 for 26.  The real question is even if he performs outstanding throughout the rest of preseason play, will the Buccaneers organization give him a shot over a proven NFL veteran that can win games?
We'll have to wait and see. But so far, they only gave Ryan Fitzpatrick eight snaps against the Miami Dolphins, so it is looking like they are already sure of his position as the starter. But you know how the old rumor mill works. A good showing in the first week of preseason, with a scoring drive and according to the press, everything is up in the air.
To me what is much more aloft is Dirk Koetter's job. There were high expectations last season after going 9-7 in 2016. But somehow, the team sputtered into a five-game losing streak, got a couple of wins against two teams that were in shambles, then stalled out and rolled into another five-game skid. It was good to finish the season with a win back against the Saints, but we have to set the bar higher. 5 and 11 is not acceptable. And Las Vegas doesn't expect too much more out of Bucs this season. They have us listed to win 6.5 games during the regular season and odds to come last in the NFC South.
 Preseason Doesn't Count
When I sat down to write this article, I originally intended to write a preview of the upcoming preseason games and whether or not the Bucs would continue to win. But the more I thought about the position that Koetter is in, the more I got to thinking about how he should just focus on using these few remaining weeks fine-tune, establish roles and worry about keeping his job.
Can having a smash-mouth duo like Peyton Barber and Ronald Jones II help take some pressure off the QBs and win some games? The Bucs run game in 2018 was among the league's worst. So, a marked improvement in that area might be the key to getting back above .500. And this should be the top priority for Coach Koetter. Unfortunately, I think anything less than .500 or in the least, a 7-win season, and we'll be seeing new on-field leadership in 2019.
 A Tough Schedule
The season starts with the Saints, the Eagles, and the Steelers. This is an extremely tough early schedule, and it would be much easier to start out 0-3 than 3-0. But the offseason was pretty good, and I have faith that Dirk Koetter can right the sinking pirate ship and rob the rest of the league of some wins. Although seven wins is still a couple of steps back from nine, it's a leap forward from five. That's the mark he has to hit to create a conversation point for keeping his job. And ultimately, his job is in the hands of Winston, Fitzpatrick, and Griffin. One of these guys has to step up and lead the team to victory.