I boarded the METRORail in Houston with optimism and high hopes as we made our way from the parking lot towards NRG Stadium. Over the next few hours, they cultivated that hope for an entire half only to sputter and stall when it mattered the most.
In a game where Kyle Brindza went from kicking the second-longest field goal in franchise history to leaving 10 points on the boards in missed kicks…there's a lot that went wrong.
---
The Offensive Downfall: Flag on the Drop
When you see that a team only scored nine points, it doesn't send a positive message about the offense. To begin, Kyle Brindza has to take his lumps. The rookie had a good start after booming a 58-yard field goal through the uprights, but he went on to miss three more field goals and an extra point. That's ten points we could have had. We lost by ten. You do the math.
When it comes to the offensive line, there were some ups and some downs. The biggest positive out of the game was that they kept Jameis Winston upright all game long. Winston wasn't sacked, and this broke J.J. Watt's seven-game streak with at least one sack. Unfortunately, they could never remain consistent enough in run-blocking to allow Doug Martin to gain momentum. This was compounded by the idea that handing the ball off to Charles Sims would be any different. Spoiler Alert: IT WASN'T. Martin finished with 46 yards on only 14 attempts. Sims managed 11 yards in his six attempts.
Meanwhile, Tampa Bay's wide receivers decided their new favorite pastime was dropping Jameis Winston's passes. Remember folks: IF IT HITS YOU IN THE HANDS, YOU HAVE TO CATCH THE DAMN BALL. Then there were the penalties. The only thing the Buccaneers seem to be able to do consistently is get flagged, and they did so at the worst possible moments. They negated big plays and played a part in converting on a measly 8% of third down attempts.
---
The Defensive Dilemma: Are We Playing Touch or Tackle?
The most frustrating thing about the defense has got to be how close they are to being rock solid. There are good signs all over this side of the ball, but it didn't come together. Even in holding the Texans to only 19 points, the group made their share of mistakes. The biggest issue that was obvious to me from the endzone, and which was confirmed via stats and Coaches Film, is missed tackles.
Safeties Chris Conte and Bradley McDougald were leading the pack in this game with five missed tackles between them. More often than not, I could see defenders just falling off of Texans' players. The missed tackles combined with an overall breakdown in run-blocking allowed Texans' running back Alfred Blue to tally 139 yards and a touchdown on the day, averaging 4.5 yards per carry.
Nine defensive penalties spread out between eight players showed a continued lack of discipline. To clarify the numbers, you might have seen the statistic that Tampa Bay finished with 10 penalties for 84 yards. That sounds bad, but the truth is that it should have been 14 penalties for 104 yards. Tampa Bay had four defensive penalties declined because, despite three instances of defensive holding and one defensive offside, they still couldn't stop the Texans. Chris Conte alone cost us 30 yards in face mask penalties.
---
WeekThreeTBatHOUcoachesfilm.gif
This is a quick pass by Jameis Winston in the second quarter, and he's looking for Russell Shepard. Despite immediate pressure from J.J. Watt, Winston delivers a swift ball right into Shepard's hands…and it bounces right back out of them.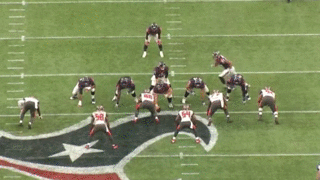 Two major issues show up in this clip, as you'll first see the defense falling all over themselves trying to stop Alfred Blue. He successfully rounds the edge, and it's Chris Conte who finally gets him. Except, his face mask penalty is so blatant and aggressive that you can even see Blue's helmet twist in this clip.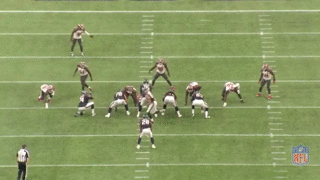 In the fourth quarter, the Buccaneers were still trying to keep the score close. Unfortunately, an exhausted defense completely falls flat here against Alfred Blue. He weaves his way around and somehow emerges in the endzone despite being surrounded at one point by what appears to be at least five Buccaneers. 
In one of the few positive moments of the game, Charles Sims caught a short pass from Jameis and managed to flip his way into the endzone. You'll initially focus on Sims and his moves, but turn your focus to center Joe Hawley. Not only does he do his job at the line, Hawley immediately bolts towards Sims and demolishes two Texans defenders to leave Sims open to make the score. Anyone miss Evan Smith? I sure don't.
---
Verdict
Once again, the most heart-wrenching thing about watching the Tampa Bay Buccaneers is how close they are to capturing that fire. If Kyle Brindza had a better day, it could've easily been 19-19 by the end of the game. If the penalties hadn't negated so much momentum, and those third-down drops had been big completions by Mike Evans, this could've been a completely different story. It was a rough loss on the road, but it's time to move on.
The Buccaneers have to take their mistakes here, learn from them, and move forward. The Texans are a struggling team that is better, talent-wise, than their record indicates. Just like Tampa Bay. By the time the clock struck zero, the Buccaneers had managed to make more mistakes than Houston, and that's all there was to it.
---
Sword: Jameis Winston
There was solid play in a lot of areas, but this week's sword goes to Winston. Time and time again, he was able to get the ball out despite dealing with severe pressure and the occasional sight of Watt bearing down on him. Winston was smart, despite his interception, and threw plenty of catchable balls his receivers just couldn't hold on to. We've got problems, but Winston is NOT one of them. Winston finished with 261 yards and a touchdown on only 17 completions.
Skull: Kyle Brindza
I was considering handing this one to Chris Conte, but it's impossible to ignore Brindza's struggles. I'm not sure if I want to trust Lovie in sticking with him or not, but this was still a horrible day for Brindza. Three missed field goals and one missed extra point are 10 points too much.
---
All stats courtesy of NFL.com or Pro Football Focus unless otherwise noted.
All gifs created using footage from NFL Game Pass. Courtesy of NFL, yadda yadda.