I have always been a fan of Jason Licht. I have defended him in discussions and gave him the benefit of the doubt on more occasions than I care to count. However after what appears to be yet another losing season for the Tampa Bay Buccaneers under his watch, I'm starting to run away from the Licht. With him as the GM, the Bucs are 25-49 and only one winning 9-7 season in 2016 and no playoff appearances. Yes, the coaches and players are the main reason for all that losing. However, Licht is the man who brought those coaches and players here.
Now I could tear apart his spotty free agency signings all day, but I decided to stick strictly with his drafts. I've always thought that he's done a fairly good job in his drafts. But when you really start dissecting his picks and seeing the results of those picks and the players they could've had, it can make you sick to your stomach. So just to make myself even more nauseous, I've decided to travel to an alternate universe where he made some different choices in his five drafts to see what could've been instead of what is.
2014 DRAFT
Rd.1/Pk.7- WR Mike Evans
Rd.2/Pk.38- TE Austin Seferian-Jenkins
Rd.3/Pk.69- RB Charles Sims
Rd5/Pk.143- G Kadeem Edwards
Rd.5/Pk.149- T Kevin Pamphile
Rd.6/Pk.185- WR Robert Herron
Licht came to Tampa in 2014 where his philosophy from the start was to "build through the draft". Ironically, the 2014 draft turned out to be one of his worst with the Buccaneers. Even though he did land superstar wide receiver Mike Evans in the first round, the rest of the draft class is no longer in Tampa. Obviously, offense was the main focus of Licht in this draft with all six picks going to that side of the ball. Hindsight being 20/20, I'll be making my picks with a different philosophy.
Rd.1/Pk.7- DT Aaron Donald (Originally Rd.1/Pk.13 to Rams)
Rd.2/Pk.38- WR Jarvis Landry (Originally Rd.2/Pk.63 to Dolphins)
Rd.3/Pk.69- RB Devonta Freeman (Originally Rd.4/Pk.103 to Falcons)
Rd.4/Pk.128- S Tre Boston (Originally same pick to Panthers)
Rd.6/Pk.185- G/T Zach Fulton (Originally Rd.6/Pk.193 to Chiefs)
So I obviously didn't take a tight end in this draft, but they still had Cam Brate, Luke Stocker and Brandon Myers on the team. As much as I love Mike Evans, there's no way I'm passing up on what will be the best defensive player on the planet in Aaron Donald in that first round. I did get my receiver in the second round with one of the best possession receivers in the game today Jarvis Landry. In the third round, I still went with a running back but I passed on Sims and went with Devonta Freeman instead (you're welcome Bucs fans). I ended up trading both fifth rounders to Carolina for their late fourth rounder since the Bucs wasted them anyway and went with the safety this team needs so badly in Tre Boston. And I did get a solid, versatile offensive lineman in that sixth round, instead of wasting it on Herron, in G/T Zach Fulton.
2015 DRAFT
Rd.1/Pk.1- QB Jameis Winston
Rd.2/Pk.34- T Donovan Smith
Rd.2/Pk.61- G Ali Marpet
Rd.4/Pk.124- LB Kwon Alexander
Rd.5/Pk.162- WR Kenny Bell
Rd.6/Pk.184- WR Kaelin Clay
Rd.7/Pk.231- FB Joey Iosefa
This has been one of Licht's stronger drafts thus far in Tampa up until this season. Now with questions surrounding Jameis Winston's future here and the new contracts of left tackle Donovan Smith and linebacker Kwon Alexander still up in the air, this draft class could end up being another bad one for the Bucs GM. Once again, the focus was primarily on offense with the lone defensive selection being Kwon. So let's see what I came up with in my alternative draft.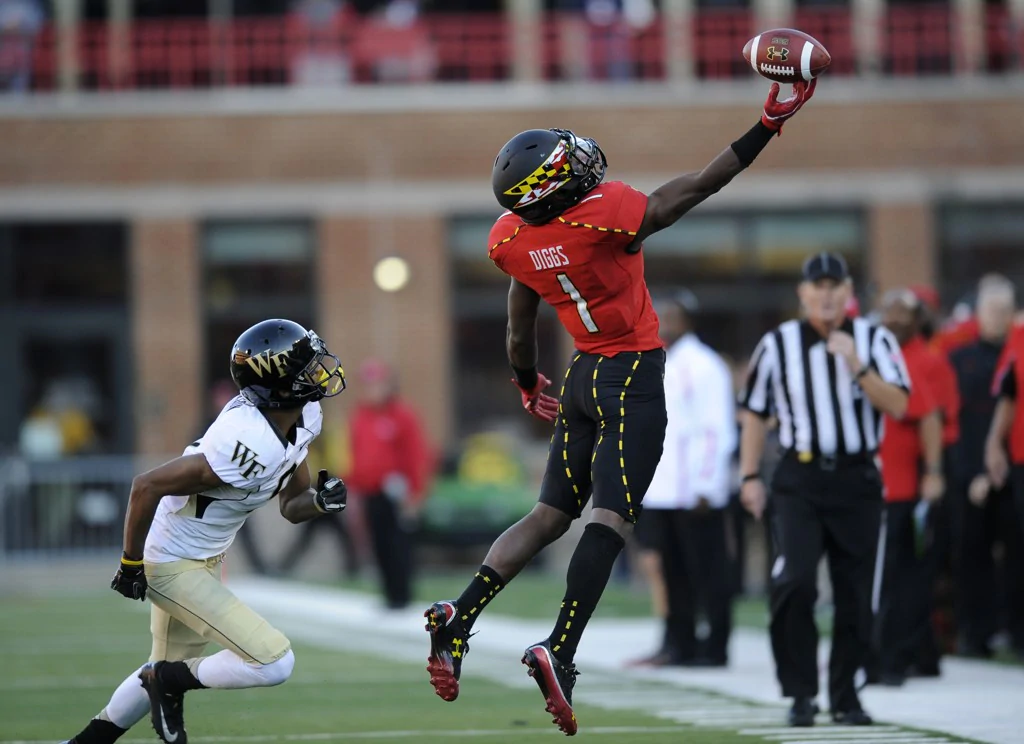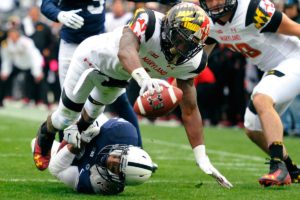 Rd.1/Pk.1- QB Jameis Winston
Rd.2/Pk.34- T Donovan Smith
Rd.2/Pk.61- G Ali Marpet
Rd.4/Pk.124- LB Kwon Alexander
Rd.5/Pk.146- WR Stefon Diggs (Originally Rd.5/Pk.146 to Vikings)
As you can see, I stayed with Licht's draft through those first four rounds. If Winston, Smith and Alexander are all re-signed then it's still a really solid draft. Whether you agree or not, Jameis Winston is this team's franchise quarterback for the future. Donovan Smith isn't a top tier left tackle like coach George Warhop says, but he's pretty solid and he's still young and learning. Ali Marpet is turning into one of the best guards in football. And Kwon Alexander would be an even bigger beast in the right defensive system that utilizes his talents. As for my last pick, I decided that quality over quantity was the way to go here. So I traded my late fifth, sixth and seventh round picks to the Vikings for their earlier fifth rounder to take Stefon Diggs instead of wasting picks on Kenny Bell, Kaelin Clay and Joey Iosefa like Licht did.
2016 DRAFT
Rd.1/Pk.11- CB Vernon Hargreaves
Rd.2/Pk.39- DE Noah Spence
Rd.2/Pk.59- K Roberto Aguayo
Rd.4/Pk.108- CB Ryan Smith
Rd.5/Pk.148- T Caleb Benenoch
Rd.6/Pk.183- LB Devante Bond
Rd.6/Pk.197-FB Dan Vitale
This draft has also evolved into a strikeout. Vernon Hargreaves turned out to be a better nickel corner than an outside corner so taking him at 11 turned out to be a bit of a reach for that position. Noah Spence was drafted to be Tampa's edge rusher of the future and he just hasn't developed as planned. I won't even get into the whole Roberto Aguayo disaster because that little experiment turned out to be Licht's biggest draft mishap ever. The next three picks never amounted to more than decent reserves and Dan Vitale never even made the 53-man roster. This draft has turned out to be terrible, so let's take a look at how I'd fix it.
Rd.1/Pk.9- CB Eli Apple (Originally Rd.1/Pk.10 to Giants)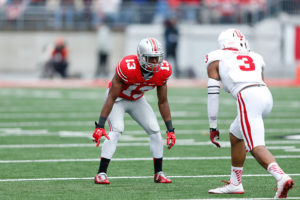 Rd.2/Pk.39- LB Deion Jones (Originally Rd.2/Pk.52 to Falcons)
Rd.2/Pk.59- DE Carl Nassib (Originally Rd.3/Pk.65 to Browns)
Rd.4/Pk.108- RB Jordan Howard (Originally Rd.5/Pk.150 to Bears)
Rd.5/Pk.148- WR Tyreek Hill (Originally Rd.5/Pk.165 to Chiefs)
So I stuck with cornerback in the first round, but I went with an outside corner in Eli Apple instead of a nickel. The need for a LB led me to taking Deion Jones in the second rather than waiting for Devante Bond in the sixth. I still traded a couple of picks away to climb back into the second round, just not for a kicker this time. I wanted Carl Nassib in this draft to begin with so I made the trade to be able to snatch him up. Even though they did get Devonte Freeman just two years before, Jordan Howard was a no brainer pick at that point and he takes over the role as the Bucs third down back that Charles Sims used to be in. And even though I already got Jarvis Landry and Stefon Diggs in the two previous drafts, I'm not passing up the speed demon Tyreek Hill in the fifth round.
2017 DRAFT
Rd.1/Pk.19-TE OJ Howard
Rd.2/Pk.50- S Justin Evans
Rd.3/Pk.84-WR Chris Godwin
Rd.3/Pk.107- LB Kendell Beckwith
Rd.5/Pk.162- RB Jeremy McNichols
Rd.7/Pk.223- DT Stevie Tu'ikolovatu
This is turning out to be one of Licht's better drafts. OJ Howard was a steal at #19, Justin Evans is showing promise, Chris Godwin is a stud and Kendell Beckwith had a solid rookie season even though he's going to miss his entire sophomore campaign. It was his last two picks that were the problem in this draft, so let's see how I can improve them.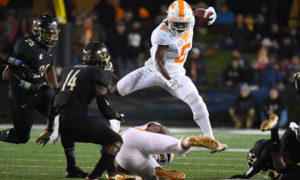 Rd.1/Pk.19- TE OJ Howard
Rd.2/Pk.50- RB Alvin Kamara (Originally Rd.3/Pk.67 to Saints)
Rd.3/Pk.84- WR Chris Godwin
Rd.3/Pk.107- DE Carl Lawson (Originally Rd.4/Pk.116 to Bengals)
Rd.5/Pk.162- DT Caleb Brantley (Originally Rd.6/Pk.185 to Browns)
                                                                              Rd.7/Pk.223- NT Stevie Tu'ikolovatu
So this time, I stuck with half of Licht's picks. OJ Howard was still the obvious pick in the first. Even though they already had Devonte Freeman and Jordan Howard in the backfield, no way was I passing up adding an offensive weapon like Alvin Kamara in that second round. I went with Chris Godwin in the third because he's a stud and now he joins a wide receiver group that includes Jarvis Landry, Stefon Diggs and Tyreek Hill. The d-line needed some love so I added Carl Lawson on the edge to play opposite Carl Nassib along with Caleb Brantley to add to the interior rotation. There wasn't a whole lot still available in the seventh round, so I just stuck with Stevie Tu'ikolovatu there.
2018 DRAFT
Rd.1/Pk.12- DT Vita Vea
Rd.2/Pk.38-RB Ronald Jones
Rd.2/Pk.53- CB MJ Stewart
Rd.2/Pk.63- CB Carlton Davis
Rd.3/Pk.94-  G/T Alex Cappa
Rd.4/Pk.117- S Jordan Whitehead
Rd.5/Pk.144- WR Justin Watson
Rd.6/Pk.202- LB Jack Cichy
At first glance, this looked like a really solid draft by Licht. However, his first two picks here haven't seen the field that often and even when they did they didn't produce. Third round pick Alex Cappa has yet to be on an active roster for gameday. MJ Stewart and Jordan Whitehead have been injured and Jack Cichy is on IR. And Justin Watson has barely contributed on special teams. I'm sure my version will be much more popular, especially among FSU fans.
Rd.1/Pk.12- S Derwin James (Originally Rd.1/Pk.17 to Chargers)
Rd.2/Pk.33- G Will Hernandez (Originally Rd.1/Pk.34 to Giants)
Rd.2/Pk.53- CB Jesse Bates (Originally Rd.2/Pk.54 to Bengals)
Rd.2/Pk.63- CB Carlton Davis
Rd.3/Pk.94- C Mason Cole (Originally Rd.3/Pk.97 to Cardinals)
Rd.4/Pk.117- S Kyzir White (Originally Rd.4/Pk.119 to Chargers)
Rd.5/Pk.144- WR Justin Watson
In this draft, I only kept two of the original draft picks in Carlton Davis and Justin Watson. I went with Derwin James in the first instead of Vita Vea to pair him with Tre Boston. With a strong backfield already, I passed on the Ronald Jones pick and traded up a few spots to get Will Hernandez who should shore up that struggling right guard spot. I added Jesse Bates instead of MJ Stewart because I liked him better in the first place and he's a bigger, more physical corner. As much as I liked Alex Cappa coming out, he must be having problems making the jump from D-2 to the NFL so I passed on him and added some much needed depth at center instead with Mason Cole. And Kyzir White is a stud safety who would add quality depth behind starters Derwin James and Tre Boston.
NEW FANTASY ROSTER
QB- J. Winston
RB- D. Freeman, J. Howard, A. Kamara
WR- J. Landry, S. Diggs, T. Hill, C. Godwin, J. Watson
TE- OJ Howard, C. Brate
OL- D. Smith, A. Marpet, R. Jensen, W. Hernandez, D. Dotson, M. Cole, Z. Fulton
DL- C. Nassib, C. Lawson, A. Donald, G. McCoy, C. Brantley
LB- L. David, K. Alexander, D. Jones
CB- E. Apple, C. Davis, J. Bates, B. Grimes
S- D. James, T. Boston, K. White
Looking back through Buccaneers draft history, there are plenty of examples of boneheaded picks by this team. In 2001, they drafted Kenyatta Walker instead of Drew Brees. In 2005, they selected Cadillac Williams instead of Aaron Rodgers. In 2007, they selected Gaines Adams instead of Adrian Peterson. In 2010, they took Brian Price instead of Rob Gronkowski. In 2011, they took Adrian Clayborn instead of Cameron Jordan and Da'Quan Bowers instead of Justin Houston. Hell, they could've packaged both of those picks up to trade up to #11 to get JJ Watt. In 2012, they chose Mark Barron over Luke Kuechly and Fletcher Cox. In 2013, they went with Johnathan Banks instead of Kawaan Short and Le'Veon Bell. The list of dumb draft day decisions by this organization is endless, frustrating and nauseating.
I know this is all far fetched and fun to think about. It's easy to look back at drafts and criticize picks knowing what the outcome is and what kind of players they turn out to be. I know that the draft is one big gamble no matter what player you get or what round you take them in and I know that there's not a GM in the league that hits on all of their draft picks. I also know that Jason Licht has had some real issues with "building this team through the draft"  like he originally planned and it may lead to his eventual dismissal after another losing season and another year of underachieving. We'll find out one way or another after this season.
Until then, as always…GO BUCS!!!