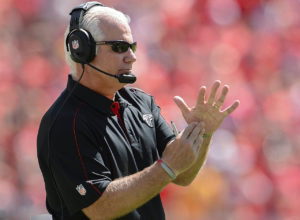 As the Bucs head into the 2017 season, they do so with something in which they were lacking last year: continuity. This team is going into it's second season under head coach Dirk Koetter with his offensive scheme and his coaching philosophies which all of us are excited about, especially with the new additions this offseason. The defense is also heading into their second season under defensive coordinator Mike Smith with his scheme and his coaching philosophies which should have us just as excited, if not more so.
Although it took nearly half the season last year, this concept finally clicked with the players. It's understandable. They were coming from a much different defense than this one and it does take time to adjust. Time to learn their new role in this defense. Then more time to learn their teammate's roles in this defense. Then a little more time to learn how to communicate between their roles in this defense. Now that all of this time has passed, it's time to rock and roll with this defense! This is typical of a Mike Smith team. He says that "Last year, they were learning 2+2=4, but now they've moved on to Calculus". That translates into bad news for opposing offenses.
When he took over the defensive coordinator job with the Jacksonville Jaguars in 2003, he did so with a defense that was ranked 20th in yards allowed, 18th in turnovers, 14th in passing yards allowed, 25th in rushing yards allowed and 25th in first downs allowed. From 2003 to 2007, the Jags defense was ranked 4th in yards allowed, 4th in points allowed, 5th in rushing yards allowed, 8th in interceptions and 3rd in third down percentage. In 2006, the Jags defense finished the season with the 2nd ranked total defense in the NFL.
In Atlanta, it was the same story. In 2007, the Falcons were ranked 29th in total defense, 29th in points allowed, 26th in rushing defense, 24th in passing defense, 19th in turnovers, 28th in first downs allowed and gave up the 3rd most passing touchdowns. During his time in Atlanta from 2008 to 2014, the Falcons defense ranked 3rd in points allowed. In 2010, they ranked in the top 5 in scoring defense. In 2011, they ranked 2nd in redzone efficiency and 6th in rushing defense.
And let's not forget that he was also on the defensive staff for the 2000 Super Bowl champion Baltimore Ravens as a defensive assistant and defensive line coach. They set a 16-game NFL record that season allowing only 165 points all year.
Everywhere that he's been, he's brought a rugged, aggressive, attacking style of defense that allows less yards and points while causing more turnovers. He learns his players and their skillsets and uses that knowledge to put them in the best situations to succeed. Well, now he's learned these Bucs players and how to use them accordingly. He's got new toys at all three levels. He's got pro bowlers at all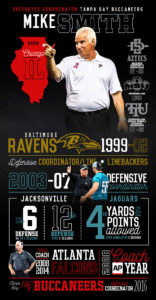 three levels. He's got size, speed and athleticism at all three levels. They should be able to play much faster and much more aggressively after a full offseason and another training camp to dive deeper into and become even more familiar with this system. This should be fun to watch!
It would seem Smith will be running his base 4-3 defense, with a twist. I see more 3-4 looks from him this season. I see more blitzes from him this season. I see a new team sack record being set this season. The previous record is 45 sacks set in the 2004 season so if this d-line stays healthy, they could surpass that number. I see Gerald McCoy and Robert Ayers both getting 10+ sacks for the first time in their careers this season. It would be the most for McCoy since he had 9 sacks in 2013 and the most for Ayers since he had 9 sacks in 2015, his last year with the Giants. I see Noah Spence blowing up this season as he has slimmed down about 15lbs and is now healthy. I'm predicting him with 10+ sacks despite his role as a situational pass rusher. The rest of the group should add another 15+ sacks with the linebackers and secondary adding another 10+ sacks. Just going by those numbers, they're looking at a minimum of 55 sacks which would smash the old record. Who knows…maybe one of these guys will challenge Warren Sapp's franchise record of 16.5 sacks in the 2000 season or at least make a push for Simeon Rice's number of 15.5 sacks from the 2002 Super Bowl season.
I'm equally as excited about the secondary. With added pressure comes added turnovers. Hurried throws often mean inaccurate throws which can mean picks for the defense. Typically, as sack numbers go up, so do the numbers of interceptions. In 2002, the defense had 43 sacks and a franchise record 31 interceptions. In 2001, they had 42 sacks and 28 interceptions. It's not always the case, but the two usually go hand in hand. Brent Grimes should be his normal shutdown corner self and grab about 5 picks, but I'm expecting Vernon Hargreaves to be a breakout star this season. I don't know that he'll break Ronde Barber's record of 10 picks from 2001, but he could make a push for 8 picks which Brian Kelly had in the 2002 season. This is a talented, young secondary group with more speed and more athleticism than last year. If the rest of the cornerbacks can snag another 7+ picks, the linebackers add another 5 picks or so and the safeties field another 8+ picks, then this defense is looking at close to 35 int's and a new team record.
If the Bucs offense performs the way everyone is expecting them to, then opposing teams will be playing from behind a lot and throwing more often. I don't think these numbers are too far fetched. As stoked as I am to see the offense light up the scoreboard this year, I'm equally pumped to see how this defense performs in their second season in Smith's system. He's going to be moving these d-linemen and linebackers around like chess pieces, changing fronts and coverages and adding new blitz packages. This defense finally knows what they're doing and Mike Smith finally knows how to utilize them. This could very well be a record setting year for this group but we won't know until the toe hits the leather in September. Until then, as always…GO BUCS!!!