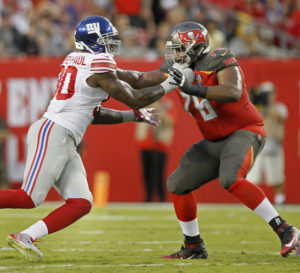 The 2016 Buccaneers offensive line was terrible. After finishing ranked 24th overall according to www.ProFootballFocus.com, changes need to be made this offseason. Drastic changes. As much as I hate screwing with an o-line chemistry, which is pretty important, it has to be done. This article will focus on the current situation of the Bucs offensive line and some scenarios that could help bring about those positive changes including rearranging the starting lineup and some free agents to bring in. So, here we go…
CURRENT O-LINE
In 2015, the Bucs o-line finished ranked 5th in total offense, 5th in rushing and 17th in passing. They produced 2,162 yards rushing for a 4.8 yard average and 12 touchdowns. They also gave up 27 sacks and 109 QB hits on Jameis Winston. Last year, the offense regressed, especially in the run game. They finished 18th in total offense, 24th in rushing and 16th in passing while giving up 35 sacks and 109 QB hits. Buccaneer RB's only ran for 1,616 yards for a 3.6 yard average and 8 touchdowns. According to www.ProFootballFocus.com, the Bucs had the 24th ranked offensive line out of 32 teams. Not too good. What was the difference? Was losing former LG Logan Mankins that big of a difference maker? Did the RB injuries affect the numbers that much? Yes, to both. But the truth is that there were 3 positions that contributed to the lack of productivity last year…left tackle Donovan Smith, left guard Kevin Pamphile and right tackles Demar Dotson and Gosder Cherilus.
LT Donovan Smith (23) At 6'6″/335LBS, Smith has good size but lacks the quickness and the proper footwork to really dominate at left tackle. Last season, he was responsible for allowing 57 pressures and committed 14 penalties. According to PFF, he finished the year as the 69th ranked tackle in the NFL last year. I like Smith as a player. I would just like him better at right tackle instead. He's decent on the left side, but I think he could be very good on the right side which had it's own issues last season. One solution could be to move him and use the 19th pick of this year's draft to pick the best available left tackle prospect or sign the best left tackle free agent on the market.
LG Kevin Pamphile (26) At 6'5″/310lbs, Pamphile has good size but lacks power and it shows in the run game. His lack of push along with Smith's poor performance at LT combined to cause a multitude of problems on that left side. If 2016 free agent acquisition J.R. Sweezy is in fact healthy and ready to go, then he'll take over at that starting LG position and that will help things on that side. However, the question still remains, what to do with Pamphile? My opinion is that he's better suited for a reserve role as a swing guard/tackle.
RT Demar Dotson (31) At 6'9″/315lbs, he's a big dude. But any advantages that his size gives him are negated by his lack of quickness and foot speed. Once you add his age into the mix, it's a bad combination. From 2011 through 2014, he showed some durability, only missing 3 games. However, missing 10 games in 2015 and another 3 in 2016 may spell the end for his career as a Buccaneer. He's been in Tampa for 7 seasons now, but should the Bucs decide to move on from the 31-year old it would save them almost $4.5 million towards the salary cap. The solution could be to move LT Donovan Smith over who's much younger, a bit faster and a little more athletic.
RT Gosder Cherilus (32) He's an unrestricted free agent and in no way do I see the Bucs bringing him back.
He's 32-years old with worsening knees and he showed how much of a liability he's become in the Dallas game last year. Cherilus saw limited action in 2016 filling in for Dotson while he was under concussion protocol and occasionally lining up in jumbo packages when the Bucs brought in an extra tackle. Kevin Pamphile or Caleb Benenoch could easily replace him in the lineup as the reserve/6th lineman should the Bucs move on from him. He cost the Bucs $4.5 million in 2016.
C Joe Hawley (28) The bearded one had a decent year in 2016 but he lacks much-needed power in the run game. However what he lacks physically, he more than makes up for in his leadership, attitude and football I.Q. He'll be an unrestricted free agent this year so he could play wherever he chooses. Bucs GM Jason Licht has already stated that he's love to re-sign the 28-year old Hawley so if he wants to stay in Tampa, I'm sure they'll accommodate him. The question is will he be the starting center when the season kicks off? If the Bucs want to get more powerful up the middle, then they could go a different route.
RG Ali Marpet (23) He's hands down the Bucs best offensive lineman. PFF ranked him as the #14 guard in the NFL last season and #5 against the run. There have been rumors that in an attempt to strengthen the middle of the line, the Bucs could move Marpet to center next season. Jason Licht has stated that he does have the ability to play the position and he has taken reps in practice as the third center. It's an option; especially if the Bucs sign a solid guard in free agency or decide that Kevin Pamphile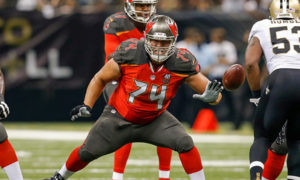 would be better suited for the right side.
C/G Evan Smith (30) If the Bucs re-sign Joe Hawley and If  they choose to move Ali Marpet inside to center, it could spell the end for Smith's stint in Tampa. I like the guy, but his age and the fact that his release would add another $4.5 million to the salary cap might be enough for the Bucs to move on from the veteran. He was a durable player while in Green Bay missing only 3 games in four seasons. However, since signing with Tampa in 2014, he has yet to play a full 16-game season.
G/T Caleb Benenoch (22) Apparently the Bucs are intrigued by Benenoch's potential because the former 148th pick from the 2014 draft is still in Tampa. At 6'5″/305lbs, he's a large specimen and he's quick and athletic. He does lack some power in the run game but that's fixable with more time in the weight room and more coaching. I see him remaining with the team as a reserve swing guard/tackle.
C Ben Gottschalk (24) At 6'5″/295, he's the 3rd string center currently on the roster. He's still under contract through 2018, but he'll be competing for a roster spot come training camp as usual. He's a player that was back and forth from inactive to the active roster. Obviously, the Bucs hold a high enough opinion of him to keep him around.
T Leonard Wester (24) He's 6'6″/305lbs and saw limited action last season. However, the Bucs seem to like him quite a bit. They signed him as an undrafted free agent last season to a 3-year contract. He's another player who will be around fighting for a roster spot in training camp.
FREE AGENTS
I'm not a huge fan of making too many changes to the offensive line, but there are enough issues with this current group that justifies something drastic. Signing a guard or tackle in free agency is an option though the free agent left tackle market is pretty slim. However, I've come up with a few examples of players that could be an upgrade for the Bucs.
LT Andrew Whitworth (35) I know he's up there in age, but the 6'7″/330lb veteran is still one of the best in the game. He finished the 2016 season as PFF's #2 offensive tackle and their 26th best overall player after allowing only 14 QB pressures on 561 pass attempts and finishing with the league's best pass blocking efficiency score. He could hit the open market should the Bengals not work out a deal for him. He has said he'd like to play for a "Super Bowl contender"  so maybe the Bucs could be an enticing choice for him since they're headed in that direction. He made $9 million in Cincinnati last year.
LT Ryan Clady (30) At 6'6″/315lbs, the 4-time pro bowler and 2-time all pro would still be one of the better tackles in football if not for his recent injuries. He's missed 37 games since 2013 with a broken foot and a torn rotator cuff. He was a cap casualty for the Jets as he was due to make $10 million next year. Despite finishing as PFF's 62nd ranked tackle of 2016 playing in just 9 games, he does have a proven track record of being a dominant franchise left tackle.
LT Kelvin Beachum (27) He was the 7th round pick of the 2012 draft coming out of Southern Methodist College. For whatever reason, he slipped and the Steelers were happy he did when he finished the 2014 season as one of PFF's top-ranked tackles only allowing 19 pressures on 687 snaps and had the third best pass blocking efficiency among tackles. The Jags released the 6'3″/315lb free agent after just one season because they didn't want to pay him the $8.5 million he was going to be due next year. He suffered a torn ACL in 2015 which caused his release from Pittsburgh. Despite playing in 15 games last season, he says he played through "consistent knee pain"  all year and never looked fully healthy. It's another risk versus reward situation, but he's shown what he's capable of when healthy and he's still young.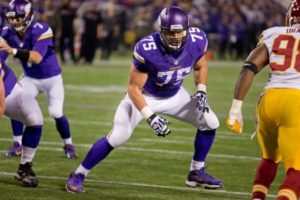 LT Matt Kalil (27) Though he hasn't quite lived up to his status as the Vikings #4 pick in the 2012 draft, he's still pretty darn good. At 6'7″/320lbs, he has an open market value of about $6 million according to www.spotrac.com  and could be an improvement at left tackle over Donovan Smith. He broke the bank earning $11 million last season.
LT Riley Reiff (28) He played well at right tackle for the Lions last season but he's hitting free agency as a left tackle which is his natural position. At 6'6″/305lbs, he's been durable throughout his career only missing 3 games in 5 seasons with Detroit. He could cost the Bucs somewhere between $6-8 million but that's still not a bad price for a solid left tackle.
G Ron Leary (27) He was a part of one of the best, if not the best o-line in football last year. At 6'3″/320lbs, he's "pretty solid in pass protection and a road grader in the run game"  according to www.rotoworld.com  and www.profootballfocus.com  also gave him a good pass protection rating. He's only 27-years old which means he's beginning the prime of his career. Despite only making $2.55 million last year, he could command around $8 million in free agency and Dallas could look to go the younger, cheaper route which is why the Cowboys may not be interested in re-signing him. He could be a replacement for Marpet should the Bucs move him over to center.
G Kevin Zeitler (26) He was one of the best guards in the league last season being named as a Pro Bowl alternate. The Bengals have yet to open talks with the 6'4″/320lb unrestricted free agent so it's possible that he still hits the open market. He made $8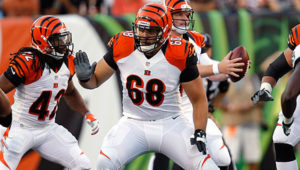 million in 2016 so his price tag will be hefty with a market value of almost $12 million, but it could be worth it to have him, Marpet and Sweezy bulldozing up the middle of that line.
G Andrew Norwell (25) The 6'6″/325lb giant was PFF's #11 ranked guard last season. He's a restricted free agent which means the Panthers have the opportunity to match any offer made to him by another team. At 25-years old, he's the youngest on my wish list of offensive linemen and it would be fantastic to steal him away from our division rivals. He was a steal at $660k last year.
In conclusion, the Bucs should strengthen their o-line by adding either a guard and/or a tackle in free agency. Whichever position they don't address, can be filled through the draft. As I said before, it's never good to make this many changes to your offensive line. However, I don't think they have a choice. The run game was atrocious and they cannot continue to allow Jameis Winston to get hit and sacked at the current rate. They need to get younger and stronger up front and these are just a few ways to get it done.
My next article will be an in-depth look at the current state of the defensive line so stay tuned. Until then…..GO BUCS!!!