Well. Where to start? I've not been around as much lately as I've been soaking up some live football at the 2018 London NFL games. Each year I get far too excited about the prospect of sitting in the stadium and watching things play out live. What this does mean is that I've not been able to keep as close of an eye to the Bucs games. Given all of the Jameis Winston drama, maybe that is not such a bad thing.
London NFL Games
If you're not from the UK and are not aware of the finer details of the London NFL games, this year we had 3 games in 3 consecutive weeks. It's a bit of an ongoing experiment as NFLUK and the NFL attempt to push the boundaries with the international fans. From what I saw, 3 games on consecutive Sundays was a success. Can that be extended to facilitate a London franchise? It's been announced this week that for the 2019 London NFL games, we will be treated to FOUR games. I'm pumped!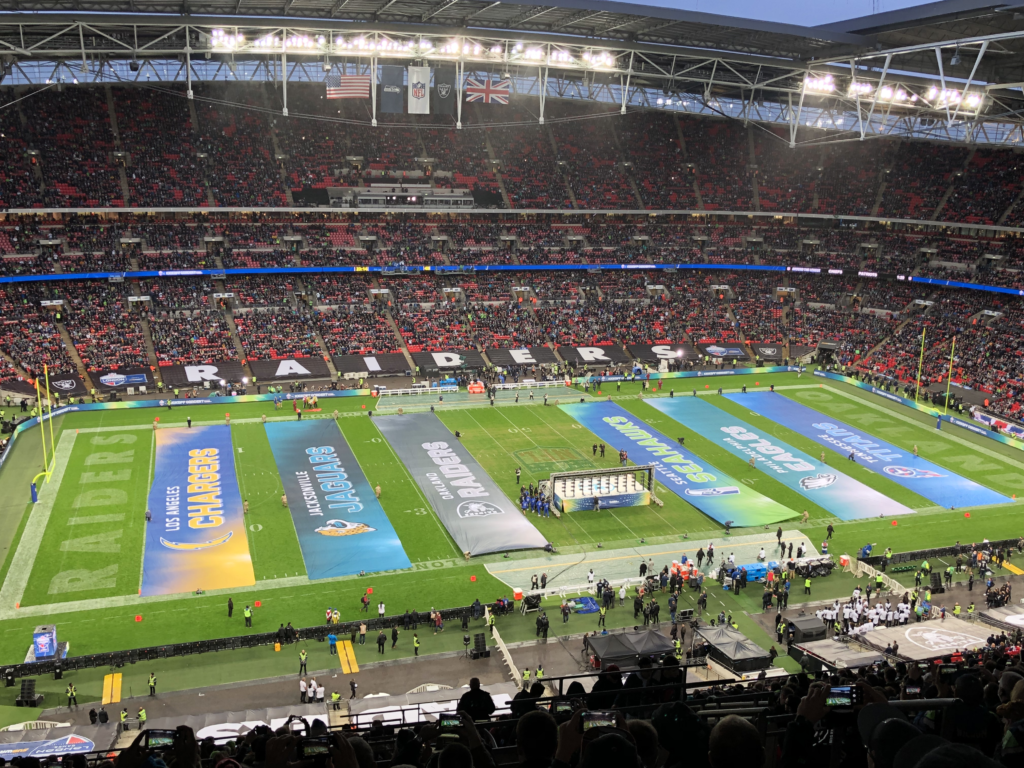 Week 6 – Seahawks @ Raiders and Bucs @ Falcons
For the first week of the London NFL games, we were 'treated' to Jon Gruden's Raiders. I know that things are not going as we might like with the Bucs. Watch the Raiders play and you'll feel a lot better. The only things that I saw from them of note, are no longer relevant. Star running back and fan of Skittles, Marshawn Lynch, is now on IR and Cooper was traded. They have absolutely nothing to offer.
The first of our 3 games in London was a 6 pm game (GMT). As a result, whilst the Seahawks were dismantling Oakland 27-3, we were able to oversee the first games of the day in the US on the big screen. It's certainly not the same experience getting occasional updates on your team playing, you don't get any game context which makes it tough to follow. It was always going to be a fist fight with the Falcons, unfortunately, we were unable to get the final punch in. I started the 2-hour drive home and looked forward to us smashing the Browns in week 7…
Week 7 – Titans @ Chargers and Browns @ The Buccaneers
Gameweek 2 of the London NFL games was an earlier start at 230 pm. We had a much better game this week, including some late drama. The Chargers were pretty comfortable for most of the game but never managed to get out of arms reach. You kind of knew how it was going to play out. Sure enough, with 30 seconds left, the Titans had the chance to tie it up thanks to a late touchdown from ex-Buccaneer Luke Stocker.
This game should have been nailed on for OT, but there's a new breed of coach in the NFL. The Titan's coach called for 2-points to steal the game, they fluffed it and that was that. I heard an interesting story the following week regarding the Chargers. Apparently, they were on such a tight schedule to get home, that had if it had gone to OT, they would have missed their flight and had to stay another day in London!
The earlier start meant that the Bucs game had yet to begin when we finished in London. I listened to an audio equivalent of NFL RedZone in the car on my way home. I naively expected the Bucs to put their woes behind them and comfortably beat the Browns. You all know as well as I do if there is a banana skin, the Bucs will do a good job of slip and sliding all over the place before deciding if they are going to fall on their ass.
I've already mentioned the "new breed" of coach and their way of doing things. I wouldn't have typically said that Coach Koetter was in that mould. Electing to kick from that far out, given the propensity of our kicker to miss…that takes some cojones. Either that or sheer stupidity. Ultimately the history books say if you won or lost, not how you did it.
Week 8 – Eagles @ Jags and Bucs @ Bengals
The final week of the London NFL games of 2018 gave us the Super Bowl champions and the likely future London franchise. This matchup probably looked a lot better on paper when it was made than it did the night before the game. We were missing 'London born' Jay Ajayi, the champs have not been in full flow and Sacksonville have been more Sucksonville of late. It was a decent enough game to be fair. The main talking point before and after the game was the field. It had seen British weather and 3 NFL games in 15 days. It wasn't great. Less than 24 hours after the NFL, it was due to host a high profile Premier League game too.
Little did I know what was about to unfold as I made my way to my car to drive home. Once again I had the radio on with score updates across the league. When playing a team of the Bengals caliber, you really have to be disciplined to give yourself a shot. Interceptions happen, I get it. Part of the occasional marvel of Winston is his dynamic play. Unfortunately, that same dynamic play is currently his downfall. If anything, it's more desperation than dynamism.
No one could be shocked or complain when Winston was pulled from the game. With nothing to lose, Fitzmagic descended and we had a chance. Sadly the miracle recovery was not to be.
Jameis' future
The debate as far as the long-term future of Jamies will rumble on. The simple fact is this, we have invested in him for 4 years and we are on the cusp of significantly increasing that investment. The decisions made in the next few months may make or break this team. Fitz is clearly not the future. Is Ryan Griffin? Would the franchise have confidence in those two if Winston was to leave? If I had to choose right now, Fitz gives us a better chance of winning for now, because he is less volatile. We need to be concentrating on winning games, not losing them.
Would there be a market for Winston? Other teams can see exactly what we do, but there are some teams in need of a new QB around the league. I heard Pewter Report suggesting that we could send Winston to Oakland, there may be some legs in that. Gruden is a public admirer of Jameis and is trying to build his own team. Oakland is loaded with picks right now too so we could get some good draft capital in return. Maybe something for Jason Licht to mull over if things continue as they are.
Record attendances – Buccaneers back in London?
The Eagles v Jags game set Wembley attendance record for the London NFL games at just under 86,000 fans. The UK fans are hungry for football and the recent announcement of 4 games in 2019 would suggest that the NFL are keen to feed them. I'm not going to lie, it's not the same as a game in the US or even particularly close, but it is improving.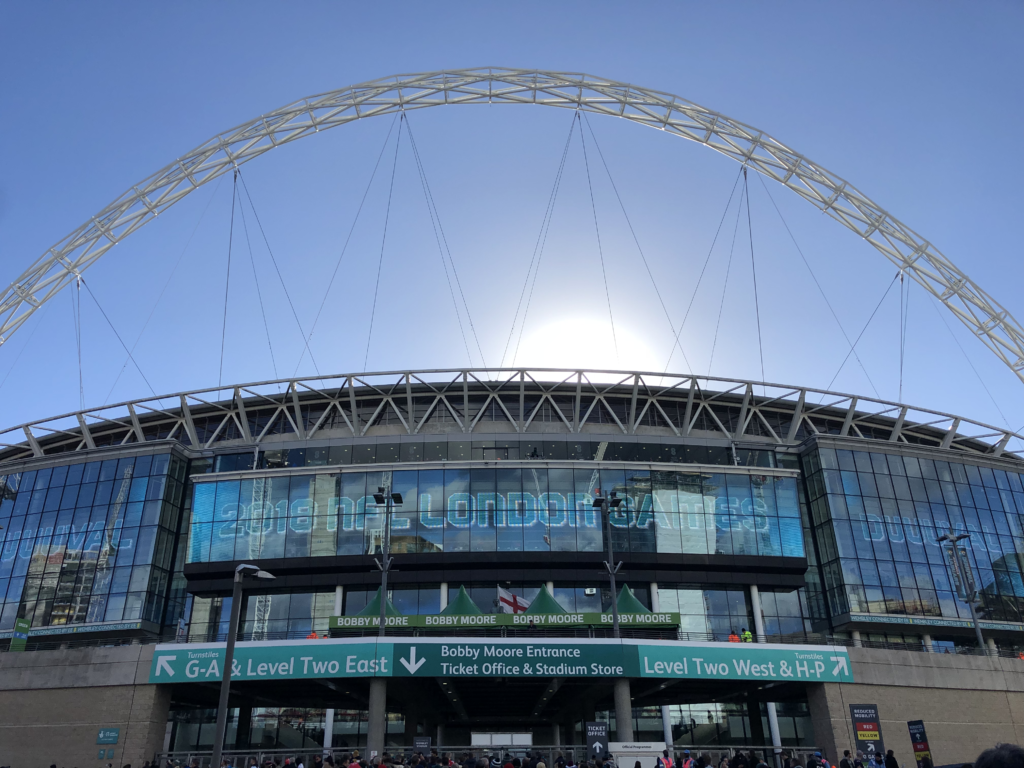 Part of the deal to host a Super Bowl now includes a clause to send the host team to an International Series game. With this in mind, there is a high chance that the Bucs could feature in the 2019 London NFL games. (it could, of course, end up being that they play the Mexico game). We've played here once before I was a fan, then in 2011 when I joined the party. I always see a large number of Buccaneers jerseys at the games, so I think their return would be well received.
By 2019, there will be a purpose-built NFL stadium (playing on artificial turf) as well as the 90,000 seater Wembley stadium. It's an exciting time to be an NFL fan in the UK.
That's all for my round up of the London games. As always, be sure to check out the excellent weekly content from all of the writers here at WhatTheBuc including 2 recent posts on the future of Jameis Winston – You Winston, You Lose Some! and Saving Jameis.
Until next time, Go Bucs!