The Tampa Bay Buccaneers put a hurting on the Chicago Bears on Sunday, 29-7. Did the tape agree with the outcome or was this a closer game than the score indicated?
In a word – nope. This was a straight up butt kicking from beginning to end.
What I Got Right
The Bucs defense was lights out on Sunday. Completely dominant in the running game and the pressure was a bit more consistent than I thought it was. The Bucs only had one sack but numerous pressures. Gerald McCoy lived in the backfield, Noah Spence gave the Bears tackles fits and overall the Bucs were outstanding against the run. Chris Baker took a lot of heat for being goose egged on the stat sheet but folks, the Bears couldn't move Swaggy in the run game. He basically plugged a gap and displayed some great gap integrity, allowing the linebackers and safeties to penetrate and his fellow defensive linemen to close the running lanes.
Take a look at this play as a perfect example of what I mean –
Cohen terrorized the Falcons with his outside running ability, elusiveness and speed – yet Tampa Bay was having none of that. This type of stuff was typical for this game. If the Bucs continue to play defense like this, they will be a Top Five defense in this league.
What I Got Wrong
Well, not necessarily got wrong but totally missed. I'm one of the biggest Donovan Smith apologists around. I believe in the Bucs' 2nd round draft pick and believe some of those Pro Football Focus and number crunchers of their ilk have no flipping clue what they're talking about when it comes to offensive line play.
Smith once again got rotten grades from the analytics nerds, so I paid close attention to Smith in this game, expecting to be able to fill this column with counters to their arguments.
I'm sad to say, this week they were absolutely right. Donovan Smith had an awful Sunday afternoon. There were a number of plays where he was badly beaten and got his quarterback hit, sacked or a running back creamed in the backfield. He wasn't alone, mind you, as each offensive linemen seemed to have their moments of shoddy play but Smith's were some of the most egregious.
Take a look at these three plays from the Coaches film of the Bucs' opening drive.
Play 1: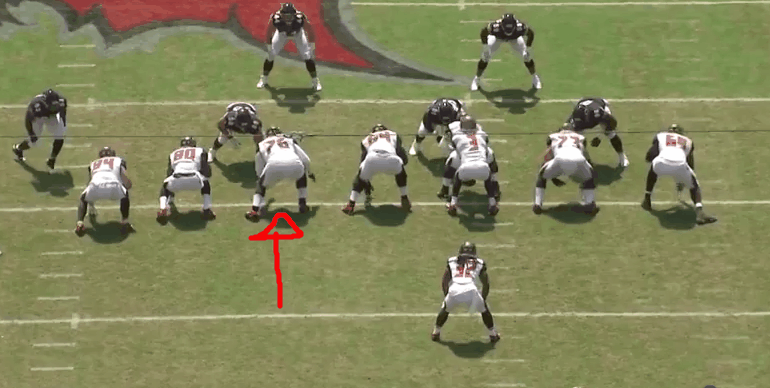 Donovan seems to slip in the play above and the Bears defender has a free run at Jacquizz Rodgers.
Play Two:
In this one, Smith is tossed aside by the defender and TE OJ Howard is late getting over to help out his LT, Jameis takes a QBH.
Play Three:
This one was the worst of the day. The Bears are throwing some weird wide-9 or hybrid 3-4 look and Donovan has to kick out and pick up the outside man.
Well, you can see what happened. Now, in Donovan's defense here – the Bucs were setting up a screen that was obviously read by the Chicago defense and it caused Jameis to hold the ball a little longer than expected. On a screen play, offensive linemen are expected to allow their defenders to get upfield, it's what helps the screen play be more effective if the defensive line charges in there's fewer men to pick up the back or receiver getting the screen. I just thought it was a piss poor effort by Smith to push his man behind his quarterback.
These three plays were from the Bucs opening drive and it wouldn't get any better the rest of the day. I'm still a Donovan Smith fan, I think the Bucs are right in investing in him but he certainly needs to pick up his play. Jameis can't keep getting blindsided like this. He begins rushing his throws, misses open receivers and tries to do too much enhancing the turnover risk.
Commentator Commentary
Dick Stockton is a veteran play-by-play man. He's solid and while I think like our very own Mean Gene Deckerhoff age has taken some of his ability to see the action as it happens on the screen, he's still got the chops. Mark Schlereth makes his transition from the studio to the booth. I've always like Schlereth at ESPN so it was an interesting change to hear him call a game. He did a pretty good job. He leaned on cliches a little too much for my taste and told us a few things that were painfully obvious even to the least knowledgeable football fan but I think Schlereth has potential.
He certainly is a lot better than Rex Ryan.
What The Buc Moment of the Game
When Robert McClain basically ended the Bears in the first half.
Robert McClain's pick-six ⬇️ pic.twitter.com/d5mulXcUCQ

— Tampa Bay Buccaneers (@TBBuccaneers) September 17, 2017
Were the Bucs As Good As They Looked?
Yes and the scary thing? They were really rusty. Wait until this team gets a few more games under their belt and the rust is shaken off. This team may be scary good. We'll have to see how they travel to Minnesota.