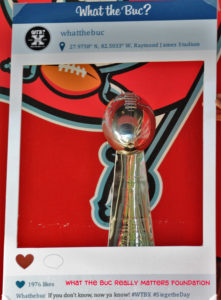 The Bucs had a great run for a while there.  How fun would it be to have a great run like that again? Well, maybe….just maybe…here we go!
It's a lot of fun to win a Superbowl.  Really not much can beat that, and winning a Lombardi Trophy just plain changes things.  It just does.  It's really hard for Falcons fans or even Panthers fans to talk too much trash.  Philly fans can't say much of anything even though they have a much higher winning percentage than the Bucs over the decades.  The Bucs shut down the Vet with a resounding thumping on the way to the Championship.  So I look forward to Eagles fans opening their mouths.  The same is true for all 13 teams that never won a Superbowl.
Even with that Superbowl I think about how great that whole run was.  Every year we had real hope and excitement.  That is what makes this moment right now as a Bucs fan.  The team is so young and has so much promise.  The fun thing is that it looks like we will be great for years to come.
Tom Brady is maybe the best quarterback to ever play the game,but if you are a New England fan you know that gravy train is almost over.  Jameis is in year two.  We are just starting our run.  No, Jameis does not deserve to be compared to Tom Brady.  No, the Bucs don't deserve to be compared to the Patriots.  That isn't the point.  The point is that we are just starting what just might be a good solid run of successful years.
When teams fire coaches at the rate the Bucs have you rarely are able to build a team, but somehow it happened (thank you Jason Licht).  We are in the sweetest spot of all.  A young and hungry (no thank you Raheem) team with an extremely talented quarterback surrounded by talent.  This team still has some weaker spots,but there are no longer massive gaping holes wide enough to drive a semi through.  Depth is now the issue.  After this last decade that is a fun problem to have to address.
It all just might be beginning right now.  There are still going to be games that shouldn't be lost that end up as a loss but the likelihood of embarrassments like we have seen over the last few seasons is really low.
The future looks bright.  The past has a Superbowl to remember.  It doesn't get better than right here.  Right now.  Enjoy it!  At least that's the view from the cheap seats.
What's your view? What are you most excited about? What has you most concerned? Do you share my optimism?