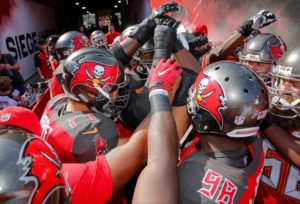 This Tampa Bay Buccaneers season has certainly been a rollercoaster ride for us fans. From the beginning of the year when Lovie Smith was fired and Dirk Koetter was hired right down to this last nailbiter of a game against the Panthers, it's been an up and down, twisting and turning, thrilling and sometimes nauseating ride of emotions. Even after everything that's transpired, the Bucs finished this season with a division win against Cam Newton and the Panthers and were able to complete their first winning season in 6 years. This team weathered a storm of injuries, new coaches and new schemes to finish 9-7 and give us a glimpse into a very bright future for Tampa Bay fans.
I think I can speak for most Bucs fans when I say that after last offseason's coaching changes and additions, the free agent acquisitions and yet another strong draft by Jason Licht, we all came into this season with an optimistic outlook. The 31-24  Week 1 win in Atlanta seemed to validate that optimism. Week 2 in Arizona on the other hand, was a bitch slap of reality. The 40-7  blowout loss to the Cardinals and the loss of Doug Martin to a hamstring injury brought Bucs fans back down to Earth with painful reminders of the same old Buccaneer teams that have had 31 losing seasons in 41 years of existence. However if this season showed us anything at all, it's that this team isn't anything like those "same old Buccaneer teams".
Week 3 brought us the heartbreaking and eventual playoff effecting 37-32  loss at home to a bad Rams team that had no business winning in Raymond James Stadium. Another bad 27-7  loss at home against a much less relevant Broncos team just added salt to the wound, and the negative whispers and disgruntled murmurs began amongst the Tampa fan base about their 1-3 football team and the new head coach. That was probably the low point of the season for me. I kept thinking "Oh boy, here we go again with another losing season".  Luckily, the team was able to talk us all off the edge of the Skyway Bridge with that Week 5 17-14  win in Carolina. Despite being shorthanded due to injuries to multiple starters (Martin, Sims, Ayers, McCoy, McDonald, Stocker and Shorts were all out),  they were able to steal a win against the Cam-less Panthers. Week 6 brought on the much-needed bye week and a chance for some of those players to heal up before heading to San Francisco in Week 7. They were able to grab another win on the road against a pretty bad 49ers team, winning 34-17,  to get back to a 3-3 record.
The team and the fans were feeling good going into Week 8 when a very good Oakland Raiders team invaded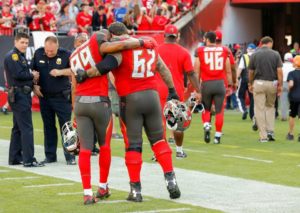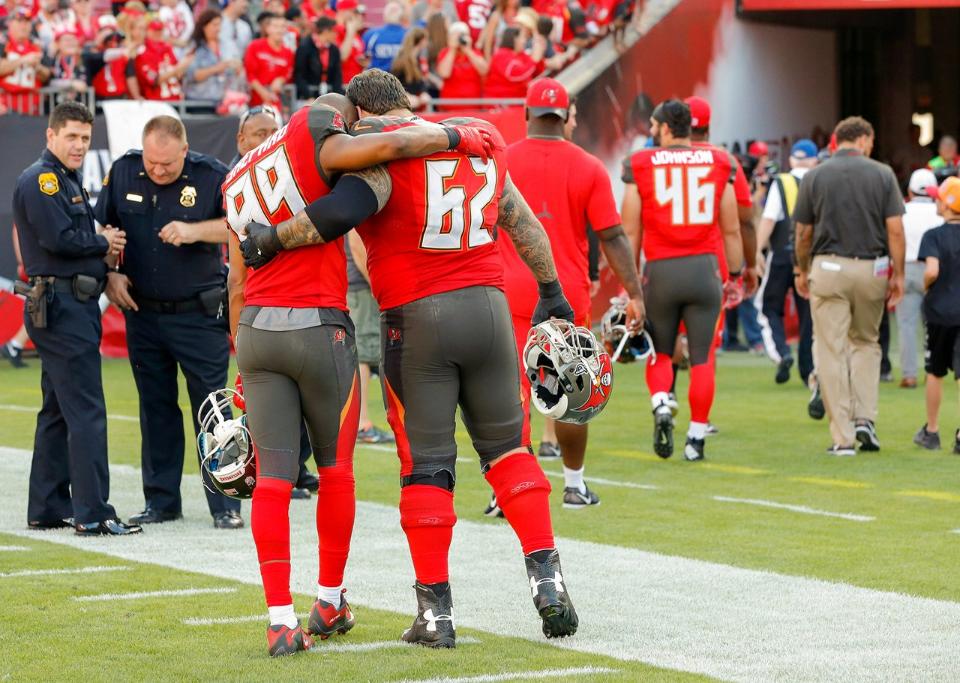 Tampa Bay. Unfortunately, that good feeling was short-lived as the Bucs fell 30-24  to one of the best teams in the NFL late in overtime. Three short days later, they faced another one of the NFL's top offenses when the Atlanta Falcons came to town for a nationally televised Thursday Night Football game. That offense proved to be too much for the fatigued defense to handle and the Bucs lost 43-28  for their second game in a row and their fourth home game in a row this season. Fans were once again disappointed and with their team now sitting at 3-5, the negativity once again began to rear it's ugly head. However, something happened with the team following that Atlanta loss. Something clicked…especially on defense. And what happened afterward was fun to watch!
The bad news Bears came to town in Week 10 and the Buccaneers team that all of us had been waiting for FINALLY showed up. They hammered Chicago 36-10  in their most dominating performance of the season. All three phases contributed to a total team win that catapulted them into a winning streak that Bucs fans hadn't seen since the Super Bowl era.
Week 11 brought a road trip to Kansas City to play a pretty good Chiefs team in one of the harshest environments in the league. The Bucs marched into Arrowhead Stadium and quieted a normally record setting decibel level crowd by beating their team 19-17  and ending their 5 game winning streak overall and their league leading 10 game winning streak at home. It was an impressive win to say the least. The always solid Seattle Seahawks came to Tampa in Week 12 for an NFC showdown and another solid 14-5  victory against a playoff contender validated what some thought was a "fluke win"  in Kansas City. This win also brought Raymond James back to it's glory days as the fans got the stadium rocking louder than it's been in years. In fact, it was so loud and intimidating for the Seahawks, that Head Coach Dirk Koetter awarded a game ball to the fans for their performance. The Bucs were now 6-5 and starting to get on a roll at just the right time.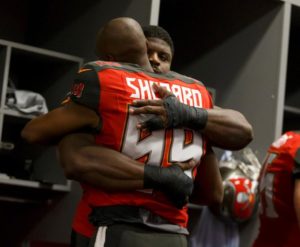 Week 13 brought their third west coast road trip of the season to play a "better than their record"  San Diego team. The road warrior Bucs overcame an early 14-0  deficit to beat the Chargers 28-21  and get to 5-1 on the road for the season. They came home in Week 14 to play a division game against the Saints and the Bucs again came out victorious 16-11  for their 5th straight win and 7th out of their last 9 games. Exciting times for Tampa Bay fans that haven't seen a winning streak of this magnitude since that special 2002 season. Buccaneer games were being flexed to primetime spots instead of being blacked out. Sports shows and analyst around the NFL were starting to take notice. In fact, their Week 15 game in Dallas was flexed to Sunday night. The Bucs fought hard but the Cowboys pro bowl offensive line was just too much and they fell 26-20  to the best team in football. Despite that loss, they were still in good position for the playoffs going into New Orleans for a Week 16 division matchup with the Saints. Unfortunately, Drew Brees was still pissed about the Bucs defense keeping him out of the endzone two weeks earlier and he willed his team to a 31-24  win at home.
Mathematically still in the playoff hunt but with no realistic chance at getting in, the Bucs hosted the Carolina Panthers in Week 17 for division bragging rights and the chance to finish 9-7 instead of 8-8 for the season. Jameis and the offense struggled, but the defense stepped up and made the necessary plays to close out the 17-16  win. The win not only sent Cam Newton back to Charlotte with a pouty face, but it allowed the team to end this emotional season on a high note.
Before this season started, I predicted that this team could potentially win 10 games this year and make the playoffs. As it turned out, I wasn't that far off. Despite losing 2 of their last 3 games, the Bucs still had a slim shot at a playoff spot going into that final game. This team persevered through an insane amount of injuries. They had 5 significant players on I.R. for the entire season and 18 total on that list finishing the year. They had nearly 200 total games missed due to various players injuries which is staggering. The running back and defensive end positions were especially decimated. O-line had injury issues towards the end of the season as well. In fact, the Bucs had the most players on I.R. (18) of any other team with a winning record. The next closest team was Seattle with 15 players. This team proved they had depth far beyond what anyone thought was there at the beginning of the season and some reserve players got much needed real game experience that could be useful in the future. That is the one positive of having an injury plagued season. Sometimes it does reveal hidden gems on the roster or even the practice squad that turn out to be productive members of the team.
For the first time in a long time, this Buccaneer team and their fans are closing out one season and entering a new one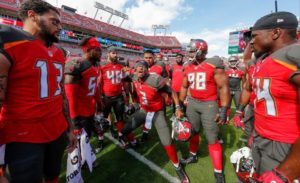 on a positive note. It's only one game, but 9-7 sounds much better than 8-8…even the coaches and players agree. This is one of the youngest teams in the NFL with the average age being just over 25 years old. That, in combination with over $80 million of salary cap space available and a top 20 draft pick, should mean big things for this franchise moving forward. Jameis Winston is proving to be the franchise quarterback that this team has never really had. Mike Evans is blossoming into one of the best wide receivers in the league. Cameron Brate has shown that he can hang with the best tight ends in football. When healthy, this young offensive line can be a force to be reckoned with. The running back position is somewhat in question, but if Doug Martin and Jacquizz Rodgers both return along with Charles Sims and Peyton Barber, that could turn from a bleak situation into an abundance of riches in an instant.
The defense is in pretty damn good shape as well. A good young nucleus with speedy playmakers at each level. Barring injuries, the defensive line will have a rotation that's second to none. Lavonte David and Kwon Alexander have the second level locked up. As for the secondary, Grimes, 33 and Verner, 28 are the oldest members in an otherwise young group. Hargreaves proved to be as advertised and well worth the 11th pick in last year's draft. Players like Adjei-Barimah and Javien Elliott have stepped into very productive roles and shown a ton of promise. Bradley McDougald and Keith Tandy finished the season strong as the team's "dynamic duo" at safety (which could mean trouble for Chris Conte's future in Tampa at $3 million a year) . The biggest question surrounding the defense right now is whether Mike Smith will be returning as the Bucs defensive coordinator, or will he be returning to the head coaching ranks? Yes, that is a big one…and we'll cross that bridge IF  we come to it. Other than that, the future is bright!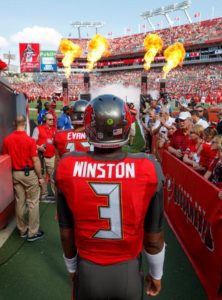 The biggest change this season was in this whole franchise's change of culture, fans included. This team went from being a young, talented team that showed promise to a young, talented playoff contender. They went from finding ways to lose games last year to learning how to win games this year. They won more games this year (9)  than in the past two seasons combined (8).  Much like the Raiders last year, this team is on the verge of doing special things next season. It will be Koetter's second year as head coach. Winston continues to set and break team and NFL records. Most importantly though, this team became ONE FAMILY.  One family with the same goals. One family willing to fight for and alongside each other to achieve those goals. One family. One team. One heartbeat. That's the new Buccaneers!
Yep, 2016 was an interesting one. I was there at every home game to witness it. I'll be right there holding down the south endzone in Raymond James Stadium next season too. I can't wait to see what happens this offseason and what this Buccaneer football team could accomplish next season. Better buy your season tickets now…IT'S GONNA BE A HELLUVA RIDE!