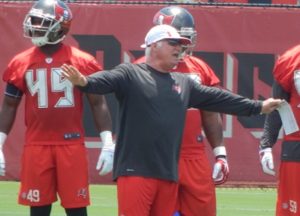 It's a new day in Tampa Bay! The Buccaneers have a new head coach, promoting Dirk Koetter from offensive coordinator and they also brought in a new defensive coordinator in Mike Smith. Smith has brought in a fresh, new defensive philosophy to replace the old (and some would say outdated) Tampa 2 defense that the Buccaneers have utilized since the Monte Kiffen era. Smith says that "The goal of this defense is to be easy for us to execute, but difficult for the opposing QB to figure out!". During this preseason, that seems to be the case…and the players have bought into Smith's concept hook, line and sinker.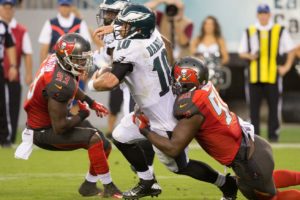 The Buccaneers defense already had some key pieces in place to build around going into this season with Pro Bowlers Gerald McCoy and Lavonte David, and second year phenom Kwon Alexander. The rest of the defense was comprised of a combination of youth and athleticism in players like Jacquies Smith, Howard Jones and Bradley McDougald, and veteran experience and leadership in players like Chris Conte, Alterraun Verner and Clinton McDonald. The additions of free agents such as Robert Ayers, Daryl Smith and Brent Grimes, along with players selected in the draft like Noah Spence and Vernon Hargreaves III have transformed this defense into something much different than we've seen in recent years here in Tampa. A nasty and aggressive group that should be exciting and fun to watch. A group that has the potential to make some noise around the NFL this season.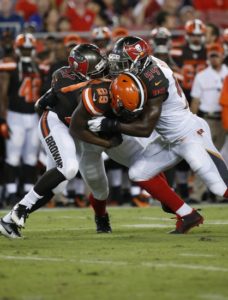 Anyone that follows NFL football realizes that preseason games aren't necessarily a "crystal ball" into the upcoming season. However, it does tend to show glimpses into possibilities of the future. This 2016 preseason has given us a small teaser as to how disruptive and dominating this defense could possibly be this year. The defensive statistics through the first 3 preseason games are as follows (not counting the final game against the Redskins due to starters not playing) :
-Only 37 first downs in 3 games
-16-47 third downs for an impressive 34% conversion rate
-0-3 on fourth down conversions
-Only 650 total yards allowed for an average of 216 yards per game
-Only 84 rushing & 154 passing yards per game
-Only 5 TD's & 3 FG's allowed (most coming on a short field after turnovers)
-5 interceptions by 4 different players
-13 sacks by 9 different players
As a matter of fact, the Bucs led the NFL in sacks with 15 for the preseason. I'm certain that Coach Koetter and Coach Smith will take those types of numbers all season long!
Now we could all take this preseason simply for what it is, the preseason. Then again, it could've been a wake up call for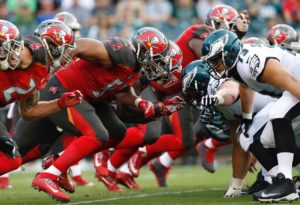 all the doubters and naysayers out there predicting another losing season. Maybe, just maybe, the NFL just got put on notice…the Tampa Bay Buccaneers are back, and they're bringing a defense with them!