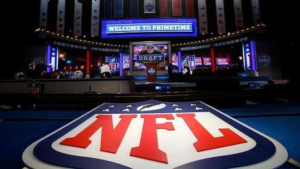 The 2017 NFL Draft is fast approaching us and this year's is one of the more anticipated drafts for Bucs fans in recent memory. For the first time in years, the Bucs are set to pick outside of the top 15 with their 19th pick. And for the first time in years, the Bucs don't seem to have a glaring need to fill with their first round pick.
I've seen a ton of mock drafts this offseason with a ton of different results. The Bucs first round pick has been linked to DE, CB, LB, RB, TE, WR, S and even OT. This is a good thing. It's a sign that this team is getting close to being complete and ready to compete very soon. I happen to agree. In fact, I concur so much that I feel like after the three key free agent signings they had in DeSean Jackson, Chris Baker and J.J. Wilcox, they're already a playoff team. If they can add a strong draft to the mix, it could make them contenders. Not next year or the year after that, but this year!
That strong draft begins with the 19th pick. That pick will set up the rest of their draft because it could go several different ways. If they go tight end, which seems to be a popular trend, then they could go DE or S in the second round. Should they go S in the first, they could go TE or DE in the second and RB in the third. If they go DE in the first, then it could go S or TE in the second. If it happens to be RB at #19 then it leaves DE or S in the second with TE being a possibility in the third. See what I mean? That first pick is key.
That first pick is key.
As I said before, the Bucs don't have any significant holes to fill in their starting roster. They're primarily drafting for depth, which as we found out last season is extremely important. I realize that there are some fans out there that feel differently. Some fans are screaming that the "o-line sucks"  and needs to be overhauled. Other fans are screaming for a safety because the ones they have now are "garbage."  Some fans feel as though the Bucs should discard Doug Martin like a used condom and draft RB Dalvin Cook in the first round no matter what the cost (I'll give you three guesses as to which college those fans cheer for but you'll only need one). The upsetting news for all of them is that despite how they all feel, they're probably all wrong. Here's why…
O-line isn't the issue that some think it is, especially for the Bucs. Jason Licht and Dirk Koetter both have repeatedly said that they like the o-line group they have and it's just a matter of getting the best five of them on the field at the same time and gaining chemistry between them. So, it doesn't sound like they're in the market for a new left tackle to replace Donovan Smith or a new guard to replace Kevin Pamphile or a new center to replace Joe Hawley. New being the key word there. They are, however considering some shuffling along that o-line. At the coach's breakfast during the owner's meeting a couple weeks ago, Koetter said that they're going to take a hard look at moving last year's starting right guard Ali Marpet to center. Now that last year's free agent acquisition J.R. Sweezy is healthy and seemingly ready to go, he'll start the season at right guard where he played with much success in Seattle. They also hinted that they may let last season's starting left guard Kevin Pamphile battle Demar Dotson for the right tackle position. Which leads to the question, what happens at left guard if all those moves take place? Well, it leaves the Bucs with a few options. They have Caleb Benenoch that could possibly play there. They even have backup guard/center Evan Smith that could step in as the starter but that's highly unlikely. They could draft a player in the first round. At #19, they could still have a shot at the best guard in this draft in Western Kentucky's Forrest Lamp. He's one of the few players that could step in as a day one starter in the NFL in this very weak draft for o-linemen. My bold prediction is that they go with recently signed guard Jarvis Harrison. He was released by the Jets at the end of last season and immediately picked up and signed by Tampa Bay as a free agent. When New York took him in the 5th round of the 2015 draft, it was because he showed so much upside as an NFL tackle. For whatever reasons, his first two seasons weren't as successful as they'd hoped and he was released. It could end up being a blessing in disguise for the Bucs. We'll see in the next few months.
As far as the safety position goes, I don't feel like that's as big of a mess as some fans make it out to be either. People want franchise players at every position and it's just not realistic. The Bucs just spent about $9 million shoring up that position by re-signing Chris Conte and signing free agent J.J. Wilcox from the Cowboys. With last year's starter Keith Tandy still on the roster as well, I'm not so sure that safety is a big priority in this draft. They do have their specific targets such as Connecticut's Obi Melifonwu and Washington's Budda Baker, but they're both most likely first round picks. If the Bucs miss out on some of the big time playmakers like Dalvin Cook, O.J. Howard and David Njoku, then they could choose to trade back and take one of those two safeties while gaining a few extra picks. More on that later.
The running back situation is in a bit of disarray, but it's not a bleak as some fans make it out to be. Yes, there are still questions surrounding Doug Martin's status with this team and with him out of the equation there's not a true "feature back" on this roster. However, I think it's a tad premature to count him out. There's a reason the Bucs are looking at mid-round RB prospects so maybe the plan is to keep Martin on and simply bolster the group with more young talent. With Jacquizz Rodgers re-signed, Charles Sims as the third down/change of pace back and Peyton Barber going into his second year the Buccaneers backfield isn't short on talent or versatility. However, they'll still be looking to add another player to the mix in this draft.
Now I've come up with two very different versions of my mock draft. The first is a typical 7-round mock with the Bucs seven original draft picks. The second is a mock involving a possible trade back with the Kansas City Chiefs in the first round. That scenario would involve the Bucs giving the Chiefs their 19th overall pick while receiving the Chiefs 27th (1st), 91st (3rd), 132nd (4th), 180th (5th) and 218th (6th) picks in this year's draft. It sounds like a lot, but those numbers are according to the current draft trade points chart. That's not all though. This mock also involves another trade in the third round where the Bucs give the Los Angeles Rams their original 84th (3rd) and 91st (3rd) picks from the Chiefs in exchange for the Rams 69th (3rd) and 141st (4th) picks. You'll see why the Bucs moved up in the mock. So in conclusion, these two trades leave the Bucs with the 27th (1st), 50th (2nd), 69th (3rd), 125th (4th), 132nd (4th), 141st (4th), 162nd (5th), 180th (5th), 204th (6th), 218th (6th) and 237th (7th) picks. From seven picks this year to eleven picks in two trades and they could potentially still end up with a player they were targeting in the first round anyway. Not a bad deal, right? So without any further delay, here are my mocks for the Bucs 2017 NFL Draft.
Mock #1 (No trades)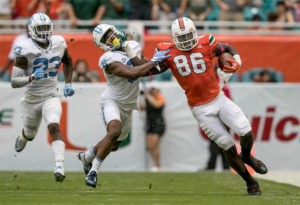 Rd.1 Pk.19- TE David Njoku, Miami
If he's still on the board, I believe this is the Bucs pick. Yes I know Cam Brate had a breakout year in 2016, but Njoku offers a whole new dimension to this offense. He creates mismatches because he's too big for safeties and too fast for linebackers. At 6'4″/250lbs, he gives Winston another big target and a legit redzone threat. With he and Brate lined up in a two TE set and Evans and Jackson on the outside, defenses will have a seriously tough time matching up.
Rd.2 Pk.50-  DE Jordan Willis, Kansas St.
The Bucs are looking for more pass rushers and they'll probably look early. Willis was highly productive at K-State and could offer Tampa D-line depth both outside and inside on different fronts. Even at 6'4″/255lbs, he still ran a 4.55 forty and jumped 39″ at the Combine. He won the Big 12 Defensive Player of the Year last year while piling up 17.5 tackles for loss and 11.5 sacks. Kansas State head coach Bill Snyder called him "the epitome of K-State football"  which sounds like a player after Jason Licht's own heart.
Rd.3 Pk.84- RB Marlon Mack, USF
No RB in the first round means that Doug Martin is likely sticking around in Tampa. However, the group could still use some upgrading. At 6'/215lbs, Mack offers something that the other Bucs backs don't, true three down potential and homerun ability. In 2016, 6 of his 15 rushing TD's went for 43 yards or more and he finished with almost 1,700 total yards and 16 total touchdowns for the hometown Bulls. He also averaged over 100 yards rushing per game over his three years in college. Dirk Koetter talks about "explosive plays", or plays of 20 yards or more, all the time and Mack could definitely help with those. Hopefully, he's still on the board this late in the third round.
Rd.4 Pk.125- WR Cooper Kupp, Eastern Washington
This is the only player in my mock that the Bucs haven't "officially"  met with or worked out, but if he's on the board at this point I can't see them passing him up. At 6'2″/205lbs, Kupp offers good size and speed to a WR corps that needs both. He put up video game-like numbers in college setting Division I records for receptions (428), yards (6,464) and TDs  (73) in his four years. And if you have concerns about the level of competition, he made both Marcus Peters and Sydney Jones look like punks when he played Washington. He ran a slower forty than expected at 4.62 so hopefully that allows him to drop this far so the Bucs can get one of the steals of the draft.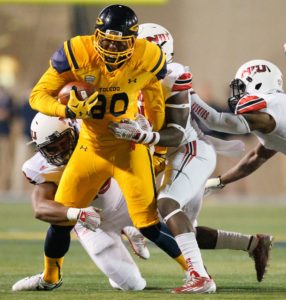 Rd.5 Pk.162- TE Michael Roberts, Toledo
I know what you're saying…"Doubling up on tight ends?", right? You're damn right. Roberts is one of my favorite players in this draft. He's a monster at 6'5″/270lbs and may be the best blocking tight end in this draft. Oh, and by the way, he also caught 16 touchdowns last year. Not only is he a big solid blocking tight end, but 80% of his catches went for first downs and 35% went for touchdowns so he's a legit dual threat tight end. With Luke Stocker getting up there in age, he could be his eventual replacement providing he's not snatched up already at this point in the draft.
Rd.6 Pk.204- DE/OLB Javancy Jones, Jacksonville St.
Like Jason Licht says, you can never have enough pass rushers. Jones offers that and more. At 6'2″/245lbs, he adds versatility to the Bucs defense, something Mike Smith loves. In his four years of college ball he had 351 tackles, 77 tackles for loss and 19.5 sacks. He's a guy that could add depth to the LB corps as well as add another speed rusher on passing downs the likes of Noah Spence and Jacquies Smith.
Rd.7 Pk.237- DL Bryan Cox Jr., Florida
Again with the pass rush? Yep. Cox is another versatile player that gives the Bucs d-line depth both inside and outside. At 6'3″/270lbs, he's best suited as a base DE but could slide inside on obvious passing downs to rush the QB. He had an impressive pro day in Gainesville and had the attention of the Bucs staff that were in attendance.
That concludes my first mock draft. It's nothing but offensive playmakers and defensive pass rushers, just as Dirk Koetter and Jason Licht have been asking for all offseason. That's what both said were badly needed and that's what I gave them in this mock. Some of you are complaining about the absence of an o-line pick, but the need just isn't there with only seven picks available.
Now for the other mock that includes the draft day trades with the Chiefs in the first round and Rams in the third round.
Mock #2 (Including trades in the 1st & 3rd rounds)
Rd.1 Pk.27 (from Chiefs)- S Obi Melifonwu, Connecticut
The safety position seems to be a hot topic amongst some Bucs fans. If the Bucs choose to address it in this draft, it will most likely be early and Melifonwu looks to be one of the possible early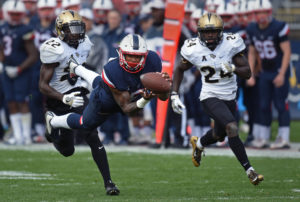 targets. After trading back with Kansas City from 19th to 27th, the Bucs take the 6'4″/225lb athletic freak, tackling machine. He wowed scouts at the Combine by running a 4.4 forty, jumping 44″ in the vert and 11′ in the broad. He had 118 tackles and 4 interceptions in 2016 for the Huskies. He adds some serious size to a Bucs secondary that has to deal with a bunch of big receivers in the NFC South twice a year.
Rd.2 Pk.50- TE Evan Engram, Mississippi
If the Bucs can't get O.J. Howard or David Njoku in the first round, then Engram is a pretty good consolation prize in the second. At 6'3″/235lbs, he ran a 4.42 forty at the Combine and would provide the same type of mismatch problems for opposing defenses that Njoku would have with his size and speed. He was also twice voted team captain which is a characteristic that Jason Licht is extremely high on when it comes to prospects. In 2016, he had 65 catches for 926 yards and 8 touchdowns.
Rd.3 Pk.69 (from Rams)- RB Marlon Mack, USF
As I said before, if the Bucs don't go RB in the first round then chances are they're sticking with Doug Martin as the feature back and will be looking to add depth and dimension to the group in mid rounds. Mack does just that. He offers the Bucs a different aspect at running back than any other player in their current group. That's why the Bucs trade with the Rams and jump up to the beginning of the third round to grab him.
Rd.4 Pk.125- WR Cooper Kupp, Eastern Washington
As I stated in Mock 1, if Kupp is still around in the fourth round the Bucs would probably jump all over him even though he's one of only a few players in this mock that they haven't met with or worked out. Teaming him up with Evans, Jackson, Humphries, Brate and Engram would give Winston some serious receiving weapons.
Rd.4 Pk.132 (from Chiefs)- OT Julie'n Davenport, Bucknell
Hopefully, he drops this far down in the fourth round. He's 6'7″/320lbs with 36 1/2″ arms and 10 1/2″ hands. He started at left tackle all four years of college. He's a bit of a project and may end up playing right tackle in the NFL, but he has all the physical attributes to be successful at the next level. With some more coaching and better technique, he could possibly be the long term solution for the Bucs at right tackle.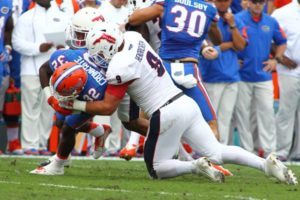 Rd.4 Pk.141 (from Rams)- DE Trey Hendrickson, Florida Atlantic
Finally, here's their pass rusher. At 6'4″/270lbs, Hendrickson gives them a solid edge rusher that produced 42.5 tackles for loss and 29.5 sacks as a three-year starter. He was also labeled a "special teams demon"  by blocking a punt, 2 field goals and an extra point. He adds some versatility to the d-line as well with the size and ability to play both inside and outside in Mike Smith's scheme.
Rd.5 Pk.162- TE Michael Roberts, Toledo
Again, one of my favorite players in this draft and a must pick if he makes it to this point in the draft.
Rd.5 Pk.180 (from Chiefs)- CB Shaq Griffin, UCF
At 6'/195lbs, Griffin would add good size and speed to the Bucs secondary. He ran a 4.38 forty and had a 38″ vert with an 11′ broad which means he's explosive and quick. He not only possesses good coverage ability but he's also aggressive on run support as well. I haven't seen him on the "met with/worked out" list for the Bucs, but he's a local player so I'm sure he's on the Bucs radar for these later rounds.
Rd.6 Pk.204- OLB Tyus Bowser, Houston
Bowser is 6'3″/250lbs, ran a 4.65 forty with a 38″ vert and a 10'7″ broad. He's a quick twitch, explosive athlete offering a speed rush off the edge. He could also provide the Bucs another option at SAM LB to replace veteran Daryl Smith if they're not comfortable with second year player Devante Bond taking over that spot.
Rd.6 Pk.218 (from Chiefs)- DE/OLB Javancy Jones, Jacksonville St.
Like I said in Mock 1, Jones offers d-line and LB depth as well as another speed rusher off the edge whether it's off a blitz or with his hand in the dirt.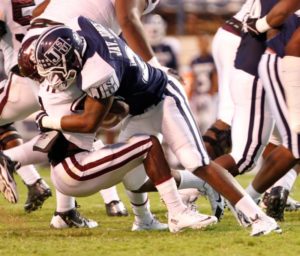 Rd.7 Pk.237- DT Josh Tupou, Colorado
At 6'2″/355lbs, Tupou eats up a lot of space on the d-line. Though they already have Sealver Siliga (6'2″/235lbs) on the current roster, this guy could be brought in to compete with the gap plugging run stopper. In 2016, he had 45 tackles including 4 for loss and 2 sacks. Not mindblowing numbers, but remember he's a blackhole, he's there to suck up space.
So, there you have it. All 11 picks of my two trade mock draft. Each one of these 11 picks either add size and speed or depth in all the areas that the Bucs need it. To sum up it up, they add explosiveness to the offense with not one, but two pass catching tight ends, a highly productive wide receiver and a big play threat, three down running back. They add size and speed to the secondary with a big, athletic, tackling machine safety and a long, speedy cornerback. They add versatility and speed off the edge with two more pass rushers. And they add much-needed depth to the LB corps, d-line and o-line with a versatile outside linebacker, a huge defensive tackle and an athletic offensive tackle.
Some fans may think it's just "smokescreens", but I really do think the Bucs are looking for playmakers and pass rushers, period. No games. No gimmicks. By my assessments, that's exactly what this team needs to put them over the top. I could be way off with these mocks and I probably am. The NFL Draft is way too unpredictable for anyone, even the so-called "experts"  to know what is going to happen. Especially in this draft. What I do know is that this draft is loaded with talent, especially in the mid rounds, and it would be really nice to have a few extra mid round picks. Jason Licht has shown the willingness to trade both up and down on draft day, so we'll see if he does it again this year.
It's an exciting time to be a Bucs fan people. Enjoy it. Embrace it. Soak it all in. The draft means that we're one step closer to the upcoming Buccaneer's season and it's only two weeks away. Until then, as always…..GO BUCS!!!