"So what do you think about your team's execution?"
"I'm in favor of it."
That immortal quote from the Bucs first head coach John McKay lives in infamy in Buccaneers folklore and unfortunately it still has relevance over 40 years later.
This "team"  is horrible.
I mean what else can you say about them? They faced a "must win"  game, on the road, in the division…and lost. But they didn't just lose, they imploded. They didn't look prepared to play, mentally or physically. They didn't block. They didn't tackle. They didn't catch. They didn't cover. They didn't have any sense of urgency. They didn't do anything. This "team"  needed to win this game to save their season, to save their head coach, to save their general manager and to keep this "team"  together…and they still couldn't get it done. Sure they fought back from being down 35-14 at the half to pull within one score, but did the defense step up when it really counted? Nope. They gave up another late touchdown and this "team"  lost by 14 points. They're now 3-5 at the midway point of the season and are once again sitting at the bottom of the NFC South looking up at less talented, better coached teams like the 7-1 Saints, the 6-2 Panthers and the 4-4 Falcons. So with all hopes of a successful winning season and late playoff push out the window, I thought this would be a good time to evaluate where this "team"  and this franchise is to see what they need to do this offseason to get things back on the right track.
FRONT OFFICE
Now, I've always been in Jason Licht's corner. I've defended him and his decisions to other Bucs fans on multiple occasions. Sure he's had his misses in free agency, but is that on him or is it just one of those Buccaneers side effects that happens to players when they come to Tampa? Seriously, how many Pro Bowl players have been brought here only to have their least productive seasons? How many free agents come here, don't play well, get released and go on to have successful careers with other teams? We've seen a prime example of it this season with kicker Chandler Catanzaro. In 2017, he didn't miss an extra point all season with the Jets and he comes to Tampa and has now missed four of them in just 8 games. It's one of those weird Bucs curses that seems to always rear it's ugly head at the most inopportune times. So is this team's struggles this season Licht's fault? I don't think so. The defensive line was the biggest issue last year so what did he do? He filled it up with Super Bowl champs and another first round draft pick. They needed help in the secondary so he spent three early round draft picks on that area. He's filling holes up with talent that continues to waste away under the wrong coaches or the wrong schemes.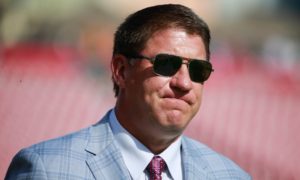 As for his drafts, I think Licht has done pretty well. Yes there was the whole second round pick on a kicker thing, but at the time the Bucs were in desperate need of one and Roberto Aguayo was supposedly the best kicker in college football at the time. Would I have done it? Hell no! A third AND a fourth for a kicker in the second round??? Sorry, but I'm not drafting a kicker before the fifth round no matter how good a college career he had. In my opinion, that was Licht's worst draft decision yet. I say "yet" because the verdict is still out on his #1 pick from 2015 and supposed "franchise QB"  Jameis Winston. Out of his five drafts here in Tampa, 22 out of his 34 picks are still on the team, including all eight of his picks from this year's draft. He took Mike Evans in his first draft, who's one of the best receivers in football when he wants to be. In his second draft, he grabbed Jameis Winston, Donovan Smith, Ali Marpet and Kwon Alexander. In 2016, he drafted Vernon Hargreaves, Noah Spence, Ryan Smith, Caleb Benenoch and Devante Bond. Okay maybe it wasn't the best draft, but they've all been serviceable players for the last few years and are all still on the roster. In 2017, he picked OJ Howard, Justin Evans, Chris Godwin and Kendell Beckwith. And this year, he ended up with Vita Vea, Ronald Jones Jr, MJ Stewart, Carlton Davis, Alex Cappa, Jordan Whitehead, Justin Watson and Jack Cichy. Seven of the eight picks have contributed this season in some way with the exception of Cappa who has yet to be on the active roster. Jason Licht has had some pretty solid draft picks over the last five years. Over his tenure in Tampa, he has done nothing but continuously fill this roster with talent from both free agency and the draft and yet this "team"  is 25-47 under his watch. If he's at fault for anything, it's that he hasn't put the right coaching staff together that could utilize all of that talent. Other than that, I don't think he should shoulder the blame. I think it lies solely with the coaching staff. I say keep Jason Licht around for at least another season.
COACHING STAFF
FIRE THEM ALL! I'm not even kidding. Clean house! Every single week, this team has entered their games unprepared, uninspired, undisciplined and unable to play basic fundamental football. THAT falls on the coaching staff. Sure, the players have some responsibility there. After all, they are "professional"  football players. They're getting paid lots of money to be prepared, to be inspired, to be disciplined and to be able to play basic fundamental football. But when it comes right down to it, the coaches are the ones who are ultimately responsible. The only members of the staff that I would consider keeping around is wide receivers coach Skyler Fulton and defensive line coach Brentson Buckner. Other than that, everyone else needs to go.
Dirk Koetter (head coach)…gone.
Todd Monken (offensive coordinator)…gone.
Mark Duffner (defensive coordinator)…gone.
Nate Kaczor (special teams coordinator)…gone.
Mike Bajakian (quarterbacks)…gone.
Jon Hoke (secondary)…gone.
Brett Maxie (defensive backs)…gone.
Tim Spencer (running backs)…gone.
Ben Steele (tight ends)…gone.
George Warhop (offensive line)…gone.
Just wipe the slate clean and start over. So now the question is who replaces them, right? Well, I'm glad you asked.
With the offensive pieces in place where just about any coach could come in and score points with this team, I decided that the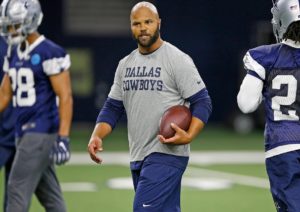 Bucs need to get back to playing "Buccaneer football".  That means defense. So I would bring in Dallas Cowboys defensive backs coach/passing game coordinator Kris Richard as their new head coach. He's just 39-years old and already one of the best, young defensive minds in football. Former Tampa Bay coach Rod Marinelli has called him "brilliant", a "great technician" and "as good as any defensive coach he's ever been around". That's saying quite a bit considering Marinelli was part of a Bucs coaching staff that included Mike Tomlin, Herm Edwards, Monte Kiffin, Lovie Smith and Tony Dungy. Richard was instrumental in building the "Legion of Boom"  secondary with the Seattle Seahawks. He's been called "an animal"  by Cowboys defensive end Tyrone Crawford. In the spring, Richard stood up in front of the team and said that his defense would be "a bunch of dogs and a bunch of savages who would catch offensive players and throw them in the trunk". At the end of his speech…the Cowboys players applauded. He has an ability to mold scheme with technique and he's great at teaching and communicating. He's obsessed with details and fundamentals and his defensive style is aggressive with plenty of blitzing and fast, physical play especially in the secondary. He sounds like just the kind of head coach this "team"  needs to bring it back to it's defensive glory days.
Even though Richard is a defensive guy, he still needs a defensive coordinator. My choice for that position is New York Giants DC James Bettcher. He is only 40-years old and has a style of defense that is also aggressive. He says that "defense is all about playing relentless, playing physical, playing smart and playing hard". I love that philosophy. He likes mixing up his defensive fronts between 3-4 and 4-3 looks and he likes his scheme to have versatility. I think the combination of him and Richard would breathe new life into this defense and get these young guys playing good football.
My choice for offensive coordinator would be Tennessee Titans OC Matt LaFleur. He's about to turn 39-years old and is one of the better offensive minds in the game today. He was the quarterbacks coach with the Washington Redskins during Robert Griffin's best years and also spent time coaching Kirk Cousins before joining the Atlanta Falcons in the same position. He helped Matt Ryan lead the NFL's #1 offense into the Super Bowl where they were beating the New England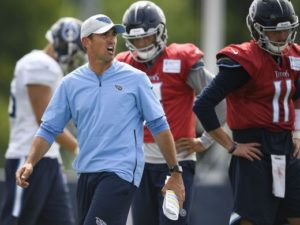 Patriots at one point 28-3 until they gave up that infamous 25 point lead. After that, he reunited with Sean McVay (who he worked with in Washington) with the LA Rams as their offensive coordinator where he helped them to be the NFL's #1 offense in the 2017 season. He is now the OC in Tennessee and it's the first time he's actually calling plays in the NFL. The Titans offense is currently ranked 30th in the league, averaging just 17 points and 288 yards per game. However, when you look at their roster it's understandable why there's been a lack of production. Running back Derrick Henry is essentially the only offensive weapon on the entire team which explains why they are ranked 16th in the league in rushing offense. LaFleur has worked with some dynamic NFL playcallers throughout his coaching career such as Gary Kubiac in Houston, Mike Shanahan in Washington, Kyle Shanahan in Atlanta and McVay in Los Angeles. His philosophy is that "Yards don't really matter, it's about points. You've got to score points.", which seems to be the opposite of the Buccaneers current philosophy. The Bucs are currently 2nd in yards per game (447 yds) behind the Rams, but they're ranked 7th in points per game at (28.6 pts). It has been said that LaFleur just "gets it"  when it comes to building a modern era offense. It would be interesting to see what he could do with the rather large stable of weapons that would be available to him in Tampa. Now with a coaching staff in place, let's do something about some ofthe players.
OUT WITH THE OLD, IN WITH THE NEW
There are currently 9 players on the Buccaneers roster that are 30+ years old. That list includes Vinny Curry (30), Bryan Anger (30), Gerald McCoy (30), DeSean Jackson (31), Evan Smith (32), Garrison Sanborn (33), Demar Dotson (33), Brent Grimes (35) and Ryan Fitzpatrick (35). Of those nine players, only three of them are free agents after this season. Those three are Grimes, Fitzpatrick and Sanborn and I would not be bringing any of them back with the exception of Fitz depending on the QB situation. In fact, I would be releasing everyone on this roster over the age of thirty. Releasing or trading the other six would free up about $40 million in cap space, which the Bucs don't have very much of to begin with. They're only entering 2019 with about $14 million in cap space with their current contracts. Getting rid of these "old guys"  would give them almost $55 million. They could attempt to trade Jackson, McCoy and Curry to possibly get a few draft picks but if they can't move them, releasing them wouldn't cost them any money. I would also free up another $3.75 million by releasing Mitch Unrein, who has been on IR all season with some kind of mysterious concussion. I'd keep Will Gholston for at least one more season since he's only due $3.75 million next year, but he's going to be on a one year "prove it"  deal since his salary goes up to $4.75 million in 2020 and $5.5 million in 2021. Altogether, the Bucs would end up with nearly $60 million in cap space entering next season, and that includes keeping Jameis Winston on his 5th year option at $20.9 million.
Some of you might be questioning this strategy, especially when it comes to Gerald McCoy. I get it. I've always been a big "G-Mac"  fan and I've defended him plenty of times to people that call him "overpaid" and "overrated". I don't think he's either. He's one of the best interior defensive linemen in football. No argument there. That being said, I think his time in Tampa should end. Especially if the Bucs can still get a decent draft pick or two for him. Same goes with DeSean Jackson and Vinny Curry. My goal would be to have a 53-man roster made up of young, talented players under thirty with lots of potential.
QUARTERBACK SITUATION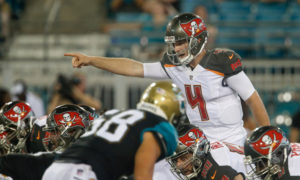 The Bucs picked up Jameis Winston's 5th year option at a whopping $20.9 million cost. After this season, they may be second guessing that decision. No matter how you look at it, the Buccaneers quarterback situation isn't as promising as it once was. Fitzpatrick is 35-years old. Griffin is unproven. And Winston is…well, he's still Winston 4 years into his career making bad decisions and worse throws. With Jameis, they know what they're going to get. They don't know what they have in Ryan Griffin. At 3-5 through the midway point, this team has nothing to lose. They would have to finish at least 7-1 in their final 8 games to even have a shot at the playoffs and with this defense that's just not happening. They may as well give Griff a chance. I'd start him for these final 8 games to see what the kid's got and how he performs in real games versus real defenses. Who knows, if he balls out, then it may give the Bucs the confidence they need to release Winston before 2019 free agency begins so that they're not on the hook for his $21 million salary. It would sure save them a ton of cap space. Maybe they draft another quarterback in 2019 that can sit for a year or two and learn. Worst case scenario, Griffin doesn't perform well enough to be the 2019 starter, but at least earns the backup job to Winston. Another possible outcome is that Griffin plays well and gets re-signed as the starter for next season and Fitz gets re-signed as the backup. Either way, the Bucs have 8 games to figure out the future of their QB position and it starts on Sunday against the Washington Redskins.
CONCLUSION
This team and this franchise is in desperate need of a drastic change. There was entirely too much talent on this roster this season for them to have a 3-5 record. Injuries have definitely hurt the defensive side of the ball with five starters on IR. And those injuries have forced the three rookie defensive backs into roles that they obviously weren't ready for. Not to mention losing the quarterback of their defense in Kwon. Yes, all of that has contributed to this defense being horrible all season. But there are other factors like poor coaching, poor tackling, poor execution, lack of preparation, lack of effort and lack of fundamentals that have them on pace to statistically be the worst defense in NFL history. If this defense was just a little bit better, holding opponents to one less touchdown per game, this team might be 7-1 and leading the division instead of 3-5 sitting at the bottom of it.
It's my opinion that the biggest issue with this team is the coaching staff. They're not getting the job done. I'm not a big fan of changing regimes and firing coaches, but we've reached a point where it just has to happen. The coaches need to change. The schemes need to change. The philosophies need to change. The culture needs to change. Some of the players need to change. And hopefully, Bucs fans can hang in there through the rest of this ugly season to see it all happen.
Until then, as always…GO BUCS!!!