After back-to-back losing seasons, no one was expecting much out of the 2005 Tampa Bay Buccaneers but a young running back and a solid defense allowed Tampa Bay to go Worst-to-First once again.
This article originally appeared on Paul Stewart's BucPower.com. Buc Power is the ultimate source for Buccaneer history. Paul has graciously permitted our use of his articles on WTB to help educate younger Buc fans on this franchise's history. 
If the previous two seasons had been disappointing, then 2005 was totally the opposite for Tampa Bay fans. With no-one realistically expecting better than an 8-8 season, Jon Gruden led his team to a 4-0 opening and an 11-5 mark overall and the NFC South Division title. Once again play-off football came to Raymond James Stadium as an influx of good new and more importantly, young talent, arrived at One Buc Place.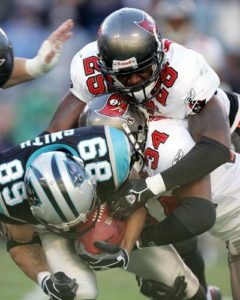 Free agency saw the usual array of comings and goings from One Buc Place, but unlike the previous two seasons, the net result was a better team overall. Long-time Bucs Chartric Darby (Seattle), Cosey Coleman (Cleveland) and Dwight Smith (New Orleans) found pastures anew, whilst the likes of Joe Jurevicius, Brad Johnson, and Tim Brown were not offered new deals in Tampa.
Arrivals in the same method were a decent third receiver (Ike Hilliard), a strong blocking tight end (Anthony Becht) and a former golden boy on the defensive line in Minnesota (Chris Hovan),
And then came the draft – picking fifth was higher than the Bucs had been in over a decade and they made it count. Top pick RB Carnell "Cadillac" Williams merely became the NFL's Offensive Rookie of the Year, third pick TE Alex Smith became a main receiving threat and fourth pick G Dan Buenning started every game at right guard. It was only that 2nd pick LB Barrett Ruud was up against two of the finest players at their positions in Derrick Brooks and Shelton Quarles, that this was not a perfect four out of four in terms of selections.
The schedule at the outset looked daunting with trips to Minnesota and Green Bay in the first three weeks alone. But the Vikings struggled coming out of the gate and the Packers' 2005 demise was more surprising than the Bucs' own upturn. Coupled with a dominating defensive performance against Buffalo and a somewhat fortunate escape against Detroit, Tampa Bay found itself at 4-0 and leading the NFC at the end of September.
Unexpected losses in New York and San Francisco caused a few people to jump off the bandwagon, and more stepped off when QB Brian Griese was lost for the season to a knee injury. But the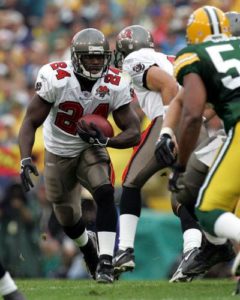 return of Cadillac Williams from a two-week injury absence and the emergence of Chris Simms as a bona fide NFL starting quarterback, saw the Buccaneers jump back into contention with a series of wild victories including an incredible 36-35 triumph over Washington that saw Jon Gruden go for the win on a two-point conversion in the final minute.
Defeating each of their division rivals on the road put the Bucs in pole position for the NFC South title and thanks to another nerve-biting win (this one over Atlanta), and then a steamrollering of the hapless homeless Saints in the season finale, the Buccaneers found themselves back in the post-season for the first time since Super Bowl XXXVII.
But that was where the luck ran out on a fortunate season. Two defensive turnovers left the Bucs in a 14-0 hole early and although they fought back, the Redskins proved just too strong and the comeback fell just short when Edell Shepherd dropped what would have been the game-tying touchdown late in the fourth quarter.
But this was a great season for the Tampa Bay Buccaneers. After seasons of disappointment (2002 excepted), this was a season of surprise and optimism for the future. And one that Buc fans can look back on with great satisfaction. Their team was back.