Bucs kicker Chandler Catanzaro literally went from zero to hero last week against the Cleveland Browns. After missing the extra point on their first touchdown of the game, his third missed extra point of this season, he also missed a 40-yard field goal in the closing seconds of regulation that would've won the game. He then redeemed himself by nailing a 59-yarder with 01:55 left in overtime for the win. Some fans and media members, me included, thought that he may have saved his job with that kick…at least for this week.
"Cat"  is just the latest in a long line of Buccaneers kickers. In fact, they've had 40 of them in their 43 seasons of existence. This team goes through kickers like the Browns go through quarterbacks. Can you blame them though? The Bucs have the worst regular season field goal percentage in the league making just 77% of them since 2001. They're field goal percentage at home is even worse at 76%, which is again the worst in the league in that same time frame.
This season, Catanzaro is on pace for one of the worst seasons in his short 5 year career. He's only connected on 80% of his field goals and 85% of his extra points. He has always been money from 40 yards and in, making 69 of his 73 kicks (95%). The problem has been once he gets beyond that 40 yard mark which is where most coaches, including Dirk Koetter say is where "kickers make their money". He has only made 41 of 56 attempts from beyond 40 yards for an abysmal 73% in his career. That is unacceptable.
So what's the Bucs answer? How do they rid themselves of this kicking curse that's plagued them since they let Matt Bryant walk after the 2008 season? What if my suggestion was that they stop kicking the damn football? No, seriously. Stop kicking it. Now I'm not talking altogether of course. There's still a time and place to do it…like anything less than 40 yards. But what if I said that they shouldn't try anymore field goals longer than that? That sounds kind of crazy, isn't it? What if I said that they shouldn't kick anymore extra points? That's just downright nuts, right? Maybe not. Let me explain.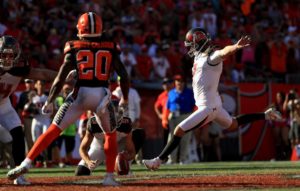 After hitting all 29 of his extra points last year with the Jets, Catanzaro is now 17 of 20 (85%) with the Bucs this season. That's a whole 10% below the league average of 95%. So why not skip the extra point and just go for the 2-pointer? So far this season, NFL teams have attempted 59 two-point conversions through Week 7 (which is on pace to break the NFL record of 115 attempts in 1994 when the league implemented it) and made 35 of them for a rate of about 60%. What do these numbers mean exactly? Well if you really break it down, Catanzaro is only scoring .85 points every time he kicks an extra point. To get the same point production out of 2-point conversions, the Bucs would only have to convert on 43% of their 2-pointers. With the league average being around 60%, that means that teams are actually scoring 1.2 points per attempt. That's a pretty big gap. The Bucs have only attempted one 2-pt conversion this season. It was against the Atlanta Falcons in Week 6 and it was because Catanzaro had missed an extra point attempt early on in the game.
Now I'm not saying that they should cut the man and finish the season without a kicker. That's just ridiculous. But think about it for a second. The Buccaneers offense has more weapons than they know what to do with. They have Mike Evans who's 6'4″, Justin Watson who's 6'3″, Chris Godwin who's 6'1″, Cam Brate who's 6'5″, OJ Howard who's 6'6″ and Antony Auclair who's 6'6″…there is absolutely no reason whatsoever why this offense shouldn't be able to simply throw jump balls up all day long and complete 2-point conversions. Not only that, but they have such a special teams weapon in punter Bryan Anger so why not utilize him. If the offense gets stopped outside that 40 yard threshhold, then march Anger out there and let him pin the other team down inside their ten yard line. The Bucs have really good gunners on special teams, so let them do their jobs. Flip the field! Not only does it give the defense more room to operate and sometimes gives them an opportunity for a safety, but if they can get the stop it allows the offense to start with better field position. Why wouldn't they do that???
Look, do I expect the Bucs to actually do this? Not at all. It makes too much sense. They'll keep on marching Catanzaro out there to kick field goals and extra points. We'll keep on crossing our fingers, closing our eyes and praying that he makes it. And we'll all keep hoping that one of these misses don't cost the Bucs a win. Maybe that overtime game winner was just what "Cat"  needed to boost his confidence and get back to the reliable kicker that he always has been. We'll see if he gets a chance to show us on Sunday against the Bengals.
Until then, as always…GO BUCS!!!