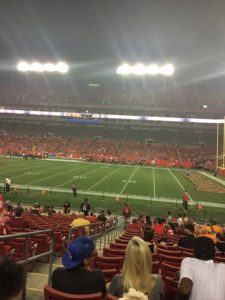 There I sat. The first game I was able to go to this season and boy oh boy was it bad. The Tampa Bay Buccaneers played their rival the Atlanta Falcons. It would have been huge to win this game. Unfortunately, the Buccaneers were not able to get the job done as the defense was manhandled by Matt Ryan and the Falcons offense. The Bucs lost 43-28 and have most likely put themselves out of reach for the playoffs.
TOP 5:
Mike Evans: Mike Evans has been absolutely terrifying for opposing defenses this season. Mike put on another great performance on Thursday night. It really is a shame he got put in the Concussion protocol but hopefully he will be back for next week. He did drop a few he should have had in this game but did you people see that one handed catch!? His stat line read: 11 Rec, 150 YDS, 2 TD
Jameis Winston: Yes he missed some throws but at the end of the day Jameis had a good day. It looked like he was really locked in with Evans. It's shame he had to throw it 37 times but that was because of the score. Do I think Jameis should've have been in for the 2 point conversion? Yes. Do I think that was the right decision for him to run? No. Jameis is on pace to throw 34 TD's. Jameis is not the reason they lost this game. His stat line read: 23/37, 261 YDS, 3 TD, 0 INT
Bryan Anger: The punter made the list! I repeat the punter made the list! This is not a good thing. Nobody wants their punter on any list because that means that they weren't able to score points. Anger has been solid this year and pinned the Falcons inside the 20 three different times.
Sadly nobody else was able to make this list. Better luck next game.
BOTTOM 5:
Everybody else: This team just is not where it needs to be. This was easily one of the worst performances by the Buccaneers this season. Yes I understand there are injuries and all that crap but it seems as if it is already too late. This defense is horrendous and has so many holes that need to be fixed. The offense is not efficient enough. The offense cannot have turnovers or three and outs. This defense just is not good enough to overcome that. Yes, one positive is that after those two turnovers the defense held the Falcons to field goals both times. This team needs some serious help. Stop saying Fire Jason Licht and Fire Dirk Koetter. It won't happen. Jason Licht has done a really good job of getting some good players in here. Jason Licht or Dirk Koetter did not (and could not) anticipate all of the major  injuries this season. Mike Evans is the only real weapon this team has. That will not help your franchise QB be successful. I also wanted to point out fans of both teams. Falcons fans were acting like Douchebags the whole time during the game. It may not have been that way with all Atlanta fans throughout the stadium but where I was sitting there was a group of about 6-7 Falcons fans that were heckling some Bucs fans. What got me annoyed was the fact that they would not sit down. Every time the game went to the opposite endzone I could not see anything. Okay it's great that your team is winning but please just sit down and let the fans who paid good money at least see the game. Now, on the Bucs fans. The Fans were very loud when they needed to be Thursday night which was good to see. My problem is the amount of fans that were not even paying attention to the game. I am not talking about when they were down 40-20. I am talking about when they were up 7-0. I saw fans on their phones, walking up and down for drinks and food. All while the game was going on. See, I live near Philly and have been to an Eagles game. No matter what the score is, those people are not looking at their phones in the middle of a play or walking up and down to get something. They take care of those things before the game or after the game. Not during it. I am thankful for the fans that go to the WTB tailgates because I know that those are the fans that truly care and won't do that. They will support and watch the team no matter what.
So yes, playoffs may be out of the picture this year. Lets just hope for some improvement over these next couple if games. Just be competitive, no blowouts, no embarrassments. Bucs fans are some of the best fans in the world but maybe some of them also have to look in the mirror. GO BUCS!