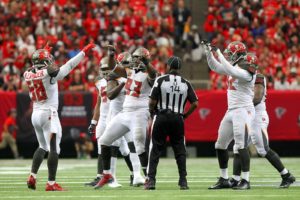 An angry Buccaneer team will play host to the Los Angeles Rams for their home opener in Tampa Bay on Sunday. The Bucs will have the opportunity to show their resilience after the beat down they received at the hands of the Cardinals, which proved that red birds on helmets are bad news for Florida teams at any level of football. This week, Tampa Bay faces a much different team than they played in Arizona. It's a great time for revenge, not only for last week's loss, but more directly on a Rams team that has had the Bucs' number in recent seasons.
Buccaneers Offensive Keys to Victory 
Air it out. This will be difficult, as the pass rush of the Rams is the best part of their football team. Jameis Winston figures to be firing on all cylinders though, after last week's debacle, and there will be opportunities in matchups with a mediocre Rams secondary. With RB Doug Martin out for this game, the Bucs will need to rely on Jameis' arm more than ever.
Run your screen game. With quick penetration being a hallmark of the Rams defense, and RB Charles Sims being much more effective in the pass game than the run game, this presents on opportunity for Coach Koetter to open up his playbook to the page with the screens on it, and run them all. If he can get Sims involved in screens, it figures to be a big day for the Bucs offense.
Keep DT Aaron Donald under control. Last year, the Rams had 11 hits on Jameis. If you're new to football, that's a lot. Dirk Koetter mentioned this week that he sees Aaron as being on DT Gerald McCoy's level, as possibly the best three technique defensive lineman in the NFL, and it will be up to the Buccaneer interior O-line to keep Jameis upright as much as possible.
Buccaneers Defensive Keys to Victory 
Stop RB Todd Gurley. This may prove to be a more difficult task this week. Gurley still hasn't scored this year, and he's angry about it. With DE Jacques Smith gone and DE Robert Ayers probably out for this game, the Bucs are extremely thin on the edges. The Rams are sure to try to take advantage of an undersized rookie DE Noah Spence playing running downs. Luckily, the Rams don't do much else on offense, and the Buccaneer run defense has looked great so far. It will need to be again on Sunday.
Let Kwon and Lavonte loose. To make up for a thin D-line, the Bucs will need big games from their linebackers. This seems a probable reality after an extremely poor performance last week from both LB Kwon Alexander and LB Lavonte David. These are two fiery players who will be intent on making their presence felt, and the Bucs will be leaning on their ability to do just that.
End the turnover drought. Here we are in the third week of the season, and the Buccaneers are still yet to turn the ball over on defense. It's time to bust through the seal on that stat. A few turnovers could turn this game into a route, and that's exactly what the Bucs need to wash the taste of Cardinal feathers out of their mouth.
Players to Watch 
LB Lavonte David had the first game of his career without a tackle last week. You can bet he won't let that happen again. David should have a huge day, hitting Todd Gurley early and often.
WR Mike Evans is off to a big start this year. It's likely that it will continue Sunday, with Jameis and WR Vincent Jackson struggling with being on the same page thus far. Nobody seems to be able to matchup against Evans, and unlike Jackson, his Chemistry with Winston has been producing explosions.
DE Noah Spence will have the perfect chance to show the league why he should've been a first round draft pick in this game. He can shut the naysayers up about his size by having a big game against a running team. He should be interesting to look at throughout the game, and if he has a big day, you can bet the Bucs will, too.
Predictions
The Buccaneers will redeem themselves, and show the national media that they were right to expect bigger things out of Tampa Bay this year. The Bucs will keep Gurley scoreless, and limit the rest of the offense to just one touchdown. Mike Evans finally gets over the 99 yard hump, and has a big day with over 100 yards receiving. The Buccaneers win and delight the fans in their home opener, 28-10.