What started out as a way to bitch about the Bucs to someone other than my wife (who could not care any less about football) has reached its TENTH Season! From the early shows and their 5's of listeners to now as the largest tailgate and Bucs booster club we are aware of, this has been one amazing ride. We could not have made it without you!
To commemorate this season we are unveiling a new, special edition logo. There are a few styles but the core is the same. Keep an eye out for our shirts and decals as they will start popping up all over soon.
A few things we have arrived at over 9 complete seasons: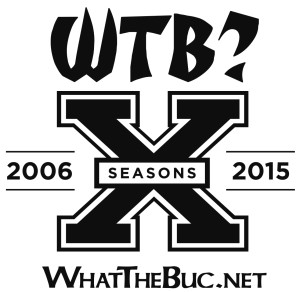 Changed the way this team was covered by mainstream media by leveraging technology
Created the only Hall of Fame tailgate in Tampa
Established a podcast enjoyed in over 40 countries
Crossed over to mainstream radio even though we get no credit for that
Provided the most detailed coverage available both from an educational point of view but also from a fan-centric view
NEVER succumbed to "Click Bait" or bullshit to try and drive views
Created a charitable arm that has grown into a 501c3 Organization
There are a lot more but at some point it looks like bragging. It isn't. We started with a desire to talk about the team we love with anyone who would listen and cared. We grew into a family of people bound by a common love that has matured into a group that does amazing things as if that were the status quo.
For those of you who have been with us, thank you. Thank you for your ears, your eyes, your hands and your hearts. Thank you for caring what some random ass person from Valrico had to say and for being part of a group that is a model for other fan bases around the country.
Most of all, thank you for making this grow to the point that it can't really be stopped.
WTB? just is.