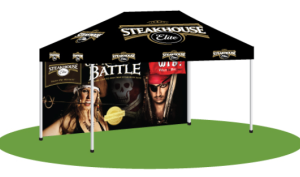 For those of you who know us you know we do not like the idea of charging folks for anything. We do this as a labor of love and a chance to celebrate our team and hopefully do a little good along the way. That said, as we grow and try to increase our impact, we have found there are some events that it makes sense to have a minimum "donation" level in the form of a sales price. The first such event is our Steakhouse Elite Retreat at our Tailgate. This is the luxury box of tailgates and features a special tent, dedicated server and a view you will not soon forget! Add to that the proximity to the bar and you may never want to leave.
We expect these to sell out in advance folks though we will be upgrading two lucky attendees day of game from the tailgate! To purchase tickets simply click the events and buy. We will handle the rest.
NOTE: Your ticket DOES NOT include parking but it does include a great time and access to the Kobe Crafted goodness of Steakhouse Elite burgers and dogs as well as the rest of the fare at our event.