Oh man, is it week 7 already? Most of us cannot believe it. This football season is flying by. The Buccaneers had a much needed bye week last week and got some key players back from injuries including star DT Gerald McCoy, TE/FB Luke Stocker and WR Cecil Shorts. DT Clinton McDonald did indeed have some practice time this week, but he remains out along with Robert Ayers and Doug Martin. But let's focus at the task at hand, the 1-5 San Francisco 49ers. The Niners are just not a good football team. It's pretty simple, they rank dead last in the league in defending the run. Will that play a role in this weeks predictions? Lets find out.
Bold Prediction 1
Jacquizz Rodgers has another great day. Bucs RB Jacquizz Rodgers is the starting RB again as Doug Martin is still out and Charles Sims was put on IR. Rodgers had a monster of a game the last time the Buccaneers played as he had over 100 yards rushing. Like I said earlier, the 49ers are dead last in the NFL when it comes to stopping the run. Rodgers will definitely take advantage of that. Put him in your fantasy lineups folks.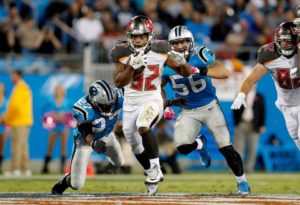 Bold Prediction 2:
Jameis Winston has a turnover free game. Early in the year the biggest problem with Jameis Winston was turnovers. He has 9 Touchdown passes and 8 Interceptions. That INT number is just too high. Winston did however play the Carolina game without a turnover. He needs to keep this up and against a bad 49ers defense is just what the doctor ordered for Famous Jameis.
Bold Prediction 3:
Mike Evans has ANOTHER dominant performance. I am sold on WR Mike Evans this year. He has 4 touchdowns through 5 games and only had 1 game where he did not get into the end zone. There is not a corner on the 49ers roster that can cover Big Mike. Expect him to have a huge day. Maybe not 1 but maybe 2 touchdown catches for the stud wideout.
Bold Prediction 4:
The Defense continues to get turnovers. The Buccaneers defense has really turned the corner these last few weeks. In Atlanta they did a decent job but were then decimated by the Cardinals and then again by the Rams. The turning point came in week 4 when I saw the defense starting to make plays. Of course Paxton Lynch had to come in and make them look bad but Lynch was playing a defense without Gerald McCoy, Noah Spence, Clinton McDonald or Robert  Ayers. Then the Carolina game came and the Buccaneers were able to finally beat Derek Anderson. Why were they able to do that? The Bucs were able to force turnovers (3 on defense and 1 on special teams) that really changed the game. I expect the Bucs to get a couple of turnovers in this game.
Bold Prediction 5:
The Buccaneers head back to Tampa 3-3. That's right the Bucs will win this game. I hate to say this is a must win because every game in the NFL is a must win game. Some are just more important than others. The 49ers are probably the second worst team in the league and losing to them with teams like the Raiders, and the Falcons come to town. That would not be good for the team's confidence. Hopefully Jameis Winston is the only QB taking a knee at the end of this game.
There we have it, important game? Yes. Game that should be won? Yes. The facts are right there, the 49ers aren't good. Both sides of the ball are lacking talent. The Buccaneers need to come out firing on all cylinders in this one. If everyone is clicking this may be a blowout and would give the Bucs HUGE confidence coming home for 3 games in a row. GO BUCS!