Lost in the aftermath of the pregame shenanigans that we shall not speak of anymore, were a number of good things to come out of that game on Sunday. My last few articles have focused on some negative aspects of this team, the franchise and the fan base. But this week, I'm keeping it positive! Positive, positive, positive.
Despite Bears fans showing up in full force at Raymond James, the Buccaneers were able to give the home crowd their first taste of victory which allowed us to FINALLY walk out of that stadium with our heads held high. Cam Brate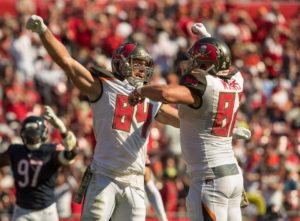 had a big game with 7 catches for 84 yards and a touchdown. He and Adam Humphries are actually both on pace to have the best statistical seasons by undrafted free agents in Buccaneers history. Freddie Martino caught his first NFL touchdown against the Bears.
Caleb Benenoch was plugged into the starting role at LG when Kevin Pamphile was unable to clear the concussion protocol in time and while he struggled at times, performed adequately for the most part considering the circumstances. Ben Gottschalk, who was just brought up from the practice squad, was called upon early in the game to take over duties at center when Evan Smith (who was already starting in place of injured Joe Hawley) went down with a knee injury. He struggled at times as well but got the job done.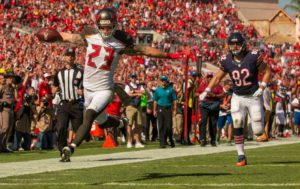 Brent Grimes got his second pick as a Buccaneer. Chris Conte seems to have given most fans temporary amnesia after his early pick six. Noah Spence had yet another sack, giving him 4.5 for the season and putting him second among rookies behind Atlanta's Vic Beasley who has 5 sacks. Roberto "Ya Never Know" Aguayo connected on all six of his attempts during the game, which is always a pleasant sidenote.
Mike Smith's defense that we've all been waiting for all season long FINALLY showed up holding the Bears to 283 yards of offense with only 161 yards passing. The Bears were only 2 of 11 on third downs and only held the ball for about 23 minutes of the game. The defense also forced 4 turnovers in the first half including the two interceptions and two forced fumbles. They sacked Jay Cutler four times with four different players and had him running for his life for most of the second half. With the exception of the garbage "Hail Mary" to end the first half, they held the Bears to 3 points.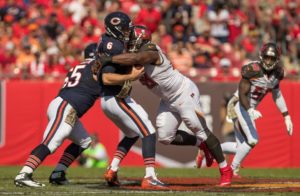 Now let's talk some Jameis. People were so blind with rage after the game that most didn't realize our second year franchise QB became the YOUNGEST QB IN NFL HISTORY to throw 40 touchdowns. Yes, in NFL history! Winston has quietly had an extremely productive first half of the season. After a rocky start throwing 8 picks in the first 4 games, he's settled down and taken much better care of the football throwing 11 touchdowns with only 2 interceptions in his last 5 games.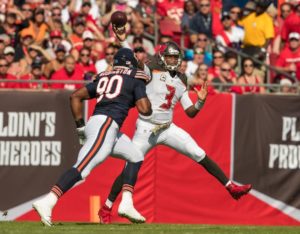 Through 9 games, he now has 2,349 yards with 19 TD's and 10 INT's. He's on pace for another 4,000 yard season and way ahead of his touchdown total from last year, which was 10 at this point. He's on pace to throw 34 TD's this year compared to his 22 last year. So far, he's ahead of his rookie numbers in completion percentage (60%>58%), yards per game (261>252) and QB rating (87>84). Though he has struggled with accuracy in the short and intermediate routes at times this year, he has shown improvement with his deep ball. Overall, there doesn't seem to be a "sophomore slump" issue for Winston this season.
As exhilarating as the win was on Sunday, it was against a 2-6 Bears team. In fact, three of the four wins for the Bucs have come against teams with sub .500 records. The remainder of the schedule is not as forgiving. It starts with a road trip against the 7-2 Chiefs at Arrowhead Stadium, some would say the loudest and most difficult place to play in the league. Then they come home to face a 6-2-1 Seahawks team. Then it's off to the West Coast to play the 4-6 Chargers before coming home for a division game against the 4-5 Saints. Next is a trip to Dallas to play what some people are referring to as the "best team in the league right now", the 8-1 Cowboys. Then it's on to New Orleans for the second division showdown with the Saints before coming home to finish the NFC South schedule and regular season against the 3-6 Panthers. It's no "easy road" to a playoff birth (Yeah, I said playoffs), but the Bucs don't exactly control their own destiny. They need a ton of help!
There are currently nine teams in the NFC with records equal to or better than the Bucs, not including the division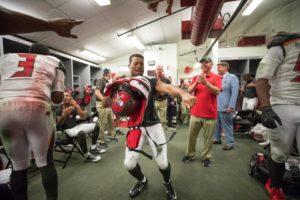 leaders. I am predicting them to finish second in the NFC South behind Atlanta, who should finish at either 9-7 or 10-6 depending on how bad the wheels fall off in this second half of the season. That being said, a whole lot has to happen between now and then. The best thing for the Bucs to do is exactly what they're doing. Seven 1-game seasons, starting with the Chiefs! Just take care of business one week at a time and don't worry about what the other teams are doing or what the standings are…that's the job of fans and analysts. IF  they can continue to play these last 7 games like they played against the Bears, this could end up being the first playoff birth for the Buccaneers since the 2007 season. But IF  the inconsistency rears it's ugly head, they could be staring at another top 10 draft pick. Let's hope for the best and as always…GO BUCS!!!
*Photos courtesy of Buccaneers.com