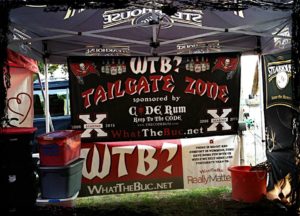 Can you hear that, Tampa Bay???  The sounds of perfectly seasoned and marinated meat sizzling on the grill and oversized Bucs flags flapping in the late summer breeze…can you hear it? If so, then you already know that it's officially BUCCANEERS TAILGATE SEASON!!! And there's no bigger or better tailgate party than the What The Buc Tailgate Zone, situated on a private lot at 3316 West Ohio Avenue, just east of the stadium and directly behind One Buc Place.
It all started almost 10 years ago as your typical, every day, run of the mill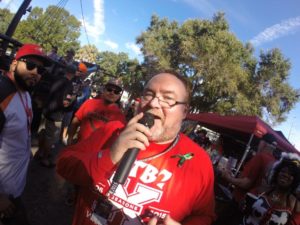 tailgate. Since then, it has morphed into something so much more than that… "It's like a big family reunion every home game!" says one of the originators Derek Fournier, aka "Old School". Every Bucs home game, hundreds of Buccaneer football faithfuls, as well as some visiting team's fans, converge on this spot to support the teams that they love  and to celebrate good sportsmanship. They've had fans from almost every NFL team from more than 20 countries come to party at what has literally become a must attend tourist attraction for Bucs fans from around the world. Not only is it the best tailgate around, but as of 2012 it's the ONLY area tailgate to be inducted into the Hall of Fans at the NFL's Hall of Fame. It's also a frequent hangout for a who's who list of Bucs, as well as opposing team's "superfans"!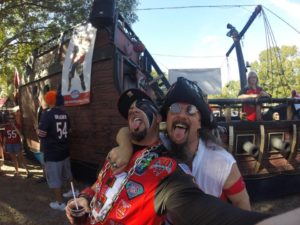 The WTB Tailgate Zone offers affordable parking in a secured lot, a giant pirate ship float courtesy of the Krewe of Blackbeard's Revenge, live entertainment from DJ Techniq and live performances by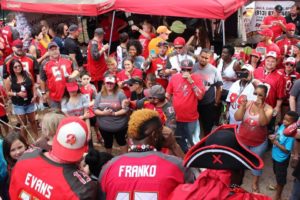 our very own Kareem McGill, aka "Franko", who writes and records a new Buccaneer's season anthem every year! All of this and more in a fun, family friendly environment complete with indoor men's and women's restrooms and an outdoor bar area with a large flatscreen TV to watch the pregame shows or to keep tabs on the early NFL games when the Bucs play later in the day. Sound fun? Of course it does…but wait, there's more!
It's not a true tailgate party without good food and cold drinks…and you won't find a better menu of both than right here at WTB. With sponsors like Fireball Whiskey providing a shot tent, Pepin Distributing slinging copious amounts of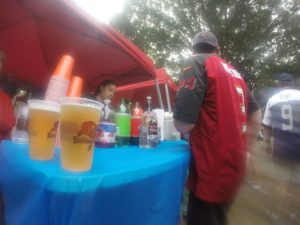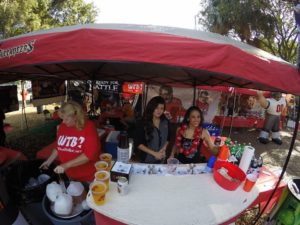 chilled Bud and Bud Light, and Tito's Vodka being generously poured into Solo cups over ice with various refreshing mixers…there's no shortage of alcoholic beverages for your consumption pleasure. And for those of you who lost the coin toss for designated driver or for some reason prefer to stay sober on gameday, there's plenty of water and soda to drink as well.
Oh and the food…oh man, the food! While Steakhouse Elite is a big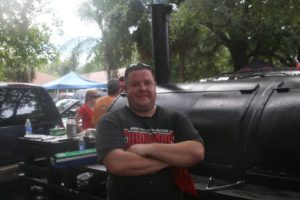 sponsor to this event, most of the food is prepared on site with a very large contraption affectionately nicknamed "the Grillineer". Manning this oversized, smoking, grilling beast is the one and only Patrick Donahue, owner/operator of Grillineer BBQ, located at 10106 McMullen Road in Riverview. He tries to plan each gameday menu according to the Buccaneers opponent each week, when he can. For this home opener against the Rams however, he went with bacon wrapped chicken and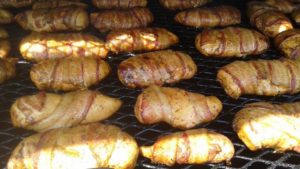 burgers (I assume because actual "ram" would be difficult to obtain and cook in such large quantities).
At this point, you're probably asking "How much is all of this fantastic football fan fun and yummy goodness gonna cost me?" Well, that my friends is the best part!
As you can imagine, providing food, drink and entertainment for hundreds of rabid football fans can be quite costly, even with a big time sponsor such as Bill Currie Ford. So, besides the $20 for parking (which you're going to pay regardless parking that close to the stadium), the WTB Krewe only request for small donations towards the costs of the tailgate. The typical donation is anywhere between $10-20 per person. Not bad for all the food and drink you can consume, plus live entertainment and overall awesome party atmosphere!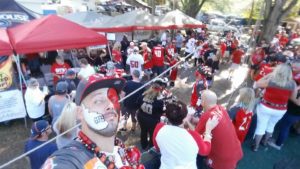 Even with all of this, the best feature about this shindig is that it's not just for fun, it's also for charity! The What The Buc Really Matters Foundation works extremely hard to make sure that this party goes off without a hitch. And since they're a 501c3 nonprofit organization, all monies collected (less the cost of food) are donated towards a different Bay area charity each week.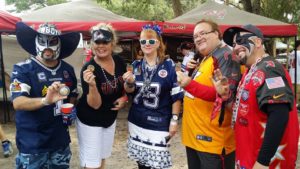 This amazing group of selfless individuals, led by Cheryl Stewart, aka "Spent", have teamed up for numerous fund raisers and collection drives. Everything from gathering and shipping goodie packages to troops overseas and boxes of food to less fortunate people in Africa to helping in the battle against domestic violence and raising money for the American Heart Association. They've also collected and distributed toys at Christmas for Toys 4 Tots and school supplies in the summer for local school teachers in need. Yes, they stay very busy in the Tampa Bay community…… and this first game of 2016 is no exception!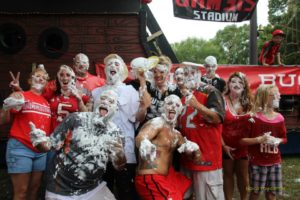 September is Childhood Cancer Awareness Month and WTB has once again partnered up with the 1 Voice Foundation, a group that "supports children with cancer and their families by connecting them with financial, emotional and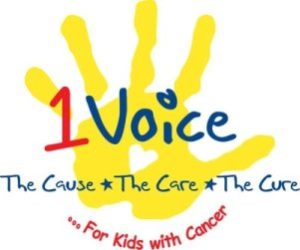 educational care while helping fund research for tomorrow's cure". One interesting way they like to raise money for 1 Voice is their annual "Whipping Cancer" event during the first tailgate of the season, where party go'ers can purchase whipped cream pies to smash into the faces of the WTB Krewe members or even some "superfans". It's a fun and messy time that usually turns into an all out whipped cream war!
This year, they've also partnered up with Paul's Project, a group "dedicated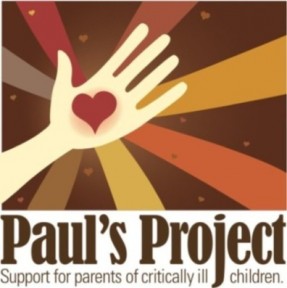 to enlightening the community to the urgency and importance of supporting families with terminally ill children". WTB will be collecting colorful women's socks and writing pens for "Paul's Packs", which are filled with comfort items to send to local hospitals for parents who suddenly and unexpectedly find themselves in the hospital with their sick kids.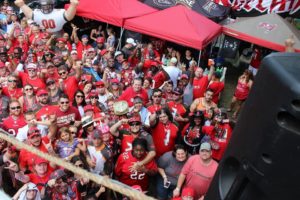 What The Buc Really Matters consists of dozens of fantastic people who simply want to make the world a better place. Though they have only been active for a few years, they've quickly grown into a very involved, very successful charitable organization. As a matter of fact, in 2015 they earned the award for the What-a-Fan Civic Organization of the Year, as well as the Golden Hog Award by the PFUFA (Professional Football's Ultimate Fan Association). Yeah, this group rocks that much…and I'm proud to be associated with them in any and every way that I can!
In conclusion, if you want to eat, drink, pillage, plunder, dance and party with the biggest Bucs fans at the baddest tailgate in all the land, all while supporting some great causes…then come on down (and don't forget your women's socks!) to the WTB Tailgate Zone on Sunday, September 25th at 11am and live the pirate's life for a few hours before we watch our beloved Bucs sacrifice the L.A. Rams to the football gods! GO BUCS and GO What The Buc!!!