It's no secret that the Buccaneers have problems on special teams, and often times those roles can be filled from other parts of the team. This can be seen in the value of versatile players on both offensive and defensive line, and even in Mike Glennon's potential as holder. With Michael Koenen gone, there could be a sleeper to take over punting duties.
Yesterday, rookie offensive tackle Donovan Smith tweeted a photo of an immaculate poem he crafted when in third grade.
The poem I wrote in 3rd grade pic.twitter.com/50fJPi8k7E

— Donovan Smith (@DSmith_76) September 1, 2015
While I was a bit distracted by the creative use of free verse and varied rhythm, there's a definite gem hidden inside it. You'll notice what I'm talking about if we zoom in and look at the sixth line.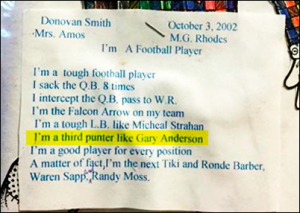 "I'm a third punter like Gary Anderson." You heard it first here, folks. Donovan Smith is a secret weapon at punter, and he might even be starting against the Tennessee Titans at punter and offensive tackle. No, seriously. You don't believe me? Come on, there's pictures and tweets as evidence. I was even grammatically correct for extra measure!
Okay, it's complete bullshit. I've made this completely false blob of speculation to make a point. This is exactly the problem with some sports analysis as it is today. I'm not going to point any out, and it doesn't even apply to all reporting in the same organizations. Sometimes there are excellent journalists hidden behind a veil of overly produced traffic hungry "news organizations."
As fans, it's hard to deny the ease of taking the news at face value. Why am I bringing this up? Because we shouldn't be doing that. There are trustworthy sources out there, and we should make an effort to find them. Find ones that you can have faith in, and don't trust every single story that pops up on your feed. Beware of click-bait that is completely devoid of reliable information…like the first part of this post.
Even speculation should be properly informed. I don't claim to be an expert, nor do I expect any reporting to be completely flawless. I do expect news, even speculation and commentary, to at the least be based in the facts. Be careful with your news, and be informed as a fan. It'll make you a better spectator, make the game more enjoyable, and even make it easier to win arguments with poorly informed casual spectators.
There's nothing wrong with being a casual fan, but there's a value in trying to keep yourself knowledgeable. This has been my soapbox, and I'm stepping down. I appreciate the trust of anyone who bought into what I was saying, but c'mon guys. Donovan Smith has never taken a snap as a punter in the NFL. For that matter, neither has Gary Anderson! He was a kicker! Do your research, and focus on the outlets that you can trust for quality coverage. #endrant