This year, we here at WTB are trying to bring you more weekly content during the football season. One of my contributions to that effort is going to be my Deez Playaz 2 Watch segment. Each week, I'll pick an offensive and defensive player from the Bucs opponent that could have a big impact on that week's game. Sometimes the players may be obvious choices like this week, and sometimes they may not be so obvious. This week, the team is the Saints and the players to watch are going to be wide receiver Michael Thomas and defensive end Cam Jordan. Here's my reasons why…
Michael Thomas is 6'3″/215lbs and going into his third year in New Orleans. He was selected by the Saints in the second
round of the 2016 NFL Draft out of Ohio State after running a 4.57 forty, benching 19 reps and jumping 35″ at the Combine. In his two years with the Saints, he's got 196 catches for 2,382 yards and 14 touchdowns while averaging 12.2 yards per catch. He's big. He's physical. He's athletic. He's fast. And he's a matchup problem for the Bucs secondary. In their last meeting, that final game of 2017 for the Bucs, he finished with 6 catches for 94 yards and an average of 15.7 yards per catch. That's needs to stop. If the Bucs defense wants to slow down this Drew Brees led Saints offense, then they need to keep this guy contained. This could be a "baptism by fire"  type of game for rookie cornerback Carlton Davis if Mike Smith decides to actually "man up"  on Thomas. At 6'1″/205lbs, Davis might be the only corner on the Bucs roster that can actually match physicality with him. It would be a great test for the rookie to see where he really is at this level after having an impressive training camp and preseason. Other than that matchup, Thomas is too tall for Brent Grimes, too physical for Vernon Hargreaves, too talented for Ryan Smith and too big for MJ Stewart. Davis might be their best matchup for him, so it will be interesting to see if that's what happens or if the Bucs simply play left and right corners as usual.
My defensive player to watch out for is defensive end Cam Jordan. He's heading into his 8th season with the Saints after being their first round selection in the 2011 Draft and he's never missed a game. In that time he's accumulated 59.5 sacks,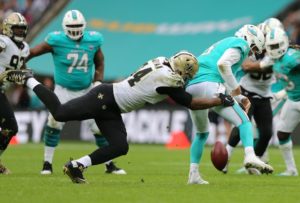 hitting double-digit sacks three times, including 13 sacks last season. He's considered one of the most prolific pass rushers in the league. He has an explosive first step, a powerful trademark swim move, a relentless motor and is a master of angles, handwork and leverage. In 2017, Football Outsiders Almanac credited Jordan with 52 quarterback hurries (2nd in the NFL), 19 quarterback hits (6th in the NFL), and 27 quarterback knockdowns (8th in the NFL), while Pro Football Focus had him with 79 QB pressures (tied for 5th) on the year. He also finished tied for the league lead in tackles for loss and tied for 5th among edge defenders in Defeats, which are plays that end in tackles for loss or sacks, plays that end in turnovers from tipped passes and third or fourth down stops. He played 92% of the Saints defensive snaps last year so he's always on the field. At 6'4″/290lbs, he has elite size and athleticism with the speed to rush outside and the power to rush inside. If Bucs left tackle Donovan Smith does in fact play, he'll have his hands full with Jordan. If Smith doesn't play in Week 1, then that means Jordan could end up being a real problem for Ryan Fitzpatrick and the offense. There's been speculation that if Smith can't go, right tackle Demar Dotson might slide over to left tackle while Caleb Benenoch plays right tackle. It doesn't appear that's happening. It looks like Dotson will stay put on the right and the Bucs will start reserve tackle Leonard Wester on the left. Either way, Cam Jordan will be a problem and could end up effecting this game.
Well, that does it for this debut segment. This week's choices, Michael Thomas and Cam Jordan, are players to keep an eye on this Sunday. Stay tuned in the days following each game as well for my other new segment Gotta See Deez Playz where I'll break down some of the plays of my Playaz 2 Watch and see how they impacted the game. Right now, the Saints are on the clock and it's almost time for the Buccaneers to invade New Orleans!
Until then, as always…GO BUCS!!!