The Tampa Bay Buccaneers are 2-0…how sweet does that sound? It hasn't happened since 2010 and they haven't started 3-0 since the 2005 season. That's what they'll be looking to do on Monday night against the 0-1-1 Pittsburgh Steelers. I'll get into my "Playaz 2 Watch"  for this week in a minute, but first let's review my picks from last week.
On offense, I chose to go with Nelson Agholor who caught 8 of his 12 targets for 88 yards and 1 touchdown. However, he was not the leading receiver for the Eagles. That honor went to tight end Zach Ertz who had 11 catches for 94 yards. The Bucs young cornerbacks, Carlton Davis and Ryan Smith, were able to keep Agholor in check for the most of the game even though he did get loose for a 50-yard play. But that means that he only got 38 yards from his other 7 catches. I'm sure that Mike Smith and Dirk Koetter will take that all day from an opposing team's #1 receiver. Agholor did score a touchdown, but other than that he was ineffective for the rest of the game.
My defensive pick was the entire Eagles defensive line. Even though they were able to hold the Bucs offense to 43 rushing yards on 23 carries, they only sacked Ryan Fitzpatrick twice all day and one of those was the result of a linebacker blitz. Fitz finished the game 27 of 33 for 402 yards, 4 touchdowns and 1 interception that wasn't even his fault. It was his second game in a row with 400+ yards and 4 touchdowns. An impressive performance, especially against a good Eagles secondary and what is arguably the best defensive line in football.
Now for my picks for this week's game against the Steelers. I'll start on defense where I had a little trouble finding a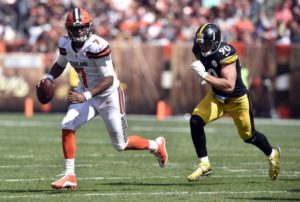 player that really scared me. I finally settled on second year linebacker TJ Watt. Yes, he is JJ Watt's "little"  brother but he's still pretty big at 6'4″/252lbs. He was named the AFC Defensive Player of the Week in Week 1 for his performance against the Browns where he finished with 10 tackles, 3 sacks and a blocked field goal. He came back down to Earth a little bit in Week 2 versus the Chiefs with just 2 tackles, but he's shown enough flashes of his big brother's abilities to make me worry a little bit about him in this game. However, if the Bucs offensive line continues to play like it has in these first two weeks, they should be just fine.
My offensive player pick was tough too but for a different reason. There are almost too many weapons on that side of the football to narrow it down to just one player. However, I did it. And no, it's not wide receiver Antonio Brown. It's not even their other wide receiver Juju Smith-Schuster. I could've gone with second year running back James Conner, but I think the Bucs 2nd ranked run defense will take care of him. I almost went with quarterback Ben Roethlisberger, which is another obvious choice and it would've been a good one. My question there is, which "Big Ben"  will show up in Tampa? The Week 1 version who couldn't beat the Browns and went 23 of 41 for 335 yards, 1 touchdown and 3 interceptions? Or would it be the Week 2 version who got into a shootout with the Chiefs potent offense and went 39 of 60 for 452 yards and 3 touchdowns? Then I hear the glorious news that Bucs cornerback Brent Grimes will be making his 2018 debut on Monday night and it kind of made my mind up on Ben. No, my choice for the Steelers offensive player to watch this week is tight end Jesse James. At 6'7″/260lbs, he was a fifth round pick of Pittsburgh in the 2015 Draft. He finished 2017 with 43 catches for 372 yards and 3 touchdowns. This year, he's already got 8 catches for 198 yards and 1 touchdown in two games. The reason that I think he could be a difference maker in this game is because the Buccaneers defense has had some trouble with opposing tight ends so far this season. Against the Saints in Week 1, they allowed the 37 year-old Ben Watson to grab 4 catches for 44 yards. That may not sound like much, but each of those four catches was a crucial one and helped Drew Brees move the chains and keep drives alive. Last week versus the Eagles, Zach Ertz finished with 11 catches for 94 yards with a long of 34 yards. That's just too many touches for a tight end. If the Bucs defense doesn't figure out how to defend opposing tight ends better in this game, then James could end up having another big night himself. That can't happen. Brown is going to get his. That's inevitable. Smith-Schuster will probably get in on the action as well. It's bound to happen. But James cannot be a factor in this game or it could spell trouble for the Buccaneers.
My prediction for Monday night…LOTS OF FUN! This should be an entertaining game for Bucs fans to watch. At home in Raymond James Stadium. The only game on TV and it's on national television, on Monday Night Football. The Bucs #1 passing offense against a Steelers defense who gave up 6 passing touchdowns to Patrick Mahomes last week. A Bucs offense that's looking to get it's running game going against a Steelers defense who has somewhat struggled defending the run this season. A Steelers offense who's still missing Le'Veon Bell against a Bucs defense who is getting Brent Grimes and maybe even rookie defensive tackle Vita Vea back this week. An improving Bucs defensive line versus a Steelers offensive line who's allowed "Big Ben"  to be sacked 6 times this season. Yeah, this will be a fun game to watch. And TJ Watt and Jesse James are my Pittsburgh "Playaz 2 Watch"  for this game so keep any eye on them this Monday night!
Until then, as always…GO BUCS!!!