Well, the Bucs let what I considered a "must win game"  at this point get away from them in the first half and it was too much for them to overcome even though they almost pulled off an improbable play in the final seconds of the game to win it. They ended up losing to the Falcons in Atlanta 34-29 and dropping to 2-3 on the season. My "Playaz 2 Watch"  for last week were wide receiver Calvin Ridley and defensive end Vic Beasley Jr. Neither player had much of an effect on the game, but Ridley did have 3 catches for 47 yards before leaving the game in the first half with an ankle injury. Beasley ended the night with a blank stat line believe it or not. They moved him around a lot playing both sides throughout the game so right tackle Demar Dotson and left tackle Donovan Smith both had to deal with the Falcons best pass rusher and they both held up pretty well.
This week, the Bucs have the up and down Cleveland Browns coming to town. They are 2-3-1 after starting the year with a tie against their division rivals the Pittsburgh Steelers. Then they lost a close game in New Orleans 21-18 to the Saints. Then they won a close game at home 21-17 against the New York Jets. Then they lost a shootout in Oakland 45-42 to the struggling Raiders. Then they somehow beat the Baltimore Ravens at home in a 12-9 defensive battle. Last week, they suffered their biggest loss of the year against the San Diego Chargers 38-14 at home. The Browns bring with them the 20th ranked offense and the 28th ranked defense in the league and they'll present an interesting challenge for the Buccaneers. New defensive coordinator Mark Duffner and his 31st ranked defense are facing an unknown rookie quarterback in #1 pick Baker Mayfield who's completed 56% of his passes for 1,076 yards, 4 touchdowns and 5 interceptions in 4 games this season. The Bucs 2nd ranked offense is going up against a Browns defense that is allowing 26 points and 406 yards per game, but  they also have the 4th most interceptions (9) and 15 sacks as well. Which brings me to my choices for the "Playaz 2 Watch" for this week. My obvious pick on defense is defensive end Myles Garrett. My offensive pick was a bit harder as there were a few options to choose from. At first, I thought about going with another obvious pick in wide receiver Jarvis Landry since the Bucs can't seem to stop anyone from catching the football. Then, I thought about going with tight end David Njoku since the Bucs have had trouble defending speedy, athletic tight ends. But I finally landed on running back Duke Johnson. So why did I go with these two guys? Let's take a look.
OFFENSE- RB DUKE JOHNSON
The Bucs have had difficulties with dual threat running backs all season long. Whether it was the Saints Alvin Kamara (17
touches for 141 yards and 3 touchdowns), the Eagles Corey Clement (11 touches for 85 yards and 1 touchdown), the Steelers James Conner (20 touches for 95 yards), or the Bears Tarik Cohen (20 touches for 174 yards and 1 touchdown), these types of running backs have been productive against the Bucs defense for one reason or another. Although they did keep the Falcons Tevin Coleman in check last week holding him to 11 touches for 41 yards and 1 touchdown. Well, Johnson is just that kind of back. On the year, he's got 33 touches for 275 yards. That may not sound like much, but he's averaging over 8 yards every time he touches the football. Over his short three year career, Johnson has totaled 447 touches for 2,826 yards and 10 touchdowns for a 6.3 yards per touch average. According to Danny Kelly of "The Ringer",  Johnson is one of the "Most Infuriatingly Misused Players" in the NFL. Which is odd because the team just signed him to a 3-yr/$15.6 million extention over the summer. At 5'9″/210lbs, the 25 year old Johnson creates matchup problems for defenses. So far, he's been underutilized in offensive coordinator Todd Haley's system. But I have a feeling that may change against this vulnerable Bucs defense.
DEFENSE- DE MYLES GARRETT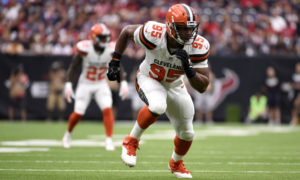 Garrett is my obvious choice as the defensive player to watch. Even though he's just in his second season, he's already totaled 12 sacks in 17 career games (he missed 5 games due to injury in his rookie season). Despite being just 22 years old, the 6'4″/275lb former #1 pick is already considered one of the top pass rushers in the game today. There's still a rawness to his game, but his ridiculous combination of speed, strength and quickness commands a double team on almost every snap. He plays from both sides of the line, so both Demar Dotson and Donovan Smith will need to be prepared to face him. It wouldn't surprise me if the Bucs slide a tight end or a running back over to his side to help their tackles out a bit. He's a force to be reckoned with and Jameis Winston will need to be aware of his location at all times. There are other players on the Browns d-line to be concerned about like Emmanuel Ogbah and Larry Ogunjobi, but Garrett is definitely the lead dog. As long as the Bucs can keep him contained, then their offense should be able to put up enough points in this game to pull out a win and get back to a .500 record. If they don't, it could be a long afternoon for Jameis and the offense.
If the Bucs hadn't lost three straight games, then I would've been considering this a "trap game".  But since this team is desperate for a win and the defense will be looking to prove that Mike Smith was in fact the problem, I think that this just might be the week the Bucs get things back on the right track. In order to do that, they need to keep these two players in check. If they do, then they could send the Browns back to Cleveland with their tails between their legs.
Until then, as always…GO BUCS!!!