It was a wild time at the pirate ship at Raymond James Stadium as the Bucs snagged defeat from the jaws of victory in a 33-30 loss to the Lions. While many Bucs fans are upset about the loss, I'm here to tell ya, the Bucs are okay. As pitiful as most of that second half was, it was played by guys who won't be wearing Bucs uniforms in a couple weeks. There were some very impressive moments out of the Buccaneers Friday night, and a lot to be optimistic about. I will preface this by saying, thanks to NFL Gamepass' blackout restrictions, I haven't been able to re-watch the game yet, so please bear with me as I'm going off of memory while at the game and highlights from NFL.com
Pieces of Eight
1) Dirk Koetter, you're fired. Not as Head Coach, mind you, but as offensive coordinator. Dirk opened himself up to this by allowing Todd Monken to take the play calling reigns for the pre-season. All the Bucs have done is finally utilize their galaxy of stars in the passing game, calling a variety of passing plays and averaging 28.7 points per game (third best in the league) and 387 yds per game (2nd best in the league). While you'd like a little more balance in the running game, if the strength of your offense is the passing game, don't force a square peg into a round hole, use what you've got, and Monken has done a fabulous job doing that.
Frankly, I think he's earned the right to call plays in the Regular Season. Every coach has an ego, and Dirk's no exception, but I think delegating play calling to Monken makes Koetter a better head coach and facing a must-win season, I don't think ego should be involved here.
Besides, if it does go sideways, Dirk can always take it back, just as Mike McCarthy, Andy Reid, and others have done in the past.
2) The running game once again managed a paltry 79 yards and averaged just 3.4 yards a carry, but there are certainly signs of life. Peyton Barber is clear and by far the best running back on the roster – it's not even close right now and when Barber is in the game, the Bucs running game works. Tampa Bay needs to put their top running back in bubble wrap until New Orleans on September 9th. As for Ronald Jones, Jr. and the rest, well, Jones finally made a big play, albeit in the passing game, doing his best Charles Sims imitation (a guy who can make big plays in the passing game but can't run the football), Quiz Rodgers is still a vet, but honestly at this point in his career is a JAG, and Shaun Wilson shows a lot of potential as a runner, but hasn't gotten carries to prove that out.
3) The defense, as always, is a work-in-progress. First the positives: they limited the 7th best scoring offense in the NFL last season to just 6 points (including a series in the 3rd quarter where the Lions Ones faced the Bucs twos and still came away empty) and 145 total yards (including the 27 yds on the drive in the third quarter). The pass rush produced 3 first half sacks of Matt Stafford and limited the Pro Bowl QB to a little over 50% passing for 101 yds and no touchdowns. In the first half, they held the Lions to just 2.8 yds per carry on the ground and 33 yds total. The tackling seemed much improved from last week as well.
So many positives with the Ones and Twos. About those threes. Yikes. 219 yards, 89 of which came on the ground and 20 points (not counting the 7 the Lions earned on Brandon Poole's 80 yd punt return for a touchdown). It was basically Mike Smith's 2017 defense all over again, they couldn't stop anything or anyone. Some dude named Rudock carved them up like swiss cheese for game-winning touchdown. For some reason, Legarrette Blount played into the fourth quarter and was smacking the Bucs defenders around like a bull throwing around rodeo clowns.
It was u-g-l-y, and it's why most of those guys will be looking for work in a couple weeks.
4) So yeah, that Humphries 109-yd kick-six play was something to see, wasn't it? I don't have any wise sage wisdom or witty repartee to give you on this one. Let's just watch it together and enjoy. I do want to commend the Bucs' special teams guys for avoiding any penalties to bring this thing of beauty back.
Kick Six Vol. 2!

cc: @AuburnFootball#GoBucs pic.twitter.com/ybQWHbH6Op

— Tampa Bay Buccaneers (@Buccaneers) August 25, 2018
5) Jameis Winston has likely wrapped up his pre-season for the Bucs and we probably won't see him until September 30th in Chicago. How has Winston handled the suspension? He's done an outstanding job on the football field, looking better than ever. His chemistry with all of the Bucs receivers, Desean Jackson in particular, is evident and I think watching how Fitz utilizes the Bucs' weapons has been a benefit to Jameis. Sure, he still has that Favre-ian throw that makes you shake your head, but his decision making has been a lot better, he's taking his check downs and his accuracy with the football I don't think has ever been better. His final stat line (assuming he doesn't play against Jacksonville) – 30 of 41 (73.2% comp pct), 388 yds, 3 touchdowns, 0 ints (or fumbles lost) and a 126.9 QB Rating.
Here's hoping the layoff doesn't rust him up and when he gets back he can continue to be the player he's shown thus far.
6) I don't see how the Bucs don't have a spot on the 53 for Shaun Wilson. The kid did everything you could ask for. He's been a decent runner with some home run ability, he's been superb in the return game and solid on special teams in general. He seems to know his playbook well. I think he's better than Ogunbowale. Next Thursday's pre-season finale may the final litmus test to confirm what we've seen thus far, but for me, barring injury Wilson has got to be on this football team or the Bucs are making a mistake.
7) The injuries on the offensive line really started to show themselves against the Lions. Bucs quarterbacks were hit and harassed way too much while there was a bit too much penetration into the Bucs backfield during running plays. Alex Cappa, in particular, struggled a bit in pass protection. The 3rd string offensive line is really a 4th string line of street free agents and camp guys pressed into action and it certainly showed from the second half of the 3rd quarter on. Let's hope the Bucs get healthy on the o-line and soon.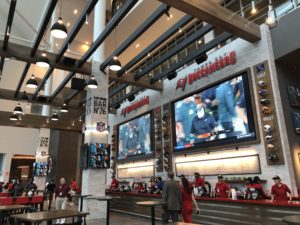 8) Just wanted to take a minute to recognize the Buccaneers' efforts to improve the game experience. The East Club is outstanding. Bar 76 was really cool, there are so many televisions, even in the restrooms, you will never miss a minute of the action. Heck, they have the score, time and fantasy stats on a ribbon INSIDE the club. Outside the club, the Bucs have definitely worked really hard at improving the experience for all fans. The Bucs have their own name for their fans now – it's the Krewe. If you're a season pass member, you are part of the Krewe. If you're a Bucs fan attending a single game, you're Krewe. They've also really put an emphasis on battle flags as well. Throughout the stadium, you'll see red Buccaneer flags draping every awning. The video boards have graphics with flag motifs.
Speaking of the video boards, other than maybe toning down the volume a little (GET OFF MY LAWN, you whippersnappers), the video production value has improved tremendously. The video shorts were NFL Films quality.
They're also trying some new entertainment enhancements like a Buccaneers DrumLine and after the Bucs score, they go old school with a "B-U-C-C-A-N-E-E-R-S Go Bucs!" chants. While the production value compared to the NHL's Lightning isn't quite there yet, the Bucs are making an effort to make game day at the stadium a fun experience no matter what the performance is on the field.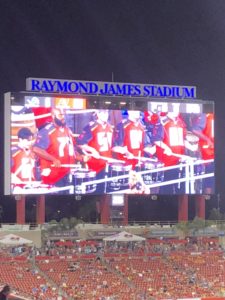 DLT's Emotional Live Tweet of the Game
#Bucs offense continued to get the job done, the defense bent but still held a Pro Bowl QB and offense to just 6 points and the second string increased the lead to 27-6 before the tomato cans entered the game. Not upset. #GoBucs #WreakHavoc pic.twitter.com/5iGZyMIITE

— 👽JC De La Torre☠️ (@jcdelatorre) August 25, 2018